Tri-Shred Tee
From Inkipedia, the Splatoon wiki





The Tri-Shred Tee is a piece of clothing in the Splatoon series.
It is a 0-star item produced by SquidForce and comes with the primary ability Quick Respawn. It can be purchased from Man-o'-Wardrobe for

 530 or from SplatNet 3 Shop for

 1,325.
Appearance
The Tri-Shred Tee resembles a badly-damaged Tri-Squid Tee, whose white color has turned tan, and whose logo has turned from black to white.
Splatoon 3
Tri-Shred Tee
Category
Brand
SquidForce
Ability

Quick Respawn
Cost

 530
SplatNet 3

 1,325
Star power





The Tri-Shred Tee was first revealed in the announcement trailer for Splatoon 3 on 17 February 2021. Its name was revealed in the Splatoon 3 Direct.
This piece of gear was available in the Splatoon 3 Splatfest World Premiere.
Along with the Cephalo Pods and Force ReBoots, the Tri-Shred Tee is part of the starting outfit for new players.
After a Splatfest, the Tri-Shred Tee will be automatically equipped.
Abilities
The Tri-Shred Tee comes with Quick Respawn as the primary ability when purchased from shop or ordered from Murch. When purchased from SplatNet 3, it comes with any other primary ability normally available to Clothing (with the exception of Ability Doubler). As a 0-star item, the Tri-Shred Tee comes with one additional slot for secondary abilities. The star level may be increased with Super Sea Snails for 1 (first), 1 (second), 5 (third), 10 (fourth), or 20 (fifth) Super Sea Snails per star, or by purchasing additional copies of it from Man-o'-Wardrobe for 10,000 (first), 30,000 (second), 50,000 (third), 100,000 (fourth), or 200,000 (fifth) Cash per star. Increasing the star level to 1 or 2 stars will add a secondary ability slot per level, up to a maximum of three slots. Increasing the star level beyond 2 stars will increase the gear experience gained by a cumulative 3.333…% up to 10% additional experience at 5-star level. Since it is made by the SquidForce brand, it has a higher chance of rolling Ink Resistance Up and a lower chance of rolling Ink Saver (Main) to fill its secondary ability slots.
Gallery
Trivia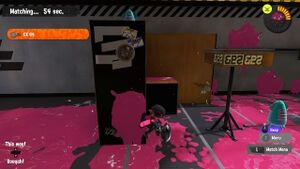 The logo on this piece of gear can be seen on a wall in the lobby's test range.
Names in other languages
Language
Name
Meaning
 Japanese

サキイカホワイト


Sakiikahowaito
White Dried Shredded Squid
 Dutch
Verscheurd Tri-shirt
Torn apart Tri-shirt
 French
Tri-shirt déchiré
Shredded Tri-shirt
 German
Terpentakel-Shirt
Terpentacle shirt
 Italian
Cala-shirt strappata
Ripped cala-shirt
 Russian

Майка «Рыба-пила»


Mayka «Ryba-pila»
«Sawfish» T-Shirt
 Spanish
Camiseta rasgada blanca
Ripped white t-shirt
 Chinese (Simplified)

鱿鱼丝T恤 白色


yóuyú sī T xù báisè (Mandarin)
Dried Shredded Squid T-shirt White
 Chinese (Traditional)

魷魚絲T恤 白色


yóuyú sī T xù báisè (Mandarin)
Dried Shredded Squid T-shirt White
 Korean

화이트 오징어채 T


hwaiteu ojingeochae T
White Dried Shredded Squid Tee
See also
| | |
| --- | --- |
| | Aloha Shirt • Apple Ringer • B-ball Jersey (Away) • Baby-Jelly Shirt • Barazushi Black Tee • Barazushi Rice Tee • Basic Tee • Berry BlobMob Tee • Black 8-Bit FishFry • Black Baseball LS • Black Layered LS • Black Polo • Black Squideye • Black Tee • Blue Peaks Tee • Camo Layered LS • Carnivore Tee • Choco Layered LS • Duskwave Tee • FC Albacore • Firewave Tee • Fugu Tee • Grape Tee • Gray College Sweat • Gray Vector Tee • Green Striped LS • Green Tee • Herbivore Tee • Hero Suit Replica • Icewave Tee • Ivory Peaks Tee • Krak-On 528 • Layered Vector LS • Lime BlobMob Tee • Linen Shirt • Lumberjack Shirt • Lyco-P Streetstyle Tee • Mint Tee • Navy College Sweat • Navy Striped LS • Navy Z+F Tee • Octosquid Tandem Tee • Orange Cardigan • Part-Time Pirate • Pearl Tee • Pineapple Ringer • Pirate-Stripe Tee • Purple Camo LS • Rainy-Day Tee • Red Vector Tee • Reel Sweat • Rockenberg Black • Rodeo Shirt • Sage Polo • Sailor-Stripe Tee • Shrimp-Pink Polo • Sky-Blue Squideye • Squid-Pattern Waistcoat • Squid-Stitch Tee • Squidmark LS • Squidmark Sweat • Squidstar Waistcoat • Striped Peaks LS • Sunny-Day Tee • Takoroka Galactic Tie Dye • Takoroka Rainbow Tie Dye • Takoroka Tandem • Tentatek Tandem • Tri-Octo Tee • Tri-Shred Tee • Tri-Squid Tee • Tricolor Rugby • Umibozu Home Jersey • Urchins Jersey • Vaporwave Tee • Varsity Baseball LS • White 8-Bit FishFry • White Baseball LS • White King Tank • White Layered LS • White LS • White Retro Tee • White Tee • White Z+F Tee • Yellow Layered LS • Zekko Baseball LS • Zink Layered LS • Zink LS |
| | |
| --- | --- |
| | Anchor Sweat • Annaki Blue Cuff • Annaki Choker Tee • Annaki Drive Tee • Armor Jacket Replica • B-ball Jersey (Home) • Barazushi Anorak • Barazushi Sakura Tee • Berry Ski Jacket • Black Anchor Tee • Black LS • Black Ranger Vest • Black V-Neck Tee • Black-Belt Gi • Blue Retro Tee • Business Animal • Chaos Commander Suit • Chili Octo Aloha • Cream Tundra Fleece • Crispy Crustume • Cycling Shirt • Dusty Field Jacket • Eelzebub Tee • Enchanted Robe A / B • Fancyfish Stitch • Firefin Navy Sweat • Forge Inkling Parka • Forge Octarian Jacket • Fresh Fish Gloves • Gray Hoodie • Gray Mixed Shirt • Green Cardigan • Green Zip Hoodie • Green-Check Shirt • Hero Jacket Replica • Hula Punk Shirt • Ink-Black Tangle Top • Ink-Wash Shirt • Inkfall Shirt • Khaki Ranger Vest • Layered Anchor LS • Lemon Hoodless • Lime Ski Jacket • Logo Aloha Shirt • Manatee Swag Sweat • Marinated Top • Motley Hoodless • Octo Jumper Away • Octobowler Shirt • Pearlescent Hoodie • Power Armor • Power Armor Mk I • Red-Check Shirt • Rockenberg White • Round-Collar Shirt • Rugby King 08 • Rugby King 10 • Samurai Jacket • School Cardigan A / B • School Jersey • School Uniform A / B • Schoolyard Scrap Jack • Seahorse Shoreliner • Slipstream United • Squinja Suit • Steel Platemail • Striped Rugby • Striped Shirt • Sudadera Celeste • Sudadera Roja • White Anchor Tee • White Sailor Suit • White Striped LS • White V-Neck Tee • Yellow Urban Vest • Zapfish Satin Jacket • Zekko Hoodie |
| | |
| --- | --- |
| | Airflow & Hustle Jacket • Anchor Life Vest • Annaki Anchored Coat • Annaki Bracelet Tee • Annaki Flannel Hoodie • Annaki Polpo-Pic Tank • Apex Sweater • Arctic Monster Parka • Barazushi Tuff Duffel • Barazushi Wrap • Base White Button Up • Baseball Jersey • Black Inky Rider • Blue Sailor Suit • Button-Clown Shirt • Camo Zip Hoodie • Crimson Parashooter • Cycle King Jersey • Dark Bomber Jacket • Dark Urban Vest • Distressed Vest • Dustcloud Hoodie • Fashion Splash Shirt • Forest Vest • Hype Stripe Button Up • Indigo Boss Haori • Ink-Black Paddle Jack • Juice Parka • Kensa Coat • Light-Bright Paddle Jack • Lime Battlecrab Shell • Matcha Down Jacket • Moby Knit • Mountain Vest • N-Pacer Sweat • Negative Longcuff Sweater • Octo Tee • Olive Ski Jacket • Orca Bolero • Patchwork Bomber • Penguin Bolero • Rad Plaid Casual • Red Battlecrab Shell • Reggae Tee • Retro Gamer Jersey • Retro Sweat • Seafoam Hoodie • Shirt & Tie • Splatfest Tee • Squid Satin Jacket • Squiddor Polo • Takoroka Nineties Nylon • Takoroka Nylon Vintage • Tan Retro Tee • Trooper Top • Umibozu Road Jersey • Urban Upcycle Top • Varsity Jacket • Vintage Check Shirt • White Inky Rider • White Shirt |