Ink or Sink
Jump to navigation
Jump to search
Ink or Sink​
Ink or Sink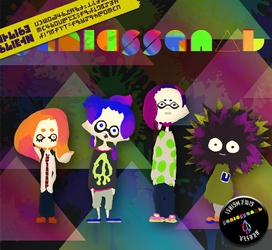 For the Splatoon online tournament, see Competitive:Ink or Sink.
Ink or Sink is a song performed by Squid Squad.
Description
Like most Squid Squad music, Ink or Sink features a blend of rock and electronic music, starting with an intro that places emphasis on the synthesizers and guitars, before moving to a section with alternating vocals in the Inkling language. During the chorus, the song abruptly switches to heavy metal, before switching back after looping. It is one of the five battle songs released with Splatoon at launch, and like all battle songs, it has a random chance of being played during online matches. It can also be heard in Squid Beatz, and it is included in Splatune.
Through the fictional interview contained in the Splatune booklet, it was revealed that Ink or Sink was the first song Squid Squad wrote after Splattack!, and features MURASAKI using his many spines as sticks on the drums.
In the Super Smash Bros. series
See also: Ink or Sink
It is also featured in the soundtrack for Super Smash Bros. Ultimate. It has a chance of playing on Moray Towers, and can also be heard in the Sounds section in the Vault menu.
Trivia
In April 2016, Ink or Sink was added to Daigasso! Band Brothers P.
During a Splatoon 2 event that took place from

12 July 2019

to

15 July 2019

in Tetris 99, getting 100 or more points awarded the player with a Splatoon theme, changing the graphics, music, and sound effects to those from the franchise. When this theme is applied, Ink or Sink is heard when there are 50 players left in the match, switching from Splattack!. It continues to play until there are 10 players left in the match when the music switches to Now or Never!.
Etymology
Names in other languages