Till Depth Do Us Part
From Inkipedia, the Splatoon wiki
Till Depth Do Us Part​
Till Depth Do Us Part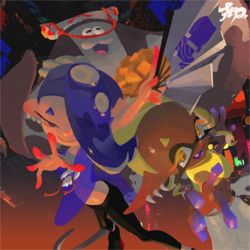 Till Depth Do Us Part is a song performed by Deep Cut during Splatfests. It is one of four songs that will play during Splatfest battles.
Description
Till Depth Do Us Part is a melodic drum and bass track with an intense, driving beat. The track opens with a synth unison line and drums, which is joined by bass after four bars of the intro. Frye performs the first verse along with synth arpeggios and her signature sitar in the background, followed by Shiver performing a second verse interspersed with shamisen figures. During the bridge, the idols harmonize and sing alternating solo lines accompanied by hits in the backing synthesizers and drums every other measure. The chorus continues in a similar fashion, with both idols singing the beginning of the hook and taking alternating solo lines in between. They are harmonized with a vocoder with a high formant akin to some songs by the Squid Sisters. The chorus leads into a halftime breakdown before it loops back to the intro.
Big Man wrote the "filled with Splatsville pride" song when Shiver was amazed at how Deep Cut are the toughest bandits around.[1] It is one of the three songs that can randomly play during a Splatfest Battle in Splatoon 3.
Lyrics
The booklet included with Splatune 3 gives the official lyrics for Till Depth Do Us Part. The lyrics are nonsensical; the Japanese hiragana and katakana simply give the pronunciation.
Till Depth Do Us Part Lyrics (Kana version)
"

ダラティケ ディロテ ハティマティ
デラニケ ディヤテ パラデイエ
ベレリテ ミロト ワ二ダニ ディヤ
バラニタ メソケ ハイディヤビンダ


やてぃ ゆりぬ ひそ までぃなだれ
つさの いこと わぁて


ユト まれにそった
ユト ワディリハット
ユト ゆかぬかの
ヤラクティニハレ


★
ダラ ダラ
ト ウィニカン ダロ
ダラ ダラ
と みにはんじろ で


イヨ ビニファンダノ マディリ
コディリ バラディソ


★くりかえし

"
Till Depth Do Us Part Lyrics (Romanized version)
"

Daratike dirote hatimati
Deranike diyate paradeie
Bererite miroto wanidani diya
Baranita mesoke haidiyabinda


Yati yurinu hiso madinadare
Tsusano ikoto waate


Yuto marenisotta
Yuto wadirihatto
Yuto yukanukano
Yarakutinihare


★
Dara dara
To winikan daro
Dara dara
To minihanjiro de


Iyo binifandano madiri
Kodiri baradiso


★Repeat

"
Quotes
"
At least we have sweet tunes playing as we wrack our brains over this. This is Till Depth Do Us Part by Deep Cut. Musicology says Big Man was inspired to write a tune filled with Splatsville pride after Shiver "totally flipped out" about how they're the toughest bandits around.
"

— @SplatoonNA on Twitter

[1]
"
We've entered the Splatfest's second half, which can only mean one thing - Tricolor Turf War! Energise yourself for battle with Deep Cut's "Til Depth Do Us Part", a tune that Big Man wrote all in one go and filled with Splatsville pride.
"

— @NintendoEurope on Twitter

[2]
Etymology
Till Depth Do Us Part is a pun on the phrase "till death do us part", a phrase traditionally associated with weddings. "Depth" refers to the ocean's depth.
Names in other languages
Language
Name
Meaning
 Japanese
張拳ゴーアヘッド
張拳(ハリケーン)ゴーアヘッド[3]
Hariken Gō Aheddo
Hurricane Go Ahead.
A play on on hurricane and chouken (張拳), meaning clenched fist, the first kanji of which can also be pronounced as "hari" (to form "hariken").
References