Till Depth Do Us Part
From Inkipedia, the Splatoon wiki
Till Depth Do Us Part​
Till Depth Do Us Part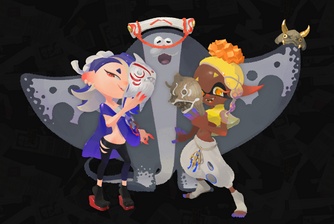 This article or section is a stub.


You can help the wiki by adding to it.
Till Depth Do Us Part is a song performed by Deep Cut.
Description
Till Depth Do Us Part has an intense beat, being an electronic song. Big Man wrote the song after being filled with Splatsville pride when Shiver was amazed at how Deep Cut are the toughest bandits around. It is one of the two songs that can randomly play during a Splatfest Battle in Splatoon 3.
Quotes
"
At least we have sweet tunes playing as we wrack our brains over this. This is Till Depth Do Us Part by Deep Cut. Musicology says Big Man was inspired to write a tune filled with Splatsville pride after Shiver "totally flipped out" about how they're the toughest bandits around.
"

— @SplatoonNA on Twitter

[1]
"
We've entered the Splatfest's second half, which can only mean one thing - Tricolor Turf War! Energise yourself for battle with Deep Cut's "Til Depth Do Us Part", a tune that Big Man wrote all in one go and filled with Splatsville pride.
"

— @NintendoEurope on Twitter

[2]
Etymology
Till Depth Do Us Part is a pun on the phrase "till death do us part".
Names in other languages
Language
Name
Meaning
 Japanese

張拳(ハリケーン)ゴーアヘッド


Hariken Go Aheddo
Hurricane Go Ahead
References