Acid Hues
From Inkipedia, the Splatoon wiki





Acid Hues​
Acid Hues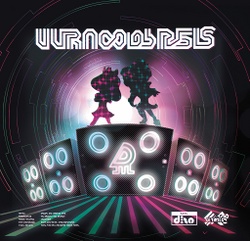 Acid Hues is a song performed by Off the Hook.
Description
Acid Hues is an electronic pop song, with both singers trading lines back and forth over a frantic yet energetic beat. It was one of three songs that had a chance of playing during Splatfest Regular Battles (more specifically, the "Splatfest match" version described below). It can also be heard in Squid Beatz 2 after hearing it in a Splatfest at least once, though this requirement has been removed as of Version 5.2.0.
See also: Acid Hues
The song is also featured in the soundtrack for Super Smash Bros. Ultimate, and by default, it has a chance of playing on Moray Towers, where a special Splatfest version of the stage is used if played. In World of Light, it can be heard in the sub-world Power Plant. It can also be heard in the Sounds section in the Vault menu.
Lyrics
The booklet included with Splatune 2 gives the official lyrics for Acid Hues. The lyrics are nonsensical; the Japanese hiragana and katakana simply give the pronunciation. According to a Famitsu interview,[1] the former is used to indicate Pearl's lyrics in Inkling language, whereas the latter is used to indicate Marina's lyrics in Octarian language.
Acid Hues Lyrics
"

Rakino rakino rakinoyo ribirribittasane
Sharami sharami sharamiyo migattanonisou
Wizaro wizaro wizarone diraddirattapanke
Sharira
Janpara
Mekidabiyasou


Mawadi ruwari jarunashade
Miwata yohara winiserame


Daribo
Yannero
Gainapati meduchi
Dastaniracha wakutamonasa


Shiwaka charota nimerayaso
Mikero hejero yunakoraso


Jettara
Manyaba
Yerouname rewaka
Dastaniracha dastaniracha


Chas chas pas
Pas pras idonteiko
Chemikori digenonnon
Shizamina ratatuya baraneranonenoto
Saifai zatsugeron


Pas pras yokendo
Narawi narawi narawija diginnaturisoso
Mirani mirani miraniyo
Saifai zatsugeronto fainaibai

"
"

ラキノ ラキノ ラキノヨ リビッリビッタサネ
しゃらみ しゃらみ しゃらみよ みがったのにそう
ウィザロ ウィザロ ウィザロネ ディラッディラッタパンケ
シャリラ
じゃんぱら
メキダビヤソウ


マワディ ルワリ ジャルナシャデ
みわた よはら うぃにせらめ


ダリボ
やんねろ
ガイナパティ メドゥチ
ダスタニラチャ ワクタモナサ


しわか ちゃろた にめらやそ
ミケロ ヘジェロ ユナコラソ


じぇったら
マニャバ
いぇろうなめ れわか
ダスタニラチャ ダスタニラチャ


ちゃす ちゃす ぱす
ぱす ぷらす いどんていこ
ちぇみこり でぃげのんのん
しざみな らたとぅや ばらねらのねのと
さいふぁい ざつげろん


ぱす ぷらす よけんど
ならうぃ ならうぃ ならうぃじゃ でぃぎんなとぅりそそ
みらに みらに みらによ
さいふぁい ざつげろんと ふぁいないばい


"
---
Other versions
During Splatfest matches, the version that plays removes a portion of the vocals from the verse after the song's two-minute mark, presumably to ensure a better transition to Now or Never! at the match's one-minute mark. Therefore, most of the changes can never be heard in-game.
Acid Hues (Live)
During live performances, an extended version of Acid Hues is used. Although each performance is different due to the live bands, they retain the same strong structure. The main difference from the regular version is a new rap verse by Pearl, along with a definite ending to the song. A recording of this version from their first live concert at Haicalive at Tokaigi 2018 can be found in Octotune.
At Tentalive at Tokaigi 2019 and Haicalive Kyoto Mix, the song is shortened and a different ending is used to segue into Color Pulse.
Etymology
Acid refers to Acid music, which Off the Hook's music has influences of. Hues likely refers to the colors of ink seen during Turf Wars.
Names in other languages
| Language | Name | Meaning |
| --- | --- | --- |
|  Japanese | リップル・リフレイン | Ripple Refrain |