Splatune 2 (Splatoon 2 Original Soundtrack)
From Inkipedia, the Splatoon wiki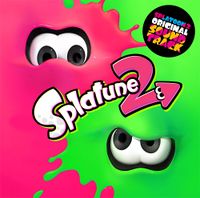 The real world!
This article or section discusses subjects found
in real life
.
Splatune 2 is the first original soundtrack for Splatoon 2, and serves as a sequel to the first Splatune. It features two discs with 82 tracks total of in-game music and sound effects. Also included are album cover art of the various bands featured in the game, lyrics to the music by Off the Hook and interviews with Wet Floor and Marina. The first production run also came with a Splatoon-themed guitar pick. It was released in Japan on 29 November 2017.[1][2]
It debuted at #4 on the Oricon Albums Chart and at #11 on the Billboard Japan Hot Albums chart.[3] It sold 18,007 copies during its launch week.[4]
It was later accompanied by Octotune and Splatoon 2 Live in Makuhari -Tentalive-.
Tracks
Disc 1
Disc 2
Changes
Some songs contain slight changes in arrangement from the versions used in the game.
Songs by Wet Floor and Off the Hook have louder vocals than their in-game versions.
Inkoming! sounds different when it starts to loop. It has a proper ending as well, as opposed to fading out.
The synth solo in Endolphin Surge is changed.
The reverb effect on the trumpet in Broken Coral is removed.
Inkopolis Square starts with the main speaker music before fading into the background to play the jingles that play from other speakers in the Square, and then fading back in before the song finally fades out.
Dubble Bath (DIY Remix) has brief moments where the sound is distorted as if a control stick was quickly tilted while in a lobby. The sound clips that only play if the Control Pad is pressed are also present.
Inkopolis News has a section where Marina's record scratches play, and then ends properly.
Octo Canyon contains all five versions that play depending on which zone the player is in.
Octarmaments contains all three versions that coincide with the three phases of each boss.
Bomb Rush Blush does not fade out, but instead transitions to Tidal Rush, as what happens in-game.
Tidal Rush starts with the beat that plays after completing the second phase of the final boss.
Lyrics
From the booklet included with Splatune 2. They are all nonsensical; the Japanese hiragana and katakana simply give the pronunciation.
"

Rasta ruminai yonabiarubawe
Nyunennai wiramoranirakurai
Rasta riposei nyuzetarahankista
Monin nyunennai

Wasaponnatai za nemora tashiniraomaigemora
Gatubichenira

Kinahenzagon nenon iriyou
Mirimamirimahoukou kouchaichaichai


Watsatsanemora tashiniraomaigemora
Kanishirayou kanishirayou matsumeramouganagana baibai

Watsatsanemora kanishirabaibaigemora
Wasaponnachenira gana bai

WOW wikanirasta ninokurai (janpai!)
Pikaporabari ninohai (tannai!)
Onyasai yaustau buroinowa (raihai!)

WOW wikanirasta ninokurai (janpai!)
Pikaporabari ninohai (tannai!)
Tiryugai spraen praen yuwobira (raihai!)

"
"

ラスタ ルミナイ ヨナビアルバウェ
にゅねんない うぃらもらにらくらい
ラスタ リポセイ ニュゼタラハンキスタ
もにん にゅねんない

わさぽんなたい ざ ねもら たしにらおまいげもら
がとぅびちぇにら

きなへんざごん ねのん いりよう
みりまみりまほうこう こうちゃいちゃいちゃい

わつぁつぁねもら たしにらおまいげもら
かにしらよう かにしらよう まつめらもうがながな ばいばい

わつぁつぁねもら かにしらばいばいげもら
わさぽんなちぇにら がな ばい

WOW ウィカニラスタ ニノクライ (じゃんぱい!)
ピカポラバリ ニノハイ (たんない!)
オニャサイ ヤウスタウ ブロイノワ (らいはい!)

WOW ウィカニラスタ ニノクライ (じゃんぱい!)
ピカポラバリ ニノハイ (たんない!)
ティリュガイ スプラエン プラエン ユウォビラ (らいはい!)

"
---
"

Nasta!
Riva!
Heire!
Terakonide!

Dibon!
Taimaska!
Stimi!
Wiraonnyasa!

(scat)

Raizonnei
Nyurazastei
Dismisaidon gyaro gyaro

Wastireimyun
Minakeijun
Kozozawaden joriruni

Raizonnei nyurazastei
Dismisaidon gyaro gyaro
Wastireimyun minakeijun
Tojuranahabete zeriru bitinnu WOW

Heinasa! Dyuwatsa! Zeimina!
Saponnyaro!
Kanfide! Stapinwize! Yodontorize!
Bitinnu WOW

"
"

なすた!
リヴァ!
へいれ!
てらこにで!

ディボン!
たいますか!
スティミ!
うぃらおんにゃさ!

(scat)

ライゾンネイ
にゅらざすてい
ディスミサイドン ギャロ ギャロ

ワスティレイミュン
みなけいじゅん
コゾザワデン ジョリルニ

ライゾンネイ ニュラザステイ
ディスミサイドン ギャロ ギャロ

ワスティレイミュン ミナケイジュン
トジュラナハベテ ゼリル ビティンヌ WOW

へいなさ! でゅわつぁ! ぜいみな!
サポンニャロ
かんふぃで! すたぴんうぃぜ! よどんとりぜ!
ビティンヌ WOW

"
---
"

Rakino rakino rakinoyo ribirribittasane
Sharami sharami sharamiyo migattanonisou
Wizaro wizaro wizarone diraddirattapanke
Sharira
Janpara
Mekidabiyasou

Mawadi ruwari jarunashade
Miwata yohara winiserame
Daribo
Yannero
Gainapati meduchi
Dastaniracha wakutamonasa

Shiwaka charota nimerayaso
Mikero hejero yunakoraso

Jettara
Manyaba
Yerouname rewaka
Dastaniracha dastaniracha

Chas chas pas
Pas pras idonteiko
Chemikori digenonnon
Shizamina ratatuya baraneranonenoto
Saifai zatsugeron

Pas pras yokendo
Narawi narawi narawija diginnaturisoso
Mirani mirani miraniyo
Saifai zatsugeronto fainaibai

"
"

ラキノ ラキノ ラキノヨ リビッリビッタサネ
しゃらみ しゃらみ しゃらみよ みがったのにそう
ウィザロ ウィザロ ウィザロネ ディラッディラッタパンケ
シャリラ
じゃんぱら
メキダビヤソウ

マワディ ルワリ ジャルナシャデ
みわた よはら うぃにせらめ

ダリボ
やんねろ
ガイナパティ メドゥチ
ダスタニラチャ ワクタモナサ

しわか ちゃろた にめらやそ
ミケロ ヘジェロ ユナコラソ

じぇったら
マニャバ
いぇろうなめ れわか
ダスタニラチャ ダスタニラチャ

ちゃす ちゃす ぱす
ぱす ぷらす いどんていこ
ちぇみこり でぃげのんのん
しざみな らたとぅや ばらねらのねのと
さいふぁい ざつげろん

ぱす ぷらす よけんど
ならうぃ ならうぃ ならうぃじゃ でぃぎんなとぅりそそ
みらに みらに みらによ
さいふぁい ざつげろんと ふぁいないばい

"
---
"

Astafmeya dennuhi
Irabi miya zurunadi
Distikumiya yugannazi
Deraestef panjayobi
Sherauste

Churibahinaie yaimare
Jarudanmiresrai chorapene
Dirennu saidamira yogonabe
Deraestef panjayobi

Mauna.na.na yasshijuminaha ha.ha
Di.di.di keshufunirakoma masana
Ke.ke.ke keshufuyorogajo jo.jo
Anufu dinmina minajin
Shanashana branashana

Keremariteremarichanerarineraji


Rani estanebi
Yomashasta shoade

"
"

アスタフメヤ デンヌヒ
イラビ ミヤ ズルナディ
ディスティクミヤ ユガンナズィ
デラエステフ パンジャヨビ
シェラウステ

ちゅりばひないえ やいまれ
じゃるだんみれすらい ちょらぺね
でぃれんぬ さいだみら よごなべ
でらえすてふ ぱんじゃよび

マウナ・ナ・ナ ヤッシジュミナハ ハ・ハ
ディ・ディ・ディ ケシュフニラコマ マサナ
ケ・ケ・ケ ケシュフヨロガジョ ジョ・ジョ
アヌフ ディンミナ ミナジン
シャナシャナ ブラナシャナ

けれまりてれまりちゃねらりねらじ

らに えすたねび
よましゃすた しょあで

"
---
Interviews
Also included in the booklet are fictional interviews of some of the "artists" who worked on the in-game music.
Japanese
イイダ(テンタクルズ)
ヒメ(MC/ボーカル)とイイダ(DJ/トラックメイカー/ボーカル)の二人組ユニット・テンタクルズ。「ハイカラニュース」の顔としてはもちろんのこと、クラブミュージックを広義かつ大胆に消化したそ数々の楽曲で、フェスでは街とバトルが彼女たちの色に染まる。サウンドの中核をになうイイダに、制作について話を聞いた。
⏺テンタクルズの曲作りの流れについて教えてください。
まずメインになる4小節くらいのリズムと、コード進行をります。最初はかなり厚めというか、多めの音数てとりあえずまとめておいてから、その抜き差しで展開をつくっていく感じですね。メロディとリリックはさらにその後です。
⏺ヒメさんのラップ部分もその時に作ってしまうのでしょうか?
いいえ、ラップは歌詞も含めてセンパイに丸投げです。ワタシは構成を決めておくだけです。
⏺ラップやボーカルの録音はどのように?
まずワタシのボーカルパートを、家で気が済むまでテイクを重ねて完成させます。センパイにはいつも「イイダ、カンぺキ主義!やりすぎだよ!」って言われちゃうんですけどね(笑)。その後にスタジオに入って、センパイのラップを録ります。いつも驚くんですけど、ほとんど1テイクで、ときどき2テイクめもやるくらい。「もう疲れたー、今のでいいっしょ?」って。でも、それだけでバッチリなんです。ワタシには絶対出せないスピード感……。
⏺音楽的なバックグラウンドについて。影響を受けたアーティストはいますか?
シオカラーズです!プロデューサーのShy-Ho-Shyさんとあわせてですけど、大好き……というのもおこがましいような。この話ならひと晚中できますよ(笑)。カバーされた「シオカラ節」のメロディがーか所だけ、わざと音階がら外していることの効果についてとか。シオカラーズは確実にワタシのルーツです。ただ、逆立ちしてもワタシにはあんな世界はつくれないので。ワタシなりのサウンドで、ヒメセンパイと「テンタクルズらしさ」を作っていけたらと思ってるんです。
種族や言葉を越えてしまうこと音楽のいちばんのすごさって
⏺シオカラーズといえば、彼女たちの「イマ・ヌラネバー!」をカバーいますね。
はい、センパイから「やっぱ、これやらないと締まらないっしょ!」って。シオカラーズ版も(Squid Squadの)カバーですか、ワタシにはとてもおそれ多くて「いいですけど、ボーカルはセンパイお願いいます……」ってお任せしまして。でも、トラックを作っていてすごく楽しかったです。ボーカルかー人でも寂しい感じにならないように、エフェクトをエ夫しています。
⏺「ウルトラ・カラーパルス」は、今やハイカラスクエアのフェスを象徴する一曲です。
「これからのフェスはこんな感じになるから、みんなをアゲる曲を作ってね」ってイベンターさんから渡されたスケッチに描かれていた、きらびやかなライティングがとても印象的で。「機材から信号を送って、テンポに合わせてライトを動かせますか?」って訊いたら「やってみよう」って。それをイメージして、うきうきしてリフを作りました。ステージから見える街やお客さんに、ワタシたちも本当にアゲられちゃうんですよ。
⏺この曲にもありますが、イイダさんのトラックに特徴的なのが、ときおり顔を出す工キゾチックな音色やフレーズです。ある種唐突で、ぶつ切り感もありますが、その意図は?
それ、すごくよく言われるんですけど、自分としてはごく自然にやってしまうことなんですよね……。音の切りはビートに合わせて、へンに余韻を残さずに切るのが確かに好みです。なんだかワタシの中のDNA?みたいなものが、そうさせるみたいなんですよね。
⏺「フルスロットル・テンタクル」は、じりじりと焦らすような前半と、リリカルで動きのある後半対照的ですね。
焦らしてますね〜。いわゆる「あいしい」部分ってずっと続くと慣れてしまうので、後にとっておいて、しかもあえて「食い足りない」くらいで次に行くようにしました。そうだ、思い出した!その後半部分で、ワタシとヒメセンパが交互にボーカルをとるんですけど。センパイ、録りのときに急にもじもじして「イイダ、ちょっとひとりにして!」って。なんだかちゃんと歌うのが恥ずかしかったんですかね。珍しく、何テイクもかかってました(笑)。
⏺ヒメさんからは、イイダさんの作るトラックについてリクエストがあったりするんでしょうか。
めちゃめちゃあります。リクエストっていうか、ダメ出し……。「なんかダサい!」とか「ラップしづらい」とか。そのときは凹んでしまうんですけど、よくよく自分で聴き直してみると、確かにその通りだなって思って。それで直したのを送ると「さすがイイダ、サイコーじゃん!」って言ってくれるから、やめられないんですよね〜。
⏺今後、テンタクルズはどのような進化をとげていくのでしょうか?
ワタシたち二人それぞれの強みをいかして、ハイカラスクエアのみなさんをどんどんアゲていきたいです!それだけではなくて、メロウだったり、チルアウト系のトラックも積極的にリリースしていきたいですね。音楽のいちばんのすごさって、ありきたりかもしれないけど、種族や言葉の違いを越えてしまうことだと思うんです。まだ会ったことのない誰かを応する、ワタシ個人はそんな想いてトラックを作っています。
---
Translation[5]
Marina (Off the Hook)
Off the Hook is a two-person unit formed by Pearl (MC/Vocalist) and Marina (DJ/Track Maker/Vocalist). Besides being the face of Inkopolis News, their bold take on club music has been embraced all over the place, and even the city's Splatfests and battles have been dyed into their colors. Marina, who has become the core of its sound, will tell us a little bit more about its production.
Please tell us about the flow in writing Off the Hook's songs.
First of all, I make the main rhythm and a chord progression of about four bars. It's very thick at first, full of lots of sounds, so it keeps getting bigger as I remove and add new ones. The melody and lyrics are done way after.
Do you take Pearl's rapping into account at that stage of the process?
No, I leave all the decision-making regarding the lyrics to Pearl. I only decide the composition.
How are the recordings for the rap and vocals made?
First, I'd take my vocal part, and finesse it with as many takes necessary until it feels like home. Pearl will always say "Marina, you're such a perfectionist!" "You're overdoing it!" (lol). After that, I'd go to the studio and record Pearl's rap. I'm always surprised that, even though it's done in one take most times, sometimes it'd need two takes, she'd say "I'm exhausted! is it ok now?" But that's all she needs for it to be spot-on. She has this speediness that I can never achieve...
Regarding the musical background, are there any artists that influence you?
The Squid Sisters! I've been in touch with their producer, Shy-Ho-Shy, and I love them... even though it sounds a bit presumptuous. I could go on about that all night long (lol). I'd like to talk about the effect of how their cover of the "Calamari Inkantation" is intentionally out of scale in a few places. The Squid Sisters are definitely my roots, but even if I stood on my head, I couldn't create a world like that. So, I'm hoping to create songs that have an "Off the Hook style" alongside Pearl.
Speaking of the Squid Sisters, you made a cover of their "Now or Never!" song, right?
Yes, Pearl said, "We gotta do this one after all!". Even though the Squid Sisters' version is also a cover (of Squid Squad), I was very nervous about it, so I told Pearl, "I'd like to leave the vocals to you if you don't mind...". But I had lots of fun making the tracks. I came up with an effect so the vocals wouldn't feel lonely despite being sung by one person.
"Color Pulse" has now become the main song for Splatfests.
I was told by the event organizer, "This is what Splatfests will be like from now on, so please make a song that will make everyone excited." as they showed me an amazing sketch full of glittering lightning. Then they asked, "Could you make it so when getting a signal from the equipment, the lights would move according to the tempo?" and I said, "Let's give it a go!". With that in mind, I got really passionate while making the tracks. Just seeing all the fans in the streets made us both really fired up.
Another thing about this song, your track has this characteristic where there would be exotic sounds and phrases that appear from time to time. It kind of feels abrupt and choppy, what's the intention behind that?
I say it all the time but it's just something I naturally do... like when I turn off the sound according to the beat, I definitely enjoy cutting the left-over reverberation in a weird way. I guess it's because of the DNA inside me. It seems like it's something I like to do.
In "Ebb & Flow", the first half feels like it gets more and more fired up, which contrasts with the lyrical movement of the second half.
It sure gets fired up, huh? Since you'd eventually get used to the "Tasty" part as it kept going, I left it for later, so when it started to feel like "Not enough" it'd switch to the next part. Oh right! I just remembered! In that latter part, Pearl and I would alternate vocals. At that time Pearl suddenly hesitated during the recording and said "Marina, leave me alone for a sec!". Guess she must've been a bit embarrassed about not singing properly. Oddly enough, we did a lot of takes (lol).
Do you get any track requests from Pearl?
Lots of them. Though I wouldn't call them requests... She'd go like "Something's wrong!" or "The rap feels rough". It would bring me down a bit at first, but after taking a better listen myself, I'd think the same way. And after I send it, she won't stop saying things like "It's amazing Marina! I knew you could do it!"
From now on, what kind of evolution can we expect from Off the Hook?
By supporting each other with our strengths, I want to keep entertaining everyone in Inkopolis Square! Not only that, I'd like to also release mellow and chill-out tracks someday. I think that the greatest thing about music is that it has the power to go beyond differences in species and language. It makes you want to root for someone you've never met before. That's how I personally feel when making my tracks.
---
Japanese
Wet Floor Interview
シーンがまたカラフルになっていったらワクワクしますよね
こちらが理解したと思ったら、逃げていく。Wet Floorはそんなバンドだ。枠にはまらない。予想の通りにはいかない。それでいて、気が付くと僕らの心の深い底にはっきり、じっとりと染み込んでいる。前作『Color Rush』とはがらりと雰囲気を変えてきた最新作『Inkoming!』も、その例に漏れない。メンバー5人の想いを訊いた。
◯インタビュー=ニジマスヤ
⬤今回のアルバムは曲ごとにさまざまに色を変えていて全く飽きさせないし、のみならずWet Floorとハイカラスクエアの「今」を切りとったようなみずみずしさに溢れて いると思った。
全員「ありがとうございます!」
MIZOLE (Vo. G)「そうですね。例えば僕は、自分が生まれるより昔に流行った古い音楽も大好きなんですけど、あくまで『今生きてるこの時代からもらって、またそこへ返すもの』というスタンスで、Wet Floorで音楽やってます」
TSUMABUSHI (B)「というか、そうとしかできないよね」
⬤同時に改めて思ったのが、やっぱりWet Floorって「ひねくれてる」なあってことなんだよね。
KAZAMI (Dr)「(笑)」
MIZOLE「自分たちとしては、ひねくれてるつもりはないんですけどね」
RYAN (Vo. G)「あなたはひねくれてるよ。あたしやTSUMABUSHIとぜんぜん別のコード弾いてたりするじゃん」
KAGI (Synth)「なんていうか『ひと目見ただけでは把握しきれない絵』みたいな音楽を描きたい、っていう想いはありますね」
⬤ちょっと意地悪な質問になるかもしれないけど、それは「キャッチーはない」ともいえる?
MIZOLE「そうなるのかなあ」
⬤少なくとも、数年前にハイカラシティを席巻していた「ストレートなヤンチャさ」とは違うよね。
MIZOLE「ああ、それはそうしたかったんです。あのころって、抑えられない『初めて見る世界への興奮』みたいな空気に満たされてた。今の僕らは、それを自分たちの身体の中に染み込ませた上で、『同じ想いの仲間たちとそれをずっと共有していく決意』のようなものをアウトプットした。……うまく言い表せているのかはわからないけれど」
⬤なるほど。例えばあの頃の象徴のようでもあるSquid Squadの"Now or Never"をカバーしていながらも、Bメロでは一旦レイドバックして、大人数で「ヤー……」と唱和するとこるとか。
RYAN「そうですね。あそこは原曲から、コード進行も変えてみたんだよね」
KAGI「それも僕らの『今の気分』ですね」
⬤あるいは"Inkoming!"で、歌い出しでは《spラ spラ fラ オニャロ/インk オ シンk ファザロ》と挑発しておきながら、サビでは《ユガナ シヨ シヤセイ/ゴチュノ ワノ ワナサ》と、少し「人恋しさ」も見せるしたたかさで。
MIZOLE「うん、あのサビは、これまでの僕らだったら、ちょうと歌えなかった言葉だと思うんですよね。正直、迷いながら書いたんですけど。でもライブでオーディエンスと一緒に盛り上がっていると、そんなためらいはふっとんでいってしまう」
⬤ところで、同時に収録されている"Inkoming! (Cloud Demo)"というバージョン違いは?
KAGI「僕が最初にこのリフを作って、クラウドにアップロードして。それにみんなが好き勝手に自宅で重ねたプリプロですね。まずTSUMABUSHIがバッキバキのスラップを入れてきて」
TSUMABUSHI「最終的にはだいぶ抑えたよ。"Rip Entry"では遠慮しなかったけど(笑)」
⬤まさに「ハネまくっている」ギターから始まる4つ打ちチューンだね。どっしりとしたリズム隊が気持ちよく、ライブではフロアが縦に揺れる。この曲に限らないけど、TSUMABUSHIとKAZAMIの噛み合い具合はハンパないね。
MIZOLE「この二人、めちゃめちゃコソ練してますからね」
RYAN「スタジオ入る日も2時間くらい早くからリズム練してる」
KAZAMI「だって、曲が難しいんだもん!面白いけどね」
⬤その二人が、いちばん手ごわかった曲は何?
KAZAMI「断然"Don't Slip"でしょ。あの変拍子のリフ!あのリフをRYANが作ったっていうのが意外」
RYAN「作ってるとき、自分では変拍子だって気づかなかったんです。PCに録ってみてから『あれ?なんかヘンだぞ……』って(笑)」
TSUMABUSHI「ドラムンベース入った"Undertow"もけっこう手ごわかった。いきなりブレイク来るからね」
⬤他の曲も、まずリフからつくっていく流れ?
KAGI「基本的にそうですね。誰かがリフをアップして、そこにみんながとりあえず重ねていくところからです」
KAZAMI「ただ"Endolphin Surge"だけは違って、いきなりMIZOLEがメロディ先行で作ってきたんだよね。それがあのイントロ」
MIZOLE「仮タイトルが『青春』(笑)」
RYAN「アツいよね」
⬤確かにある種、気恥ずかしいくらいの王道感をもって始まりつつも、そこに留まらず、その後の展開はめまぐるしい。そこはやっぱりWet Floorらしさだなあって。そしてその「留まらなさ」は曲の中だけじゃなくて、冒頭にも言ったけど、曲·音楽性のバラエティにも言えると思うんだよね。このアルバム自体も、これまでの作品とは全然ムードが違うし。
MIZOLE「飽きっぽいんですね?『自分たちがまだやってないこと』は何だろう?って探しながら、いつも次の曲を作ってます」
KAGI「ナワバリバトルみたいだね。『もうここは塗った!まだ塗ってない場所はないか?』って(笑)」
⬤もしかしたら、さらに「塗り返してくる」別のバンドが現れたりして。
MIZOLE「すげえ面白いじゃないですか。そうやってシーンがまたカラフルになっていったら、ワクワクしますよね」
---
Translation[6]
It'd be exciting to see the music scene become colorful again
Just when we think we understand them, they get away from us. Wet Floor is that kind of band. They don't fit inside the box. They don't do what we'd expect. And yet, before we knew it, their music had become deeply ingrained in our hearts. Their latest album "Inkoming!", which has a completely different atmosphere from their previous album "Color Rush", is no exception. I asked the five members about their thoughts on the album.
Interviewer: Nijimasuya ⏺
⏺This album feels so colorful and changing in a way that I never get tired of. Not only that, I thought that it was overflowing with freshness as if it were a piece cut from the "now" of Wet Floor and Inkopolis Square.
Everyone: Thank you!
Mizo (Vo. G): Yeah, for example, I love old music that was popular before I was born, yet I take the stance that "I take from this era I am living now, so I should give back too," which is what I do when I play with Wet Floor.
Neil (B): I mean, that's really all you can do, isn't it?
⏺At the same time, I was reminded of how "twisted" Wet Floor is.
Candi (Dr): (Laughs)
Mizo: As far as we're concerned, we don't mean to be twisted.
Ryley (Vo. G): Oh but you're so twisted. You play chords that are totally different from mine and Neil's!
Keaton (Synth): I guess I want to create music that is like "a picture that cannot be fully understood at first glance".
⏺This might be a bit of a nasty question, but it could be called "not catchy."
Mizo: I wonder if that will happen.
⏺At least it's not the "straight-up naughtiness" that was sweeping Inkopolis a few years ago.
Mizo: Ah, yeah, that's the kind of thing I wanted to do. Those days were filled with an unbridled "excitement to see the world for the first time" kind of feeling. Now we've let it seep into our bodies, and our output is a kind of a "determination to keep on sharing it with like-minded people." I don't know if I'm putting this well.
⏺I see. For example, when you guys covered the iconic Squid Squad song "Now or Never!", which seems to be a symbol of those days, you have a big group of people chanting "Yeah..." in a laid-back B-melody.
Ryley: That's right. We changed the chord progression there too, from the original song.
Keaton: That's our "feeling" right now, too.
⏺Or in "Inkoming!", you stir up some excitement in the first bars (spla spla la o nyalo/ink o sink fazaro), but the chorus (yuganashoshiyasei/ nigochunowanowanasa), shows off a little "longing for others".
Mizo: Yeah, that chorus is something we wouldn't have been able to sing in the past. To be honest, I was hesitant while writing it. But when you're in a live setting and you're getting excited with the audience, all that hesitation just fades away.
⏺By the way, what is the difference with the version of "Inkoming! (Cloud Demo)" that was recorded at the same time?
Keaton: I initially wrote this riff and uploaded it to the cloud. And then everyone else did whatever they wanted with it at home. First, Neil added in a slapping bass line.
Neil: In the end, I held back a lot on the bass lines. I didn't hold back on "Rip Entry" though. (Laughs)
⏺It's a four-on-the-floor tune that starts with a very "springy" guitar. The weighty rhythm section feels great and makes the floor sway vertically at concerts. It's not just in this song, but the way Neil and Candi mesh with each other is unbelievable.
Mizo: Those two practice in secret like crazy.
Ryley: Even on days when we go to the studio, they start practicing the rhythm line a couple of hours early.
Candi: Hey the songs are hard! It's fun though.
⏺What was the most difficult song for you two to play?
Candi: It's definitely "Don't Slip". That riff is in such a weird time signature! Surprising that Ryley wrote that riff.
Ryley: When I was working on it, I didn't realize that it had an odd time signature, but when I recorded it on my computer, I thought, "Huh? Something's weird about it... (laughs)
Neil: The drum 'n bass in "Undertow" was pretty tough too. The break comes so fast.
⏺Are the other songs built off of a riff?
Keaton: Basically, yes. Someone uploads a riff, and then everyone adds to it.
Candi: The only difference is in "Endolphin Surge", where all of a sudden, Mizo made the melody first instead. That's the intro.
Mizo: Tentatively titled, "Youth." (laughs)
Ryley: That's intense.
⏺It certainly starts with a kind of embarrassingly classic feel, but it doesn't stop there, as what happens after that is dizzying. That's what makes Wet Floor so unique. And that fierceness isn't just in the songs; as I said at the beginning of this interview, I think it can be said for the variety of the song's musicality too. The album itself has a completely different mood than your previous works.
Mizo: Are you bored of it? What is that "what we haven't done yet?" That's what I'm always looking for when working on the next song.
Keaton: It's just like in Turf Wars. "I've already inked this place! Is there any place I haven't yet?" (laughs)
⏺Maybe there's another band that will 'ink you back' even more.
Mizo: Wouldn't that be super interesting? It'd be exciting to see the music scene become more colorful like that again.
---
Credits
Music By
Toru Minegishi (disk 1 1-11, 17-23, 33, 34, disk 2 1-13, 15-20, 24, 25, 48)
Ryo Nagamatsu (disk 1 track 12-16, 24-32, disk 2 14, 22, 23, 26-28, 47)
Shiho Fujii (disk 1 33, disk 2 13, 21, 26-29)
Sound Effects By
Performers
Vocal: Hiroaki Takeuchi (disk 1 2-7)
Vocal: Sachiko Watabe (disk 1 2-7)
Vocal & Voice (Marina): Alice Peralta (disk 1 33, disk 2 1, 3-5, 44; as Alice)
Vocal & Voice (Callie): Yuki Mizutani (disk 2 25-29; as keity.pop)
Vocal & Voice (Marie): Mari Kikuma (disk 2 27-29)
Electric Guitar: Akitoshi Kuroda (disk 1 1-7, 9, 11, 17)
Electric Bass: Ikuo Shibutani (; as IKUO)
Drums: Kei Yamazaki (disk 1 1-7, 9, 11, 17)
Drums: Takahiko Obata (disk 2 12-14; as Pump Obata)
Drums: Mizuki Ueda (disk 1 15, 16; as MIZUKI)
Violin: Yu Manabe (disk 1 12-14)
Cello: Seigen Tokuzawa (disk 1 27-29)
Trumpet: Atsuki Yumoto (disk 1 15, 16)
Piano: Ai Kuwabara (disk 1 15, 16)
Recorded & ProTools Operated by
Takashi Koiwa (disk 1 1-7, 9, 11-17, 27-19, 33, disk 2 1, 3-6, 8, 26-19; as Takashi Koiwa (SIGN SOUND LLC))
Mixed & ProTools Operated by
Takashi Koiwa (disk 1 12-16; as Takashi Koiwa (SIGN SOUND LLC))
Mastering Engineer
Gallery
Artwork
Album booklet
Trivia
This is the first album in the Splatoon series to not have a bonus track.
Unlike previous albums with music featured on previews, the version of "Inkoming!" from the Nintendo Switch Presentation 2017 trailer still contains sound effects.
See also
References