ω-3
From Inkipedia, the Splatoon wiki
ω-3​
ω-3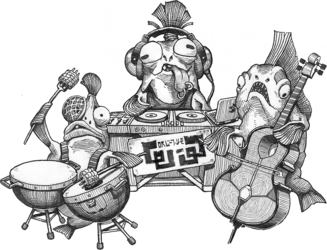 Artwork from
Splatoon 2
. From left to right: The timpanist, DJ, and cellist.
Species
Salmonid
Height
Hair color
Eye color
Age
Cellist: 50s
Timpani: 20s
DJ: < 20
Gender
Male
Relations
Location
Shop
Members
(Non-virtual)
Cello: Seigen Tokuzawa
"
This is ω-3 (Omega-3), the band that plays all the music you hear in Salmon Run.
This is an unusual combination of cello, timpani and DJ, and many part-time workers find themselves prisoners of the irregular 7/8 beat.
We are meant to be researching squids, but we have also found an interest in salmon...
"

— Japanese Splatoon Twitter

[1]
ω-3 (Omega-3) is a band in Splatoon 2 and Splatoon 3. They are not physically seen in-game, but are credited in Squid Beatz 2, Splatune 2, and Splatoon 2 Live in Makuhari.
Description
ω-3's music, which plays in Salmon Run, are experimental war marches that consist of a cello, a timpani, and synthesizers, sound effects, and other percussion instruments made by the DJ. Their music is usually very frantic, relating to the chaotic nature brought upon by Salmon Run. Their songs also have quite fast tempos which change regularly. They also use a variety of time signatures and rarely use common time (4/4), which helps to add to the confusion and disorientation. Each instrument usually has a solo in each piece, where it is singled out and plays a virtuous piece of music. Strange sound effects are usually thrown into some pieces, emphasizing the strange nature of Salmon Run.
Songs
Conjecture




This article or section involves something that has not been specifically named.
The name(s) presented could be conjectural.
Members
Due to the length of the members' names, they are otherwise referred to by what instrument they play for readability.
The Valiant Green Flame Born in Jigokudani
The Valiant Green Flame Born in Jigokudani is the timpanist, who plays with all his heart and soul. He is always facing ahead and pushing toward his goals, which is typical for his species. While he's unskilled at taking into account the feelings of others, his one-of-a-kind violent rhythm cheers up and inspires all Salmonid warriors.[2][3][4]
The Faithful Servant of the True Salmon Emperor Hizunamasu
The Faithful Servant of the True Salmon Emperor Hizunamasu is the group's DJ, a rough-tempered Salmonid with an oppsitional stance towards everything, causing him to act disrespectfully towards the other members. However, his talent and reckless-yet-fitting playstyle creates an unpredictable groove that can be said to show the true worth of the band's music.[2][5][4]
The Firstborn Child of Alkyne, the Hidden Blade of Yakiharas
The Firstborn Child of Alkyne, the Hidden Blade of Yakiharas is the band's cellist and composer, and its leader. He is stubborn and does not listen to anyone else nor does he recognize anything else than the most radical works. However, he has a delicate side that cares about atmosphere of a place, but he can only express these feelings via songs due to his clumsyness.[2][6][4]
Gallery
Trivia
Etymology
The band's name is a reference to Omega-3 fatty acids, which are dietary acids most commonly found in fatty fish (such as salmon) and fish oil. This name references the band members being Salmonids, as well as the band being a trio.
"Hizunamasu" is the Japanese name for a dish of thinly-sliced salmon head cartilage and daikon seasoned with vinegar.
"Yakiharasu" ("grilled belly"), spelled in Japanese with an elongated vowel and a flipped word order, references "Shake no Harasuyaki", a dish of grilled salmon belly.
Names in other languages
The Valiant Green Flame Born in Jigokudani
Language
Name
Meaning
 Japanese

トラウト地獄谷より生まれし雄々しき緑の炎


torauto jigokudani yori umareshi ooshiki midori no honō
Gallant green flame born from Trout Hell Valley
The Faithful Servant of the True Salmon Emperor Hizunamasu
Language
Name
Meaning
 Japanese

真の鮭帝ヒズナマスの忠実なる僕


shin no sake tei hizunamasu no chūjitsunaru boku
Will-be-loyal manservant to the True Salmon Emperor Hizunamasu
The Firstborn Child of Alkyne, the Hidden Blade of Yakiharas
Language
Name
Meaning
 Japanese

アルギンの第一子、ヤキハラースが隠せし刀


arugin no daiisshi, yakiharāsu ga kakuseshi katana
Eldest Child of Algin, the blade that hides the grilled belly
References