Staff
From Inkipedia, the Splatoon wiki
Staff​
Staff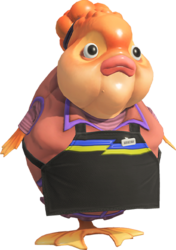 This article is about the denizens of Splatoon 3. For staff on Inkipedia, see Inkipedia:Staff.
For the staff of the Splatoon games, see Credits.
This article or section is a stub.


You can help the wiki by adding to it.
Staff are three denizens of Splatsville that appear in Splatoon 3. They can be seen around the town as well as in the Battle Lobby in various locations; one manages the Crab-N-Go, another runs the Tableturf Battle Dojo, and one acts as the recon guide. They seem to be more general characters that do not seem distinct from each other aside from work location and uniform. Per a card in Tableturf Battle, at least one of the Staff's names is Marigold.
Sunken Scroll 24 hints that "Marigold" is a shared pseudonym and identifies each of the Staff with the aliases Nishiyo Oranda, Poisson Rouge, and Ran Chi-Yu. It is unclear which name corresponds to which Staff, nor why any of them would need to go to such extreme measures to hide their true identities.
Quotes
"
Hold on. We've noticed - or surveyed, if you will - a similarity between the Recon Guide and the merchant at the Crab-N-Go. Pretty sure we've surveyed her in other spots too. Are they one and the same? We will have to order a LOT more sandwiches to get to the bottom of this.
"

— @SplatoonNA on Twitter

[1]
North America (English)
"Well, hello there! Welcome! This is your first time here, isn't it? How splendid! I do hope you'll become a regular here at the Crab-N-Go! I don't mean to boast, but our food doesn't just fill your belly - it can help fill your experience bar or even your wallet when you crab a snack before battle. Oh, I meant grab. Hee! Just one last thing before you order, dearie. We don't accept cash here. I'm afraid you'll need tickets. There! With that all said, what can I get for you today?" - When the player visits Crab-N-Go for the first time.
"Everything is good!" - While selecting food and drink.
"Are you sure?" - Upon choosing a meal or drink.
"Thank you! Come again!" - After consuming a meal or drink.
"Oh, you don't have any tickets? Well, I simply HATE to turn anyone away with an empty belly, but... Come back when you have some tickets, dear." - If a player tries to purchase food or drink without a ticket for it.
"Oh my! Welcome, sweetie. You new around here? That's just fine. We all started somewhere. I'm the local Recon Guide. I'll send you to any battle stage in any mode you like for a nice, safe stroll. It's a great way to get to know a place. And that's it! Have fun out there, alright? Oh! I plumb forgot to tell you how to leave recon. Well, it's easy as pie--just press , and you'll see it on the menu. And NOW that's it!" - When the player talks to the Recon Guide for the first time.
"Going out for recon?" - When the player is selecting a mode and stage.
"Are you ready to battle?...Oh, honey. If you thought you could fool me, think again. You're not fresh enough yet! Come back at level 4. Just go to the lobby, try a few Turf War battles, and you'll be fresh as can be in no time splat. Good luck!"
"This is the Tableturf Battle Dojo, sweetie! I'm so pleased to have you. You're not surprised to see me running the show here, are you? I may not be the youngest fish in the school, but that doesn't mean I'm not "with it."And it doesn't get any more "it" than Tableturf Battle! Simply EVERYONE is playing it right now. Probably since it's so easy to get a starter deck these days..."
"Oh dear. I was so excited to see you that I forgot to check if you were online. And you're not! Come back and see me after you connect to the internet in the lobby, OK?"
"Like this! You just got one!"
"That deck I just gave you contains 15 cards. That's all you need to play Tableturf Battle with anyone! Now, I'm sure you're itching to get right into a battle, but I'm afraid I must insist that you read the manual first. It's long, but it's filled with all kinds of wonderful rules. Take a look!"
"All done with your homework? Great! Don't worry if you don't understand every single thing right now. It's a complicated game! And experience is the best teacher. Come back anytime you want to give it a try, OK?"
"Welcome, welcome!"
"Are you here for- OH! Oh no. You don't have a single deck! That simply won't DO, dearie. Here's what you're going to do now. Open up your menu. Go to Status and look for Tableturf Battle. Build a deck there, and then come right back!"
"Who will you battle?"
"Oh, I'm so sorry, but it doesn't look like they're available right now. Why don't you try again another time?"
Dutch
"Hallo, lieve schat! Wat gezellig. O, jij bent hier voor het eerst, hè? Wat enig! Ik hoop dat je snel kind aan huis bent bij Goudelieve's[sic] Bikbalie! Ik wil niet opscheppen, maar wat ik hier verkoop, vult naast je maag ook je ervaringsmeter en misschien zelf je portemonnee. Nou, als je daarna niet vol zit! O, maar liefie, je moet weten dat we hier geen geld aannemen. Dat moet je maar ergens anders uitgeven. Wij willen alleen coupons! Nou, waar kan ik jou nou eens blij mee maken?"
("Hello, sweetheart! How nice. Oh, you are here for the first time, right? How nice! I hope that you feel right at home at Crab-N-Go! I do not want to brag, but what I am selling here, fills in addition to your stomach your experience bar and maybe even your wallet. Well, if you are not full afterward! O, but sweety, you have to know that we accept no money here. That you should just spend somewhere else. We want only tickets. Well, with what can I make you happy?") - When the player visits Crab-N-Go for the first time.
("Everything is delicious!") - While selecting food and drink.
"O, je hebt geen coupons... Ik stuur je echt niet graag weg met een rammelende maag, maar zonder coupons kan ik niks voor je doen, schat!"
("Oh, you have no tickets... I really do not like to send you away with a rumbling stomach, but I can do nothing for you without tickets, darling!") - When the player has no tickets.
Trivia
Staff resemble goldfish, with notable similarities between the tops of their heads and the Ranchu goldfish.
The attendant behind the counter at the Grizzco building has the same voice as the Staff.
Gallery
Names in other languages
Staff (Crab-N-Go)
Language
Name
Meaning
 Japanese

店員さん


ten'in-san
Salesclerk
 Dutch
Verkoopster
Saleswoman
 French
Vendeuse
Saleswoman
 German
Verkäuferin
Saleswoman
 Italian
Venditrice
Saleswoman
 Russian

Продавец


Prodavets
Seller
 Spanish
Vendedora
Saleswoman
 Chinese (Simplified)

店员

 Chinese (Traditional)

店員

 Korean

점원


jeom-won
Clerk
Staff (Tableturf Battle Dojo)
Language
Name
Meaning
 Japanese

スタッフさん


sutaffu-san
Staff
 Dutch
Instructrice
Instructor (female)
 French
Hôtesse
Hostess
 German
Dojo-Leiterin
Dojo Manager (female)
 Italian
Incaricata
 Russian

Сотрудница


Sotrudnitsa
Employee (female)
 Spanish
Encargada
Manager
 Chinese (Simplified)

员工

 Chinese (Traditional)

員工

 Korean

스태프


seutaepeu
Staff
Recon Guide
Language
Name
Meaning
 Japanese

ガイドさん


gaido-san
Guide
 Dutch
Gids
Guide
 French
Guide
Guide
 German
Arena-Guide
Stage Guide
 Italian
Guida
Guide (female)
 Russian

Гид


Gid
Guide
 Spanish
Guía
Guide
 Chinese (Simplified)

导览员

 Chinese (Traditional)

導覽員

 Korean

가이드


gaideu
Guide
Marigold
Language
Name
Meaning
 Japanese

マザー


mazā
Mother
 Dutch
Goudelieve
 French
Carpucine
From carpe (carp) and capucine (female given name, also nasturtium, a type of flower)
 German
Adorada
 Italian
Dora
Female given name, also "gilded"
 Russian

Тетя Крася


Tyotya Krasya
From тётя tyotya (aunt), Ася Asya (female given name associated with stereotypical aunts) and possibly красить krasit' (to paint), красивый krasivyy (beautiful, handsome) or карась karas' (crucian carp)
 Spanish
Maridori
 Chinese

阿母

 Korean

마더

Mother
References