Sanitized Octarian
From Inkipedia, the Splatoon wiki
Sanitized Octarians​
Sanitized Octarians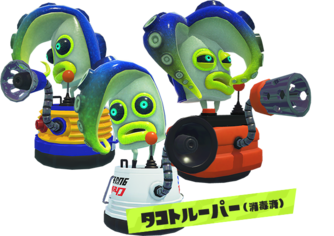 | | |
| --- | --- |
| Species | Sanitized Octarian |
| Height | |
| Hair color | |
| Eye color | |
| Age | |
| Gender | |
| Relations | |
| Location | Deepsea Metro |
| Shop | |
| Members | |
Sanitized Octarians are a variation of Octarians that have been sterilized or disinfected.[1] They resemble ordinary Octarians but with different coloration.
These Octarians have been sterilized with a type of "primordial ooze" created out of "supreme DNA" by Commander Tartar.[2] Subjects that are candidates of aiding this DNA's development are tested through the Kamabo Co. underground research facilities. The conclusion of the tests results in them being tricked into being blended as part of the DNA extraction method. The process of sanitizing Octarians with this DNA results in them losing all memory and sense of free will, allowing them to be controlled similar to robots as seen with the dialogue from Sanitized Octolings. Marina notes that the Sanitized Octarians appear to have no pulse or signs of life.
During the Turf War, Commander Tartar itself is revealed to be coated in an amount of the sanitizing ooze, wherein it has a sanitized Octarian tentacle. The NILS statue's cannon is also armed with sanitizing ooze.
Appearance
Sanitized Octarians are visually distinct from normal Octarians by their coloration: a blue-to-neon yellow gradient on their tentacles and eyes with black sclera and glowing aqua blue irises. Elite versions (such as Sanitized Elite Octolings, Sanitized Deluxe Octocopters, and Sanitized Deluxe Twintacle Octotroopers) have a darker blue and the same yellow in the gradient.
Their voices sound more digital and compressed and, when splatted, they briefly leave glowing blue pixels and glitch-like squares. Instead of the glitter-like effect that ink has in Octo Canyon, the Sanitized Octarians' ink resembles dishwasher detergent or hand sanitizer.
Sanitized Octarians were first seen in the Octo Expansion. The sanitization is implied to cause the affected to lose their free will.[3]
Types of Sanitized Octarians
The following Octarian types have Sanitized variations. Types denoted with an asterisk have only appeared as Sanitized:
The following Octarian machines appear using Sanitized Octarian ink:
Trivia
Gallery
References