Octoseeker
Jump to navigation
Jump to search
Octoseeker​
Octoseeker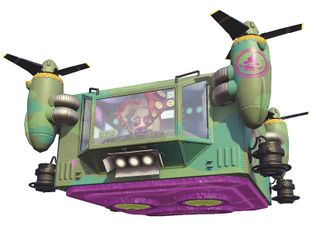 Octoseekers are Octarians in Splatoon 2 and the Octo Expansion.
Description
The Octoseeker is a helicopter made by the Octarians for reconnaissance and attack. It is piloted by a (presumably elite) Twintacle Octotrooper, which uses a joystick to move the craft and a button to raise and lower it. The front contains a window for the Twintacle to see out, which is uninkable. The back contains a door and an A/C unit, presumably to keep the pilot comfortable.
Behavior
They are flying enemies and patrol around an area, raining down ink. If they spot the player, they try to fly directly above them before falling down to crush them. They then stay on the ground for a while, letting the player climb up on top of them. They look and behave similarly to an Octostomp.
Appearances
Trivia
Gallery
This article or section needs more images!
You can help the wiki by

adding some

to keep it looking fresh!
Names in other languages
Language
Name
Meaning
 Japanese
タコパトローラー
Takopatorōrā
Octopus Patroller
 Dutch
Octozoeker
Octoseeker
 French (NOE)
Tentascruteur
 German
Oktopatrouille
 Italian
Polpattuglia
 Spanish (NOA)
Octopatrullero
 Spanish (NOE)
Octopatrullero