Octomissile
From Inkipedia, the Splatoon wiki
Octomissile​
Octomissile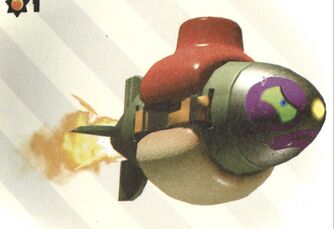 Octomissiles are Octarian enemies appearing in Octo Canyon, the Octo Expansion, and Return of the Mammalians.
They are missiles with an Octarian tentacle part in their middle, held together with a strap and plastic buckle. The front of the missile has Octarian eyes painted onto it. Similarly to Octozeppelins, they spawn indefinitely from special "hangars". When they come into contact with any solid object, including the player, they immediately explode in ink.
Some Octomissiles in Return of the Mammalians have platforms on their backs that the player can stand on and use to ride the Octomissile.
Appearances
Octo Canyon
Octo Expansion
Return of the Mammalians
Gallery
Trivia
Despite appearing in Octo Canyon, they were first named in the Octo Expansion.
Octomissiles are similar to Bullet Bills from the Mario series. They both are missile-like enemies that spawn infinitely from a sideways hole structure, small hangars for Octomissiles, and Bill Blasters for Bullet Bills.
Names in other languages
Language
Name
Meaning
 Japanese

タコミサイル


Takomisairu
Octopus Missile
 Dutch
Octoraket
Octomissile
 German
Oktorakete
Octomissile
 Russian

Роборпеда


Roborpeda
Roborpedo
From робот robot (robot) and торпеда torpeda (torpedo)
 Chinese (Simplified)

章鱼导弹兵


Zhāngyú dǎodàn bīng
Octopus missile trooper