Octotrooper
Octotrooper
Octotrooper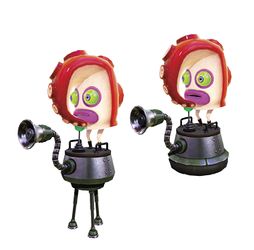 "
Octotroopers dead ahead!
"
Octotroopers are the main Octarian fighters found in Octo Valley. They are easily the most plentiful enemy. Being average size with either a single tentacle or two, these Octarians shoot purple ink from their craft. They are very simple enemies, and only require two ink shots to take out. There are a few types, with Twintacle Octotroopers being faster and smarter than single tentacle Octotroopers. There are also Shielded Octotroopers that have a shield in the front, preventing an easy frontal assault, and can be an easier targeted with a single bomb, and makes an easy target until the bomb explodes.
Appearances
Octotroopers appear in the majority of Octo Valley missions, with some notable exceptions: the four main Boss stages, the four Octoling levels, and Unavoidable Flying Object. Levels which do contain Octotroopers can have as few as two or more than twenty throughout.
In the end of the fan-made issue of Splatoon, a then unnamed Glasses-Kun flies over a bunch of Octotroopers and Octoballs. They also appear in the Hero Mode issues of the manga.
Gallery
Names in other languages
Language
Name
Meaning
 Japanese
タコトルーパー
tako torūpā
Octopus trooper
 French (NOE)
Tentassin
From tentacle and assassin
 German
Oktorekrut
Octorecruit
 Italian
Polpastro
Polpo (octopus), but with a nasty denomination
 Russian
Осьмогад
Os'mogad
From осьмо os'mo (octo) and гад gad (reptile, but can also mean scoundrel)
 Spanish (NOE)
Octorrecluta
Octorecruit