Mad Props Station
From Inkipedia, the Splatoon wiki
"Spin to win!"
Mad Props Station
Ride the propeller lifts to the goal!​
"Spin to win!"
Mad Props Station
Ride the propeller lifts to the goal!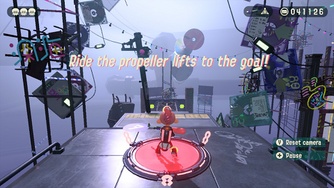 Mad Props Station is a test in Splatoon 2's paid downloadable content, the Octo Expansion. This station is unlocked after clearing either Slap Bracelet Station or All That 8-Ball Station.
Access
The player must clear either H01D03 Slap Bracelet Station or D05 All That 8-Ball Station to access this test. It is equally fast to access this station to complete either station.
Walkthrough
Mad Props Station Stats
Area
Enemies
Armor
Main Weapon
Special Weapon
Sub Weapon
Checkpoint 1
1x Sanitized Octotrooper
1x Armor
N/A
N/A
N/A
Checkpoint 2
N/A
N/A
N/A
N/A
N/A
Final Checkpoint
6x Sanitized Octotroopers
1x Sanitized Octosniper
N/A
N/A
N/A
N/A
Checkpoint 1
When the player begins the stage, they find themselves on a narrow platform that slopes down to a grated walkway. When they drop down they land on a rotating platform with a propeller located in front of it. Hitting the propeller moves the platform towards the next area while balloons can be splatted along the way. The player has to avoid a Sanitized Octotrooper and hit the Grapplink to make progress and get to the second checkpoint.
Checkpoint 2
Follow the path with three Power Eggs to another rotating platform with a propeller. The player has to hit the propeller first before they can drop down on the platform and by doing so, Squid Rings appear. The player has to hit two Splat-Switches to open a gate so they can hit another Grapplink and a chance to collect a Power Egg container. Follow the path to a Launchpad to the third and final checkpoint.
Final checkpoint
When the player follows the path and falls down through a grated walkway onto another rotating platform, they have to hit the propeller so the platform follows a certain track with Octotroopers to avoid and balloons for splatting. The player eventually encounters a Sanitized Octosniper on a moving platform they have to splat to open a gate with another Grapplink behind it and get to goal.
Tips
Collectibles
Mem Cake
"
We're torn apart so many times; I must be bold and keep my hold To make their team pay for their crimes.
"
Completing this test awards the player with the Rainmaker mem cake.
Enemies and Mechanics
First Introduced
Previously Introduced
Quotes
| | | |
| --- | --- | --- |
| " | Beware the rotating platforms. | " |
| | | |
| --- | --- | --- |
| " | Search for the Grapplinks. | " |
| | | |
| --- | --- | --- |
| " | Steady yourself, and aim carefully with your charger. | " |
| | | |
| --- | --- | --- |
| " | Another one of those fishy-lookin' gates has come into view! | " |
| | | |
| --- | --- | --- |
| " | FIRE! Give it all you've got! | " |
| | | |
| --- | --- | --- |
| " | It looks like you need to spin the propeller to proceed! | " |
| | | |
| --- | --- | --- |
| " | Looks like you're supposed to climb up there. | " |
| | | |
| --- | --- | --- |
| " | Eight! There's a lift down below! | " |
| | | |
| --- | --- | --- |
| " | Eight! Look down again! | " |
| | | |
| --- | --- | --- |
| " | Hey - the gate opened! | " |
| | | |
| --- | --- | --- |
| " | Man, I can't stand these guys... | " |
Gallery
Trivia
The title is a play on the nineties slang phrase "to give [mad] props", meaning "to give credit / recognition"; with the fact that "props" could also be short for "propellers", and the subtitle is a phrase from the TV game show Wheel of Fortune.
The Japanese title is a pun on "Poke-beru uchi" (sending a message to a pager).
This station has portable CD players, discs, cases, and earphones floating around in the background.

J05C14 Stick 'n' Move Station has portable CD players, discs and cases floating around in the background as well.
The Dutch title of this station, "Met de muziek mee", alludes to the CD players.

"Met de muziek mee" was also a popular Dutch TV program about music from the seventies.
Names in other languages

Translation needed
Add/complete French (NoA), and Italian translations
edit
Language
Name
Meaning
 Japanese
確実に 撃ってプロペラ 意思疎通
ポケ・ベルウ地駅
プロペラリフトに乗って ゴールせよ!
Kakujitsu ni utte puropera ishisotsū
Poke Beruu Chi Eki
Puropera rifuto ni notte gōru seyo!
Communication by definitely shooting the propellers
Poke Beruu Land Station
Ride the propeller lifts to the goal!
 Dutch
Propelleraandrijving
Met de muziek mee
Gebruik de propellerplatformen om het doel te bereiken!
Propeller drive
Along with the music
Use the propeller platforms to reach the goal!
 French (NOE)
Propulse-toi vers la victoire !
Jardin des hélices
Emprunte les plateformes à hélices jusqu'à l'arrivée !
Propel yourself towards victory!
Garden of the propellers
Take the platforms with propellers until the finish line!
 German
Mögen die Propeller niemals ruhen!
Propelsbüren
Fahre auf den Propeller-Platformen zum Ziel!
May the propeller never rest!
Propellerbüren[note 1]
Ride on the propeller platforms to the goal!
 Russian
...Ди-джей, крути пропеллер!
Минидисково
Доберись до цели на платформах!
...Di-Djey, kruti propeller!
Minidiskovo
Doberis' do tseli na platformakh!
...Spin the propeller, DJ!
Minidisco Town Station
Reach the goal on the platforms!
 Spanish
Megas de propulsión
Discovalle
Ve por las plataformas hasta la meta.
Megas of propulsion
Discovalle
Go through the platforms to the finish line
Translation notes
↑ Comes from "Propeller" (propeller) and "Büren", a suffix found in certain German city and district names, but it is also a German city on its own.