Octowasher
From Inkipedia, the Splatoon wiki
Octowasher​
Octowasher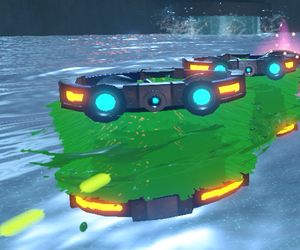 | | |
| --- | --- |
| Species | Machine (Octarian-made) |
| Height | |
| Hair color | |
| Eye color | Cyan |
| Age | |
| Gender | |
| Pronouns | |
| Relations | |
| Location | Deepsea Metro, Alterna |
| Shop | |
| HP | |
| Maximum HP | |
| Members | |
| Other forms | |
Octowashers are obstacles found in the Octo Expansion and Return of the Mammalians. They are Octarian machines, composed of two circular fans placed horizontally one over the other, with a spinning torrent of ink between them. The top fan has two lamps that resemble eyes, similarly to Flooders. Stationary Octowashers dimly flash orange while moving ones flash yellow. Octowashers are completely indestructible.
Octowashers are usually found on or near ride rails and most of them are stationary, though a few move along rails towards the player. Touching them immediately breaks the player's armor or splats them if they have no armor, and also knocks them off any ride rails they were on (usually causing a splat from the resulting fall).
Appearances
Octo Expansion
Return of the Mammalians

This article or section is
incomplete
or is missing information.
Gallery

This article or section needs more images!
You can help the wiki by
adding some
to keep it looking fresh!
Etymology
"Octowasher" is derived from 'octopus' and 'washer'.
Names in other languages
Language
Name
Meaning
 Japanese

タコウォッシャー


Takowosshā
Octopus washer
 Dutch

Octoboener

Octo scrubber
 French

Tentabrosse

From "tentacule", tentacle and "brosse", brush
 German

Oktoschrubber

Octoscrubber