Tentakook
Jump to navigation
Jump to search
Tentakook​
Tentakook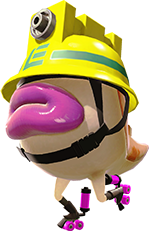 Tentakooks are Octarians that appear in Splatoon 2's single-player modes, Octo Canyon and the Octo Expansion.
Description
Tentakooks wear a yellow hard hat and wear roller skates. When the player comes near a Tentakook, it runs away from the player and leaves behind a thin trail of ink. Tentakooks can carry keys. Tentakooks can also throw

Splat Bombs while they are being chased.
Appearances
Gallery
Names in other languages
Language
Name
Meaning
 Japanese
スタコラー
Sutakorā
"Scampering away" + "er"
 Dutch
Octoskater
Octo skater
 German
Oktoskater
Octo skater
 Russian
Осьмовжик
Os'movzhik
From осьморянин os'moryanin (octarian) and вжик vzhik (a quick/sharp high-pitched sound)
References