Tentakook
From Inkipedia, the Splatoon wiki
Tentakook​
Tentakook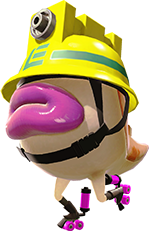 Tentakooks are Octarian enemies that appear in Octo Canyon, the Octo Expansion, and Return of the Mammalians.
Description
Tentakooks are Octarians that wear a yellow hard hat that covers their eyes and black mid-calf boots with bright pink roller skates, with little ink tanks. When the player comes near a Tentakook, it runs away from the player and leaves behind a thin trail of ink. It can also drop Splat Bombs while being chased. Tentakooks can carry items, usually keys, that they will drop upon being splatted.
Appearances
Octo Canyon
Octo Expansion
Return of the Mammalians
Gallery
Trivia
Tentakooks are the only non-mechanical Octarians without "octo" in their name.

Names in other languages

Translation needed
Add/complete French (NoA) and Chinese (Traditional) translations
edit
Language
Name
Meaning
 Japanese

スタコラー


Sutakorā
"Scampering away" + "er"
 Dutch

Octoskater

Octo skater
 French (NOA)

Pieuvre mouillée

 French (NOE)

Poulpe mouillé

From the idiom poule mouillée ("chicken", as in cowardly) and poulpe ("octopus")
 German

Oktoskater

Octo skater
 Italian

Polpattinatore

From polpo ("octopus") and pattinatore ("skater")
 Russian

Осьмовжик


Os'movzhik
From осьморянин os'moryanin ("octarian") and вжик vzhik ("a quick/sharp high-pitched sound")
 Spanish

Octopatinador

Octoskater
 Chinese (Simplified)

章鱼溜兵


Zhāngyú liū bīng
From 章鱼兵 Zhāngyú bīng ("octopus trooper") and 溜冰 liūbīng ("skating")
 Chinese (Traditional)

章魚溜兵

 Korean

문어 스케이터

Octopus Skater
 Internal
Msn_EnmOctEscape_01 [1]
References