Hisashi Nogami
From Inkipedia, the Splatoon wiki

The real world!
This article or section discusses subjects found
in real life
.
Hisashi Nogami​
Hisashi Nogami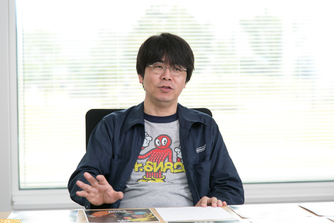 Full name
Nogami Hisashi
Native name
野上 恒 (のがみ ひさし)
Pseudonym
Born
1971
Yawata, Kyoto, Japan
Died
Occupation
Producer
Role(s)
Producer of the Splatoon series
Deputy general manager of Nintendo Co, Ltd.
Instrument(s)
First game
Splatoon
Latest game
Splatoon 3
Hisashi Nogami is a Nintendo employee and producer for Splatoon, Splatoon 2 and Splatoon 3. Nogami first thought of making the Inkling characters in Splatoon.
Squid Research Lab
When giving presentations about the Splatoon series, and for promotional events, he often takes on the persona of a researcher at the fictional Squid Research Lab, by dressing in a white lab coat and dark sunglasses. As part of acting out this character he also makes squid-related puns by replacing/emphasizing the sound いか with its homophone イカ, "squid", most commonly イカがですか ("How are you?") and イカした ("It was lively / energetic").
Other credits
Gallery
External links