Yusuke Amano
From Inkipedia, the Splatoon wiki
The real world!




This article or section discusses subjects found in real life.
Yusuke Amano​
Yusuke Amano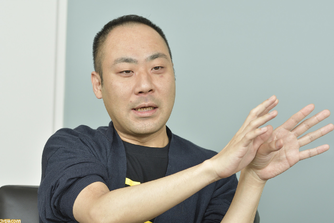 Born
1981 (age 39 or 40)
Okazaki, Aichi Prefecture, Japan
Real Name
Yuusuke Amano
Native Name
天野 裕介
あまの ゆうすけ)
First Game
Splatoon
Latest Game
Splatoon 2
Occupation
Planner
Director
Role(s)
Director of the Splatoon series
Current Location
Kyoto, Japan
Yusuke Amano is a planner at Nintendo. He is the director of Splatoon and Splatoon 2. 
Work in Splatoon
Yusuke Amano began working on Splatoon with Hisashi Nogami and Tsubasa Sakaguchi near the end of his work on New Super Mario Bros. 2. Not much is known about his contributions to the game, but as director, it is assumed that he played a large role in gameplay mechanics, character design, and Splatoon's overall functionality.
Other credits
External Links
Social Media
Interviews