Mayo vs. Ketchup (2017)
Jump to navigation
Jump to search
Mayo vs. Ketchup​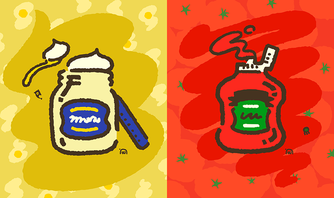 Team

 

Mayo

 

Ketchup
Region
North America and Oceania
Start

5 August 2017

, 04:00 UTC
End

6 August 2017

, 04:00 UTC
Score method
category tally
Result type
combined
Popularity
26.85%
73.15%
Wins
%
Expression error: Unrecognized punctuation character "{".%
Solo wins
51.83%
48.17%
Team wins
51.39%
48.61%
Normal clout
%
Expression error: Unrecognized punctuation character "{".%
Pro clout
%
Expression error: Unrecognized punctuation character "{".%
Score
2
1
Winner
Mayo
Region
Europe
Start

5 August 2017

, 14:00 UTC
End

6 August 2017

, 14:00 UTC
Popularity
34.04%
65.96%
Wins
%
Expression error: Unrecognized punctuation character "{".%
Solo wins
50.75%
49.25%
Team wins
50.71%
49.29%
Normal clout
%
Expression error: Unrecognized punctuation character "{".%
Pro clout
%
Expression error: Unrecognized punctuation character "{".%
Score
2
1
Winner
Mayo
Region
Japan
Start

4 August 2017

, 06:00 UTC
End

5 August 2017

, 06:00 UTC
Popularity
56.01%
43.99%
Wins
%
Expression error: Unrecognized punctuation character "{".%
Solo wins
50.60%
49.4%
Team wins
48.96%
51.04%
Normal clout
%
Expression error: Unrecognized punctuation character "{".%
Pro clout
%
Expression error: Unrecognized punctuation character "{".%
Score
2
1
Winner
Mayo
For the rematch in 2020, go to Mayo vs. Ketchup (2020)
Mayo vs. Ketchup was a worldwide Splatfest event in Splatoon 2. It was announced on 29 July 2017. Results were segregated for each region. The results were given on 6 August 2017.
Details
The Splatfest theme was the two condiments, mayonnaise and ketchup.
The full name of each choice was "Ketchup is better than Mayo!" and "Mayo is better than Ketchup!". The team name portion of Splatfest titles was "Mayo" and "Ketchup".
Mayo vs. Ketchup featured the first Shifty Station layout, Wayslide Cool.
Detailed results for Mayo vs. Ketchup
Region
Participants
Solo wins
Team wins
Mayo
Ketchup
Mayo
Ketchup
Mayo
Ketchup
NA/OC
111,201
302,949
247,150
229,730
6,214
5,877
EU
70,625
136,877
129,709
125,893
1,653
1,607
JP
497,492
390,757
1,152,215
1,124,982
64,828
67,589
TOTALS
679,318
830,583
1,529,074
1,480,605
72,695
75,073
As seen above, if the Mayo vs. Ketchup Splatfest had combined results instead of segregated, Team Ketchup would have been declared the winner, taking both the popular vote (due to Team Ketchup's greater popularity in the west) and team play (due to Japan outplaying the other two regions combined in that category by a factor of roughly 8.7 to 1).
The colors white/cream and red were used in Mayo vs. Ketchup. This is the first time that these colors have been used internationally in the entire Splatoon series; the Japanese Lemon Tea vs. Milk Tea featured white/tan ink for Milk Tea and the European Barbarian vs. Ninja featured red ink for Barbarian.
Gallery
Dialogue
English
Announcement
Pearl's Dialogue
Marina's Dialogue
Region

Pearl:
"It's the glorious union of eggs and oil—MAYONNAISE!"

Marina:
"Versus the red stuff that runs trough my veins—KETCHUP!"
NOE, NOA

Pearl:
"Pshh. Ketchup is BOOOOOOOO-RING. It's like the Sheldon of condiments."

Marina:
"Boring? At least ketchup has flavor. Mayonnaise is just tasteless lard!"
NOE, NOA
Pearl:
"-"

Marina:
"Even when it's cold from the fridge, it still somehow feels warm in your mouth!"
NOE, NOA
Pearl:
"-"

Marina:
"That disgusting mouthfeel... I'd rather lick Crusty Sean's grease trap!"
NOE, NOA

Pearl:
"Whoa. OK, we get it. You don't like mayo."
Marina:
"-"
NOE, NOA

Pearl:
"But at least mayo is true to itself. Ketchup is just wannabe jam."

Marina:
"Sorry... What?"
NOE, NOA

Pearl:
"You basically just take some fruit and mix it with sugar. Boom. Jam."

Marina:
"It's not jam."
NOE, NOA

Pearl:
"It's tomato jam. Tomato is a fruit, Marina."

Marina:
"I mean, well, technically yeah. But not REALLY."
NOE, NOA

Pearl:
"What do y'all think? Head over to the Splatfest terminal and pick a side!"
Marina:
"-"
NOE, NOA



Results
Pearl's Dialogue
Marina's Dialogue
Region

Pearl:
"AYO! IT'S MAYO!"

Marina:
"Ugh..."
NOE, NOA

Pearl:
"It's mayo all day, yo! They know we don't play, bro!"
Marina:
"-"
NOE

Pearl:
"It's mayo all day, yo! They know we don't play, yo!"
Marina:
"-"
NOA

Pearl:
"Best stay out my Headspace 'cause I'm comin' with that Cray Flow!"

Marina:
"Wow. A rap song about mayonnaise. I'm sure that'll tear up the charts."
NOE, NOA

Pearl:
"Shout out to Team Mayo! We did it, y'all!"

Marina:
"If you participated in the Splatfest, your prizes are waiting in the Square!"
NOE, NOA



Results if Ketchup were to win
Pearl's Dialogue
Marina's Dialogue
Region
Pearl:
"-"

Marina:
"YESSSSSSSS. KETCHUP! Sweet elixir of life!"
NOE, NOA

Pearl:
"Gross..."
Marina:
"-"
NOE, NOA
Pearl:
"-"

Marina:
"Team mayo was playing "catch-up" the whole time!"
NOE, NOA

Pearl:
"Cool joke, Marina."
Marina:
"-"
NOE, NOA
Pearl:
"-"

Marina:
"Do I detect a hint of bitterness, Pearl?"
NOE, NOA
Pearl:
"-"

Marina:
"I'll mix some of my ketchup with your mayo if you wanna make some..."
NOE
Pearl:
"-"

Marina:
"If you want, I'll mix some of my ketchup with your mayo to make some..."
NOA

Pearl:
"SPECIAL SAUCE?!"
Marina:
"-"
NOE, NOA
Pearl:
"-"

Marina:
"If you participated in the Splatfest, your prizes are waiting in the Square!"
NOE, NOA



Dutch
Announcement
Lorelei's Dialogue
Mariana's Dialogue
Region

Lorelei:
"Het is de ultieme symfonie van eieren en olie: MAYONAISE!"
(It's the ultimate symphony of eggs and oil: MAYONNAISE!)

Mariana:
"Tegen dat rode goedje dat door mijn aderen stroomt: KETCHUP!"
(Against that red stuff that flows through my veins: KETCHUP!)
NOE

Lorelei:
"Pfff. Ketchup is saai. Mayonaise is veel vetter!"
(Pfff. Ketchup is boring. Mayonnaise is much cooler.)

Mariana:
"Saai? Ketchup is tenminste niet van die smakeloze smurrie zoals mayonaise!"
(Boring? At least ketchup isn't tasteless gunk like mayonnaise!)
NOE
Notes: "Vetter" both means "cooler" and "fatter". Since mayonnaise has more fat than ketchup, this might be a wordplay.
Lorelei:
"-"

Mariana:
"En dan dat gevoel in je mond... Het is alsof je warme rauwe eieren eet!"
(And then that feeling in your mouth... It's like you're eating warm raw eggs!)
NOE
Lorelei:
"-"

Mariana:
"Zelfs als het uit de koelkast komt, voelt het warm op je tong!"
(Even if it comes out of the fridge, it feels warm on your tongue!)
NOE

Lorelei:
"Ja, ja, het is duidelijk. Je houdt niet van mayonaise."
(Yeah, yeah, it's clear. You don't like mayonnaise.)
Mariana:
"-"
NOE

Lorelei:
"Maar mayonaise heeft echt karakter. Ketchup is gewoon namaak-jam."
(But mayonnaise really has character. Ketchup is just fake jam.)

Mariana:
"Sorry... wat?"
(Sorry... what?)
NOE

Lorelei:
"Je mengt wat fruit en een hele berg suiker en... Tada! Je hebt jam!"
(You mix some fruit and a heap of sugar and... Tada! You have jam!)

Mariana:
"Het is geen jam."
(It's not jam.)
NOE

Lorelei:
"Tomaten zijn fruit, Mariana."
(Tomatoes are fruit, Marina.)

Mariana:
"Eh, ja, technisch gezien... MAAR NIET HEUS."
(Uh, yeah, technically... BUT NOT REALLY.)
NOE

Lorelei:
"Hoe denken de kijkers hierover? Kies je saus bij de Splatfest-stemmachine!"
(How do the viewers think about this? Choose your sauce at the Splatfest voting machine!)
Mariana:
"-"
NOE



Results
Lorelei's Dialogue
Mariana's Dialogue
Region

Lorelei:
"YO VOOR MAYO!"
(YO FOR MAYO!)

Mariana:
"Jakkes..."
(Yuck...)
NOE

Lorelei:
"Mayo, mayo, mayo is helemaal de bom! Als je er niet van houdt, dan ben je dom!"
(Mayo, mayo, mayo is totally the bomb! If you don't like it, then you're dumb!)
Mariana:
"-"
NOE

Lorelei:
"Mayo, mayo, mayo is totaal top! Daarmee lig ik bliksemsnel aan kop!"
(Mayo, mayo, mayo is totally neat! With that I'm lightning fast in the lead!)

Mariana:
"Wauw. Ik weet zeker dat de kijkers alle coupletten van dat lied willen horen."
(Wow. I'm sure that all the viewers want to hear every verse of that song.)
NOE

Lorelei:
"Hoera voor team Mayonaise! Het is ons gelukt!"
(Hooray for Team Mayonnaise! We did it!)

Mariana:
"Deelnemers van het Splatfest kunnen hun prijzen ophalen op het plein!"
(Participants of the Splatfest can pick up their rewards at the square!)
NOE



Results if Ketchup were to win
Lorelei's Dialogue
Mariana's Dialogue
Region
Lorelei:
"-"

Mariana:
"JAAAAAAAAAAAA. KETCHUP! Mijn heerlijke levenselixer!"
NOE

Lorelei:
"Bah..."
Mariana:
"-"
NOE
Lorelei:
"-"

Mariana:
"Team Mayonaise is helemaal de kluts kwijt!"
NOE

Lorelei:
"Goeie grap. Heb je die zelf verzonnen?"
Mariana:
"-"
NOE
Lorelei:
"-"

Mariana:
"Wat is er, Lorelei? Heb je een zure smaak in je mond?"
NOE
Lorelei:
"-"

Mariana:
"Ik zal wat van mijn ketchup door jouw mayonaise mengen voor een..."
NOE

Lorelei:
"SPECIALE SAUS?!"
Mariana:
"-"
NOE
Lorelei:
"-"

Mariana:
"Deelnemers van het Splatfest kunnen hun prijzen ophalen op het plein!"
NOE



French (Canada)
Announcement
Perle's Dialogue
Coralie's Dialogue
Region

Perle:
« Voici le mélange parfait entre l'huile et le jaune d'œuf... la MAYONNAISE! »
(The perfect mix of oil and egg yolk... MAYONNAISE!)

Coralie:
« Contre la sauce rouge qui coule dans mes veines... le KETCHUP! »
(Versus the red sauce that flows through my veins... KETCHUP!)
NOA

Perle:
« Je ne mets pas de ketchup dans mes sandwichs, moi! Vive la mayonnaise! »
(I don't put ketchup in my sandwiches, not me! Long live mayonnaise!)

Coralie:
« N'importe quoi! Le ketchup a du goût au moins. Je n'peux pas en dire autant de... »
(Nonsense! At least ketchup has taste. I can't say the same about...)
NOA
Perle:
« - »

Coralie:
« ...cette sauce blanche. Elle me laisse un arrière-goût dans la bouche. »
(...this white sauce. It leaves an aftertaste in my mouth.)
NOA
Perle:
« - »

Coralie:
« Un goût désagréable... Je préférerais lécher le collecteur de graisse d'Omar. »
(Such an unpleasant taste... I'd rather lick Crusty Sean's grease trap.)
NOA

Perle:
« OK, OK, j'ai compris. Tu n'aimes vraiment pas la mayonnaise! »
(OK, OK, I understand. You really don't like mayonnaise!)
Coralie:
« - »
NOA

Perle:
« Au moins, la mayo, ça a de la classe! Le ketchup, c'est d'la confiture d'tomates. »
(At least mayo has class! Ketchup is just tomato jam.)

Coralie:
« Pardon... Quoi? »
(Sorry... What?)
NOA

Perle:
« T'as qu'à prendre des fruits et t'ajoutes du sucre. Boom! Confiture de tomates! »
(Just take some fruit and add sugar. Boom! Tomato jam!)

Coralie:
« Ce n'est pas d'la confiture... »
(It's not just jam...)
NOA

Perle:
« La tomate est un fruit, Coralie. »
(Tomato is a Fruit, Marina.)

Coralie:
« Eh bien oui, elle l'est techniquement, mais... elle est différente. »
(Well yes, technically it is, but... it's different.)
NOA

Perle:
« Qu'est-ce que tu en penses? Va à la borne festive pour choisir une équipe! »
(What do you think? Go to the Splatfest terminal to choose a team!)
Coralie:
« - »
NOA



Results
Perle's Dialogue
Coralie's Dialogue
Region

Perle:
« Comme l'encre, la mayonnaise laissera des traces... »

Coralie:
« Mais, qu'est-ce que tu veux dire? »
NOA

Perle:
« Mayonnaise par-ci, mayonnaise par-là! J'ne niaise pas avec la mayonnaise, moi! »
Coralie:
« - »
NOA

Perle:
« J'en veux avec mes frites, mes hamburgers, mes sandwiches... »

Coralie:
« Wow! Une chanson sur la mayonnaise. Ça sera sûrement un grand succès! »
NOA

Perle:
« Félicitations à l'équipe mayonnaise! Nous avons réussi! »

Coralie:
« Si tu as participé au festival, n'oublie pas de récupérer tes prix au carré! »
NOA



Results if Ketchup were to win
Perle's Dialogue
Coralie's Dialogue
Region
Perle:
« - »

Coralie:
« Youpi!!! L'affaire est KETCHUP! »
NOA

Perle:
« N'importe quoi... »
Coralie:
« - »
NOA
Perle:
« - »

Coralie:
« On dirait que l'équipe mayonnaise soit restée dans le fond du frigo! »
NOA

Perle:
« Très drôle, Coralie! »
Coralie:
« - »
NOA
Perle:
« - »

Coralie:
« Je perçois une certaine aigreur dans ton ton, Perle. »
NOA
Perle:
« - »

Coralie:
« Si tu veux, je peux mélanger un peu de mon super ketchup avec... »
NOA

Perle:
« ...ta sauce blanche? »
Coralie:
« - »
NOA
Perle:
« - »

Coralie:
« Si tu as participé au festival, n'oublie pas de récupérer tes prix au carré! »
NOA



French (France)
Announcement
Perle's Dialogue
Coralie's Dialogue
Region

Perle:
« D'un côté, le mariage réussi des œufs et de l'huile... la MAYONNAISE ! »
(In one corner, the holy union of eggs and oil... MAYONNAISE!)

Coralie:
« De l'autre, l'or rouge qui irrigue les veines des gourmets... le KETCHUP ! »
(In the other, the red stuff that flows through my gourmet veins... KETCHUP!)
NOE

Perle:
« Pff, le ketchup, c'est bon pour les patates ! La mayo, c'est la vie. »
(Pff, ketchup is only good for potatoes! Mayo for life.)

Coralie:
« C'est toi, la patate ! Le ketchup, ça a du goût, comme pas ta mayo ! »
(You're the potato! Ketchup has taste, unlike mayo!)
NOE
Perle:
« - »

Coralie:
« La mayo, c'est gluant et ça colle au palais, autant avaler de la pommade. »
(Mayo is sticky and it sticks to your palate, it's like swallowing ointment.)
NOE
Perle:
« - »

Coralie:
« Et cerise sur le gâteau fadasse, ça resemble à de la crème rance ! »
(Plus, the cherry on top of this dull cake, it resembles rancid cream!)
NOE

Perle:
« Waouh ! On a compris. T'aimes pas la mayo. »
(Woah! We get it. You don't like mayo.)
Coralie:
« - »
NOE

Perle:
« Mais la mayo, c'est raffiné, alors que le ketchup, c'est de la confiote au rabais. »
(But mayo is refined, while ketchup is just discount jam.)

Coralie:
« Attends... tu peux répéter, là ? T'as la mayo qui te monte au ciboulot ? »
(Wait... could you repeat that? Has the mayo messed with your mind?)
NOE

Perle:
« Si tu prends des fruits et que t'ajoutes du sucre, tu fais de la confiote. Point. »
(If you take fruit and you add sugar, you get jam. Full stop.)

Coralie:
« Je t'arrête tout de suite. La confiote et le ketchup, ça fait deux. »
(Let me stop you right there. Jam and ketchup are two different things.)
NOE

Perle:
« La tomate est un fruit, je te signale. Ketchup et confiote, même combat. »
(Tomatoes are fruit. So, ketchup and jam are the same thing.)

Coralie:
« Ben à ce compte-là, ta mayo, c'est une omelette noyée dans le vinaigre. »
(By that logic, mayo is an omelette drowned in vinegar.)
NOE

Perle:
« Et vous, les amis ? Vous avez choisir une camp ? Direction la borne festival ! »
(And you? Have you chosen a side? Head to the Splatfest terminal!)
Coralie:
« - »
NOE



Introduction
Perle's Dialogue
Coralie's Dialogue
Region
Perle:
« Quel est le meilleur condiment ? Le ketchup ou le mayo ? »
(Which is the better condiment? Mayo or ketchup?)
Coralie:
« Courez choisir votre camp à la borne festive ! »
(Run to choose your side at the Splatfest terminal!)
NOE



Results
Perle's Dialogue
Coralie's Dialogue
Region

Perle:
« HOURRA POUR LA MAYO ! »
(HOORAY FOR MAYO!)

Coralie:
« Argh... »
NOE

Perle:
« Yo, y a d'là mayo à tous les repas ! Le ketchup l'a dans l'baba ! Pa-pa-pa ! »
(Yo, there is mayo at all the meals! Ketchup is hit right in the feels! Pa-pa-pa!)
Coralie:
« - »
NOE

Perle:
« Et si tu jamais ça t'plait pas, tu peux toujours manger tes doigts ! »
(And if that doesn't please you, you can always lick your fingers!)

Coralie:
« Oh, un morceau de rap sur la mayo... L'industrie du disque va trembler. »
(Oh, a rap about mayo... The music industry is shaking.)
NOE

Perle:
« Tout le monde acclame l'équipe Mayo ! On a gagné les main dans le dos ! »
(Everyone praises Team Mayo! We won with our hands behind our backs!)

Coralie:
« Les prix attendent les participants au Festival sur la place ! »
(The prizes await the Splatfest participants in the square!)
NOE



Results if Ketchup were to win
Perle's Dialogue
Coralie's Dialogue
Region
Perle:
« - »

Coralie:
« Ketchup, KETCHUP ! Doux nectar, élixir de vie aux suaves reflets carmin ! »
(Ketchup, KETCHUP! Sweet nectar, elixir of life with sweet carmine reflections!)
NOE

Perle:
« On croit rêver... »
(We must be dreaming...)
Coralie:
« - »
NOE
Perle:
« - »

Coralie:
« Vous avez pas assez mouillé le « maillot », on dirait ! »
(You didn't even get your hands dirty!)
NOE
Notes: Marina mentions "maillot", as it has a very similar pronunciation to "mayo".

Perle:
« Ha ha. Je suis morte de rire, Coralie. »
(Ha ha. I'm dying of laughter, Marina.)
Coralie:
« - »
NOE
Perle:
« - »

Coralie:
« T'as pas la frite ? Tu veux du ketchup pour adoucir l'amer goût de la défaite ? »
(Not feeling well? Would you like ketchup to soften the bitter taste of defeat?)
NOE
Perle:
« - »

Coralie:
« On pourrait le mélanger à ta mayo avant qu'elle tourne à l'aigre, et on aurait... »
(We could mix it with your mayo before it turns sour, and we'll have...)
NOE

Perle:
« LE CONDIMENT ULTIME ! »
Coralie:
« - »
NOE
Perle:
« - »

Coralie:
« Les prix attendent les participants au Festival sur la place ! »
(The prizes await the Splatfest participants in the square!)
NOE



German
Announcement
Perla's Dialogue
Marina's Dialogue
Region

Perla:
"Die ruhmreiche Einheit aus Öl und Ei: MAYONNAISE!"
(The glorious unity of oil and egg: MAYONNAISE!)

Marina:
"Das rote Zeug in meinem Adern: KETCHUP!"
(That red stuff in my veins: KETCHUP!)
NOE

Perla:
"Püh. Ketchup ist fad. Mayo-Liebhaber sind in de Majorität!"
(Psh. Ketchup is bland. Mayo lovers are in the majority.)

Marina:
"Fad? Ketchup schmeckt wenigstens nach was. Mayo ist nur pures Fett!"
(Bland? Ketchup at least tastes like something. Mayo is just pure fat!)
NOE
Perla:
"-"

Marina:
"Außerdem weiß keiner, wie man's richtig schreibt. Und dann das Gefühl im Mund..."
(Besides, nobody knows how to write it correctly. And then the feeling in the mouth...)
NOE
Perla:
"-"

Marina:
"Selbst direkt aus dem Kühlschrank schmeckt das Zeug irgendwie warm!"
(Even directly from the fridge, that stuff somehow tastes warm!)
NOE

Perla:
"Ja, wir haben's kapiert. Du magst keine Mayo."
(Yes, we got it. You don't like mayo.)
Marina:
"-"
NOE

Perla:
"Aber Mayo ist immerhin was Eigenes. Ketchup ist nur verkappte Marmelade."
(But mayo is at least something unique. Ketchup is only disguised jam.)

Marina:
"Warte mal... Was?"
(Hold on... what?)
NOE

Perla:
"Man nimmt ein paar Früchte, 'ne Tonne Zucker dazu - fertig! Marmelade!"
(You take some fruit, add a ton of sugar - done! Jam!)

Marina:
"Ketchup ist keine Marmelade."
(Ketchup is not jam.)
NOE

Perla:
"Tomaten sind Früchte, Marina."
(Tomatoes are fruit, Marina.)

Marina:
"Jaaa, technisch gesehen schon. Aber doch nicht so richtig!"
(Yeeaah, technically. But not really!)
NOE

Perla:
"Was denkt ihr? Trefft eure Wahl am Splatfest-Wahlstand!"
(What do you think? Make your choice at the Splatfest voting booth!)
Marina:
"-"
NOE



Results
Perla's Dialogue
Marina's Dialogue
Region

Perla:
"Yo! Mayo hat gewonnen!"

Marina:
"Örks..."
NOE

Perla:
"Mayo ist das Beste, yo! Jeder mit Geschmack ist froh-ho!"
Marina:
"-"
NOE

Perla:
"Bleibt mir mit Ketchup bloß vom Leib, denn Mayo hat den coolsten Vibe!"

Marina:
"Ein Lied über Mayonnaise... Das wird sicher ein Hit."
NOE

Perla:
"Meinen Respekt an Team Mayo! Ihr wart echt fett!"

Marina:
"Wer beim Splatfest dabei war, bekommt seinen Preis auf dem Inkopolis-Platz!"
NOE



Results if Ketchup were to win
Perla's Dialogue
Marina's Dialogue
Region
Perla:
"-"

Marina:
"Oh ja, Ketchup hat gewonnen! Mein süßes Lebenselixier!"
NOE

Perla:
"Igittigitt..."
Marina:
"-"
NOE
Perla:
"-"

Marina:
"Team Mayo hatte wohl Tomaten auf den Augen!"
NOE

Perla:
"Hammerwitz..."
Marina:
"-"
NOE
Perla:
"-"

Marina:
"Ist da etwa jemand verbittert, Perla?"
NOE
Perla:
"-"

Marina:
"Wir können ja etwas Ketchup mit deiner Mayo mischen, das gibt eine leckere..."
NOE

Perla:
"SPEZIALSAUCE?!"
Marina:
"-"
NOE
Perla:
"-"

Marina:
"Wer beim Splatfest dabei war, bekommt seinen Preis auf dem Inkopolis-Platz!"
NOE



Spanish (Latin America)
Announcement
Perla's Dialogue
Marina's Dialogue
Region

Perla:
«¡Huevos y aceite en perfecta armonía! ¡LA MAYONESA!»
(Eggs and oil in perfect harmony! MAYONNAISE!)

Marina:
«Y lo rojo que corre por mis venas: ¡EL CÁTSUP!»
(And the red stuff that runs through my veins: KETCHUP!)
NOA

Perla:
«El cátsup es la salsa más aburrida del mundo. ¡Viva la mayonesa!»
(Ketchup is the most boring sauce in the world. Long live mayonnaise!)

Marina:
«¿Aburrida? Al menos tiene sabor. La mayonesa no es más que grasa insípida.»
(Boring? At least it has flavor. Mayonnaise is nothing more than flavorless grease.)
NOA
Perla:
«-»

Marina:
«¡Es como tener la boca llena de aceite de ballena!»
(It's like having my mouth full of whale oil!)
NOA
Perla:
«-»

Marina:
«¡Y esa sensación de grasa tibia que se queda en la boca! ¡Puaj, qué asco!»
(And that feeling of warm fat that stays in your mouth! Yuck, gross!)
NOA

Perla:
«Ya, Marina, ya lo dejaste claro. No te gusta la mayonesa.»
(Alright, Marina, you've made it clear. You don't like mayonnaise.)
Marina:
«-»
NOA

Perla:
«Pero tiene un aire sofisticado. El cátsup es una pobre mermelada de tomate.»
(But it has a sophisticated feel to it. Ketchup is a poor tomato jam.)

Marina:
«...¿Cómo?»
(... What?)
NOA

Perla:
«Fruta más azúcar. Mermelada.»
(Fruit plus sugar. Jam.)

Marina:
«No es una mermelada.»
(It's not a jam.)
NOA

Perla:
«El tomate es una fruta, Marina.»
(Tomato is a fruit, Marina.)

Marina:
«Bueno, sí, técnicamente lo es, pero... es que es diferente.»
(Well, yeah, technically it is, but... it's just that it's different.)
NOA

Perla:
«¿Qué opinan ustedes? ¡Vayan a la terminal de voto y elijan un equipo!»
(What do you think? Go to the vote terminal and choose a team!)
Marina:
«-»
NOA



Results
Perla's Dialogue
Marina's Dialogue
Region

Perla:
«¡LA MAYONESA CORRE POR LAS CALLES!»
(MAYONNAISE RUNS THROUGH THE STREETS!)

Marina:
«Qué asco...»
(Gross...)
NOA

Perla:
«¡Ganó la mayonesa! ¡La salsa más espesa!»
(Mayonnaise won! The thickest sauce!)
Marina:
«-»
NOA

Perla:
«¡La quiero con mis papas y en mi hamburguesaaa!»
(I love it with my fries and on my hamburgerrr!)

Marina:
«Genial. Una canción sobre la mayonesa. Va a ser nuestro próximo éxito, seguro.»
(Great. A song about mayonnaise. It's gonna be our next hit, I'm sure.)
NOA

Perla:
«¡Felicidades, Equipo Mayonesa! ¡Lo logramos!»
(Congratulations, Team Mayonnaise! We did it!)

Marina:
«¡Si participaron en el festival, recojan sus premios en el centro!»
(If you participated in the Splatfest, collect your prizes at the Square!)
NOA



Results if Ketchup were to win
Perla's Dialogue
Marina's Dialogue
Region
Perla:
«-»

Marina:
«¡CÁTSUUUP! ¡Dulce elixir de la vida!»
(KETCHUUUP! Sweet elixir of life!)
NOA

Perla:
«Qué asco...»
(Gross...)
Marina:
«-»
NOA
Perla:
«-»

Marina:
«¡Pareciera que el Equipo Mayonesa se quedó en el fondo del refri!»
(Looks like Team Mayo ended up stuck at the bottom of the fridge!)
NOA

Perla:
«Qué graciosa.»
(Very funny.)
Marina:
«-»
NOA
Perla:
«-»

Marina:
«Detecto cierta amargura en tu tono, Perla.»
(I detect some bitterness in your tone, Pearl.)
NOA
Perla:
«-»

Marina:
«Tal vez pueda endulzar tu día con un poco de cáts...»
(Maybe I can sweeten your day with a little bit of ket...)
NOA

Perla:
«¡¿MAYONESA?!»
(MAYONNAISE?!)
Marina:
«-»
NOA
Perla:
«-»

Marina:
«¡Si participaron en el festival, recojan sus premios en el centro!»
(If you participated in the Splatfest, collect your prizes at the Square!)
NOA



Spanish (Spain)
Announcement
Perla's Dialogue
Marina's Dialogue
Region

Perla:
«¡Mayonesa! ¿Existe algo con más clase que una alianza de huevos y aceite?»

Marina:
«¡Ya lo creo que existe! ¡El color rojo pasión del kétchup!»
NOE

Perla:
«Pfff. El kétchup es una salsuza que no sabe ni a tomate...»

Marina:
«¡¿Qué dices?! Tiene personalidad, no como esa plasta blanca.»
NOE
Perla:
«-»

Marina:
«Por no hablar de esa textura grasienta y del regusto que te deja en la boca...»
NOE
Perla:
«-»

Marina:
«Aunque la metas en la nevera, da la sensación de no estar nunca fría.»
NOE

Perla:
«No hace falta que sigas. Ya he deducido que la mayonesa no es lo tuyo.»
Marina:
«-»
NOE

Perla:
«Pero sigo pensando que mola mucho más que esa seudocrema de tomate.»

Marina:
«¿Cómo has dicho?...»
NOE

Perla:
«Lo que oyes. Triturar fruta y añadirle azúcar... ¡Si podría ser mermelada!»

Marina:
«Diría que estás mezclando conceptos que no tienen mucho que ver...»
NOE

Perla:
«¿Ah, sí? ¿Acaso el tomate no es también un tipo de fruta?»

Marina:
«Bueno, en cierto modo sí, pero normalmente nadie diría...»
NOE

Perla:
«¿Qué opinan nuestros espectadores? ¡Uníos a uno de los bandos!»
Marina:
«-»
NOE



Results
Perla's Dialogue
Marina's Dialogue
Region

Perla:
«¡No ha habido ninguna sorpresa! ¡Ha ganado la mayonesa!»

Marina:
«Puaj...»
NOE

Perla:
«¡A base de huevo, sal y aceite, hemos triunfado con deleite!»
Marina:
«-»
NOE

Perla:
«¿Perder nosotros contra el tomate? ¡Eso habría sido un disparate!»

Marina:
«Lo que me faltaba... Una rima dedicada a ese potingue infernal...»
NOE

Perla:
«¡Bien hecho, equipo mayonesa! Ha sido una victoria de lo más merecido.»

Marina:
«En la plaza os esperan premios por haber participado en el festival.»
NOE



Results if Ketchup were to win
Perla's Dialogue
Marina's Dialogue
Region
Perla:
«-»

Marina:
«¡Larga vida al tomate! ¡La victoria ha sido para el kétchup!»
NOE

Perla:
«Puaj...»
Marina:
«-»
NOE
Perla:
«-»

Marina:
«El kétchup ha triunfado y la mayonesa se os ha cortado.»
NOE

Perla:
«Qué chiste tan gracioso...»
Marina:
«-»
NOE
Perla:
«-»

Marina:
«Te noto un pelín resentida, Perla.»
NOE
Perla:
«-»

Marina:
«Con un poco de kétchup, la derrota de la mayonesa se os haría menos amarga.»
NOE

Perla:
«¡Viva la salsa rosa!»
Marina:
«-»
NOE
Perla:
«-»

Marina:
«En la plaza os esperan premios por haber participado en el festival.»
NOE



Italian
Announcement
Alga's Dialogue
Nori's Dialogue
Region

Alga:
«¡Mayonesa! ¿Existe algo con más clase que una alianza de huevos y aceite?»

Nori:
«Contro quel fluido rosso che scorre nelle mie vene: il ketchup!»
NOE

Alga:
«Pfui! Il ketchup è noioso... È l'Armand dei condimenti, diciamo.»

Nori:
«Noioso?! Almeno il ketchup è saporito! La maionese è solo una salsina insipida...»
NOE
Alga:
«-»

Nori:
«E quella strana consistenza... Bleah! È come mangiare della sbobba riscaldata.»
NOE
Alga:
«-»

Nori:
«Anche appena tirata fuori dal frigo, ha sempre quell'orribile retrogusto tiepido.»
NOE

Alga:
«OK, la maionese non ti piace, non serve tirarla per le lunghe.»
Nori:
«-»
NOE

Alga:
«Ma almeno è un cibo genuino. Il ketchup è solo marmellata scadente.»

Nori:
«M-Marmellata?! Ma che dici?!»
NOE

Alga:
«La marmellata non è forse frutta mischiata con un quintale di zucchero?»

Nori:
«Appunto! Ma il ketchup è fatto con il pomodoro, quindi non è marmellata!»
NOE

Alga:
«Ehm, Nori, guarda che il pomodoro è un frutto...»

Nori:
«Beh, tecnicamente lo è... Ma chi è che lo considera frutta, dai...»
NOE

Alga:
«E voi cosa preferite? Andate al terminal di voto e scegliete una squadra!»
Nori:
«-»
NOE



Results
Alga's Dialogue
Nori's Dialogue
Region

Alga:
«Trionfo per la maionese! È la vittoria del cibo naturale!»

Nori:
«Uff...»
NOE

Alga:
«Maionese, sbaraglia le difese! Troppo ketchup, ti servirà un check-up!»
Nori:
«-»
NOE

Alga:
«La maio spacca di brutto! Alla larga oppure vi splatto!»

Nori:
«Oooh, un rap sulla maionese. Sicuramente scalerà le classifiche...»
NOE

Alga:
«Applausi per la squadra Maionese! Siamo stati calamitici!»

Nori:
«Se avete partecipato al festival, i vostri premi vi attendono in piazza!»
NOE



Results if Ketchup were to win
Alga's Dialogue
Nori's Dialogue
Region
Alga:
«-»

Nori:
«Keeetchuuup!!! È un trionfo per questo elisir di lunga vita!»
NOE

Alga:
«Bleah...»
Nori:
«-»
NOE
Alga:
«-»

Nori:
«Il team Maionese è arrossito... Per la vergogna o perché li abbiamo splattati?»
NOE

Alga:
«Che simpatica...»
Nori:
«-»
NOE
Alga:
«-»

Nori:
«Forse mi sbaglio, ma sento un tono amaro nelle tue parole.»
NOE
Alga:
«-»

Nori:
«Vuoi un po' di ketchup? Tanto è solo frutta mischiata con lo zucchero, no?»
NOE

Alga:
«Ehi... con il ketchup e la maionese salta fuori un'irresistibile salsa rosa!»
Nori:
«-»
NOE
Alga:
«-»

Nori:
«Se avete partecipato al festival, i vostri premi vi attendono in piazza!»
NOE



Russian
Announcement
Жемчик's Dialogue
Мариша's Dialogue
Region

Жемчик:
«Масло, яйца, объеденье! Что это за соус? МАЙОНЕЗ!»

Мариша:
«Модный, яркий, неизменный! Что это? Конечно же КЕТЧУП!»
NOE

Жемчик:
«Пф-ф! Кетчуп унылый. Пусть его Пушкин ест.»

Мариша:
«Унылый? У него хотя бы вкус есть. А майонез — так, питательная масса.»
NOE
Жемчик:
«-»

Мариша:
«И даже если он из холодильника, все равно кажется теплым! Фу!»
NOE
Жемчик:
«-»

Мариша:
«Да еще и жирный в придачу. Будто теплое масло жуешь!»
NOE

Жемчик:
«Ясно, ясно, все поняли. Ты не любишь майонез.»
Мариша:
«-»
NOE

Жемчик:
«У майонеза хоть рецепт приличный. А кетчуп что? Варенье недоделанное!»

Мариша:
«Почему варенье?!»
NOE

Жемчик:
«Ну смотри: берешь фрукты, сахар, кидаешь в блендер, и оп! Варенье!»

Мариша:
«Помидор — не фрукт. И это не варенье.»
NOE

Жемчик:
«Растет на ветке? Значит фрукт!»

Мариша:
«Ну, технически может быть... Но варенье-то делается не так!»
NOE

Жемчик:
«Пусть все решится в бою! Вперед к терминалу и выберите сторону!»
Мариша:
«-»
NOE



Results
Жемчик's Dialogue
Мариша's Dialogue
Region

Жемчик:
«ЙЕС! МАЙОНЕЗ!»

Мариша:
«Эх...»
NOE

Жемчик:
«Самый четкий соус — это майонез, Это давно уже знает каждый балбес!»
Мариша:
«-»
NOE

Жемчик:
«Так что ты с кетчупом ко мне не лезь, Я вся такая со сплатганом наперевес!»

Мариша:
«Серьезно? Рэпчик про майонез? Первое место в топе гарантировано.»
NOE

Жемчик:
«Молодцы, майонезники! Как мы их!»

Мариша:
«Участники, на площади вас ждут призы!»
NOE



Results if Ketchup were to win
Жемчик's Dialogue
Мариша's Dialogue
Region
Жемчик:
«-»

Мариша:
«УРА-А-А! КЕТЧУП! Прекрасная амброзия!»
NOE

Жемчик:
«Буэ...»
Мариша:
«-»
NOE
Жемчик:
«-»

Мариша:
«У майонезников вообще не было шансов!»
NOE

Жемчик:
«Ага, конечно.»
Мариша:
«-»
NOE
Жемчик:
«-»

Мариша:
«Жемчик, ты что, обиделась?»
NOE
Жемчик:
«-»

Мариша:
«Ну давай смешаем кетчуп с майонезом, и получится...»
NOE

Жемчик:
«ОСОБЫЙ СОУС!»
Мариша:
«-»
NOE
Жемчик:
«-»

Мариша:
«Участники, на площади вас ждут призы!»
NOE



Japanese
Announcement
ヒメ's Dialogue
イイダ's Dialogue
Region

ヒメ:
「しょっぱなからエンジン全開! とばしてくぞー! どっちがお好き? マヨネーズ vs ケチャップ!!」
(Engines at full throttle from the very start! Going fast! Which one do you like? Mayonnaise versus Ketchup!!)

イイダ:
「きゃ~!アツいですね~!!」
(Kya~! What a hot topic~!!)
NOJ

ヒメ:
「対決するのは、 まろやかクリーミー! ミワクのオイリー調味料「マヨネーズ」と!」
(The opponents are: Mild and creamy! The alluring oily condiment "Mayonnaise" and..!)

イイダ:
「甘みと酸味のコラボレーション! 口に広がる さわやかさ 「ケチャップ」になります!」
(A collaboration of sweetness and sourness! The way it spreads throughout the mouth, it's the refreshing "Ketchup"!)
NOJ

ヒメ:
「何にでも マヨかけとくのが 正解だよなー!」
(The right answer is of course to put mayo on anything!)

イイダ:
「ヒメセンパイったら そんなテキトーで いいんですか? ワタシは、 こだわっての ケチャップですよ?!」
(But Pearl-senpai, is doing that so carelessly really a good idea? I'm more picky with my ketchup, you know?!)
NOJ

ヒメ:
「まよう必要なくて、 ラクだろー? じゃあ きくけど、 イイダのこだわりポイントは?」
(I don't need to go, isn't it easy-? Well, let me hear: what are your picky points, Marina?)
イイダ:
「-」
NOJ
Notes: The word まよう, "to go" sounds like "Mayo".
A literal translation of what Pearl is asking Marina would be "What are your attachment points?", i.e. "What are you picky about in ketchup?"
ヒメ:
「-」

イイダ:
「天日干し塩を使った オーガニックトマトの ケチャップ、 どんなお料理にもあいますよ~!」
(Ketchup made with sun-dried salt and organic tomatoes, works well with any kind of cooking~!)
NOJ

ヒメ:
「は~ん、 ヘルシー志向ってヤツか! それもいいけど、 やっぱマヨネーズで決まりだな!」
(Hu~mph, that's for healthy-eating folk! It's alright, but mayonnaise totally rules!)
イイダ:
「-」
NOJ
ヒメ:
「-」

イイダ:
「ケチャップの底ヂカラ、 見せてみせます! センパイ! 本気でいきますよ~!」
(I will show you the depths of ketchup! Senpai! I'm going for it seriously~!)
NOJ



Results
ヒメ's Dialogue
イイダ's Dialogue
Region

ヒメ:
「「マヨネーズ」!!」
("Mayonnaise"!!)

イイダ:
「う~ん… あと少しだったのに~…」
(Um~ph... It was so close~...)
NOJ

ヒメ:
「「マヨネーズ」のみんな、 ありがと! マヨネーズへの思い、 受け取った!」
(Everyone in team "Mayonnaise", thank you! Your thoughts for mayonnaise have been recieved!)

イイダ:
「「ケチャップ」のみなさんも とてもがんばってましたよ~!」
(Everyone in team "Ketchup" also totally did their best~!)
NOJ



Results if Ketchup were to win
ヒメ's Dialogue
イイダ's Dialogue
Region
ヒメ:
「-」

イイダ:
「きゃ~! 「ケチャップ」~~~!!」
(Kya~! "Ketchup"~!)
NOJ

ヒメ:
「ゲッ?! まじかよ~~~!」
(Huh?! Seriously!)
イイダ:
「-」
NOJ
ヒメ:
「-」

イイダ:
「「ケチャップ」のみなさん、やりましたね! 本当スゴイです! ワタシ、カンゲキしました~」
(Everyone on "Ketchup", you did it! You're all amazing! I'm impressed~)
NOJ

ヒメ:
「「マヨネーズ」もがんばったの、知ってるからな! もーちょいだったかー!」
(I know "Mayonnaise" did their best too! It was close!)
イイダ:
「-」
NOJ



Top 100
North America and Oceania
Mayo
Ketchup
Europe
Mayo
Ketchup