Vampire vs. Werewolf
From Inkipedia, the Splatoon wiki
Vampire vs. Werewolf​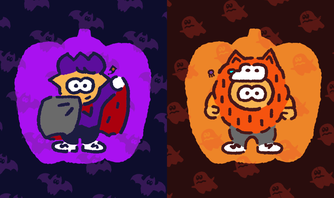 Team

 

Vampire

 

Werewolf
Region
North America and Oceania
Start

14 October 2017

, 04:00 UTC
End

15 October 2017

, 04:00 UTC
Score method
category tally
Result type
combined
Popularity
53.56%
46.44%
Wins
%
Expression error: Unrecognized punctuation character "{".%
Solo wins
50.91%
49.09%
Team wins
52.37%
47.63%
Normal clout
%
Expression error: Unrecognized punctuation character "{".%
Pro clout
%
Expression error: Unrecognized punctuation character "{".%
Score
3
0
Winner
Vampire
Region
Start

24 March 2023

, 10:13 UTC
End

25 March 2023

, 10:13 UTC
Popularity
%
Expression error: Unrecognized punctuation character "{".%
Wins
%
Expression error: Unrecognized punctuation character "{".%
Solo wins
%
Expression error: Unrecognized punctuation character "{".%
Team wins
%
Expression error: Unrecognized punctuation character "{".%
Normal clout
%
Expression error: Unrecognized punctuation character "{".%
Pro clout
%
Expression error: Unrecognized punctuation character "{".%
Score
Expression error: Unexpected < operator.
Expression error: Unexpected < operator.
Winner
Region
Start

24 March 2023

, 10:13 UTC
End

25 March 2023

, 10:13 UTC
Popularity
%
Expression error: Unrecognized punctuation character "{".%
Wins
%
Expression error: Unrecognized punctuation character "{".%
Solo wins
%
Expression error: Unrecognized punctuation character "{".%
Team wins
%
Expression error: Unrecognized punctuation character "{".%
Normal clout
%
Expression error: Unrecognized punctuation character "{".%
Pro clout
%
Expression error: Unrecognized punctuation character "{".%
Score
Expression error: Unexpected < operator.
Expression error: Unexpected < operator.
Winner
Vampire vs. Werewolf was a Splatfest event in Splatoon 2. It was exclusive to North America and Oceania. It was announced on 6 October 2017. The results were given on 15 October 2017.
Details
The Splatfest theme was two monsters from popular culture, the vampire and the werewolf.
The full name of each choice was "VAMPIRES" and "WEREWOLVES". The team name portion of Splatfest titles was "Vampire" and "Werewolf".
Vampire vs. Werewolf featured the 4th Shifty Station layout, Windmill House on the Pearlie, albeit the original iteration, which featured a glass wall separating the two halves of the map, requiring teams to use the side revolving doors to traverse to opposing territory.
Detailed results were released through SplatNet.
Detailed results for Vampire vs. Werewolf
Region
Participants
Solo wins
Team wins
Alpha
Bravo
Alpha
Bravo
Alpha
Bravo
NA/OC
138,277
119,884
198,427
191,314
8,167
7,429
Trivia
Vampire vs. Werewolf was the first event in Splatoon 2 where one team (Team Vampire) won in all three categories, resulting in a 3-0 score. Teams Sweater, Gherk-OUT, Future Tech, Modern, Koshian, Salsa, Save It, Waffle, Teleportation, Narwhal, No Pineapple, and Chaos have since repeated this feat.
In the Latin American Spanish localization of the Octo Expansion, Pearl makes a reference to this Splatfest before the start of Turf War.[1]
Gallery
Dialogue
English
Announcement
Pearl's Dialogue
Marina's Dialogue
Region

Pearl:
"They're the sun-dodging immortals with an insatiable thirst for blood—Vampires!"

Marina:
"Versus the shape-shifting canines with supernatural strength—Werewolves!"
NOA

Pearl:
"This isn't even a contest! I mean... vampires are IMMORTAL, yo!"

Marina:
"Vampires might technically be able to live forever, but they're NOT immortal."
NOA
Pearl:
"-"

Marina:
"Those suckers are SUPER easy to slay. Ever hear of sunlight? Garlic? Stakes?"
NOA

Pearl:
"Pshh... Steaks?! You can't slay a vampire with a slab of meat!"
Marina:
"-"
NOA
Pearl:
"-"

Marina:
"..."
NOA

Pearl:
"Vamps don't even eat steak! They drink the juice inside of it like civilized beings!"

Marina:
"Um..."
NOA

Pearl:
"Werewolves, on the other hand, eat steak straight from the source!"
Marina:
"-"
NOA

Pearl:
"They're mindless, slobbery dogs with ZERO sophistication or impulse control."
Marina:
"-"
NOA

Pearl:
"Steaks? Get real, Marina."

Marina:
"OK, Pearl..."
NOA
Pearl:
"Which monster is your favorite? Visit the Splatfest terminal and pick a side!"
Marina:
"-"
NOA



Results
Pearl's Dialogue
Marina's Dialogue
Region

Pearl:
"VAMPS ARE THE CHAMPS!"

Marina:
"Ugh..."
NOA

Pearl:
"..."

Marina:
"So..."
NOA
Pearl:
"-"

Marina:
"Aren't you going to write a rap about how your team won the Splatf—"
NOA

Pearl:
"GIVE IT UP FOR TEAM VAMPIRE! Hotter than a pan fryer in a campfire!"
Marina:
"-"
NOA

Pearl:
"And the way it transpired, like you wolves WEREN'T THERE,"
Marina:
"-"
NOA

Pearl:
"All that's left of you is the smell of BURNT HAIR!"
Marina:
"-"
NOA
Pearl:
"-"

Marina:
"Ow ow owwwwwwwwwwww!"
NOA

Pearl:
"If you participated in the Splatfest, your prizes are waiting in the square!"
Marina:
"-"
NOA



French (Canada)
Announcement
Perle's Dialogue
Coralie's Dialogue
Region
Perle:
« Les buveurs de sang immortels allergiques au soleil : les vampires! »
(The immortal blood drinkers allergic to the sun: vampires!)
Coralie:
« Contre les canins lycanthropes à la force surhumaine : les loups-garous! »
(Against lycanthropic canines with superhuman strength: werewolves!)
NOA
Perle:
« La question ne se pose même pas! Les vampires sont les plus cools! »
(There's no question about it! Vampires are the coolest!)
Coralie:
« Même pas vrai! Les loups-garous sont prédateurs de la nuit par excellence! »
(Not true! Werewolves are excellent predators at night!)
NOA
Perle:
« - »
Coralie:
« En plus, tu dois dormir la moitié du temps à cause de l'allergie au soleil. »
(In addition, you have to sleep half the day because of your allergies to the sun.)
NOA
Perle:
« Et alors? Au moins, la pleine lune n'a pas d'effet bizzare sur mon humeur... »
(So what? At least the full moon has no bizzare effect on my mood...)
Coralie:
« ... »
NOA
Perle:
« Aussi, j'ai déjà le teint d'un vampire. J'économise sur le maquillage! »
(And I already have the complexion of a vampire. I save on makeup!)
Coralie:
« Euh... »
NOA
Perle:
« Toi, faudrait que tu ramasses le poil de Charbitre pour te faire un costume! »
(You'd have to take Judd's hair to make you a costume!)
Coralie:
« - »
NOA
Perle:
« Et tu ne pourrais t'empêcher d'aboyer à la lune à tout bout de champ! »
(And you couldn't stop barking at the moon!)
Coralie:
« - »
NOA
Perle:
« Ce ne sont que de gros chiens sans aucun contrôle de soi, ma chère Coralie. »
(Werewolves are just big dogs without any self-control, my dear Marina.)
Coralie:
« OK, Perle... »
NOA
Perle:
« Quel monstre préfères-tu? Va à la borne festive pour choisir une équipe! »
(Which monster do you prefer? Go to the Splatfest terminal to choose a team!)
Coralie:
« - »
NOA



Results
Perle's Dialogue
Coralie's Dialogue
Region
Perle:
« LES VAMPIRES ONT GAGNÉ! LES LOUPS-GAROUS, AU PANIER! »
(VAMPIRES HAVE WON! WEREWOLVES, TO THE BASKET!)
Coralie:
« Vous avez des crocs? Vous êtes plutôt des escrocs... »
(You have the fangs? More like the crooks...)
NOA
Perle:
« ... »
Coralie:
« Donc... »
(So...)
NOA
Perle:
« - »
Coralie:
« Tu vas faire des rimes sur la victoire de ton équipe au festi... »
(You were going to make rhymes about the victory of your team in the Splatf–)
NOA
Perle:
« LA VICTOIRE À L'ÉQUIPE DES VAMPIRES! Les loups-garous se sont fait conquérir. »
(VICTORY FOR TEAM VAMPIRES! Werewolves have been conquered.)
Coralie:
« - »
NOA
Perle:
« Trop occupés à hurler à la lune, c'est comme ça, vous aviez des lacunes! »
(Too busy howling at the moon, it's like that, you had gaps!)
Coralie:
« - »
NOA
Perle:
« Vous n'avez qu'à raser votre poil, pour ensuite mettre le voiles! »
(You only have to shave your hair, then put on the veils!)
Coralie:
« Ouch! Ça rentre au poste! »
(Ouch! It returns to the station!)
NOA
Perle:
« Si tu as participé au festival, n'oublie pas de récupérer tes prix au carré! »
(If you participated in the Splatfest, don't forget to collect your prizes in the square!)
Coralie:
« - »
NOA



Spanish (Latin America)
Announcement
Perla's Dialogue
Marina's Dialogue
Region
Perla:
«Los muertos vivientes con una implacable sed de sangre: ¡los vampiros!»
(The living dead with a ruthless thirst for blood: vampires!)
Marina:
«Contra los caninos transformadores con fuerza supernatural: ¡los licántropos!»
(Versus the transforming canines with supernatural power: werewolves!)
NOA
Perla:
«Aquí no hay debate. ¡Los vampiros son INMORTALES!»
(There's no arguing here. Vampires are IMMORTAL.)
Marina:
«Bueno, técnicamente pueden vivir eternamente, pero no son inmortales.»
(Well, technically they can live forever, but they're not immortal.)
NOA
Perla:
«-»
Marina:
«Son muy fáciles de vencer. Basta con usar la luz solar, una estaca, el ajo...»
(They're very easy to defeat. Just use sunlight, a stake, garlic...)
NOA
Perla:
«En primer lugar, los festivales se celebran por la noche. No hay luz solar.»
(First of all, Splatfests are celebrated at night. There's no sunlight.)
Marina:
«Ya empezamos...»
(Here we go...)
NOA
Perla:
«Y segundo: ¿cómo vas a acercarte a un vampiro para clavarle una estaca?»
(Second: how are you gonna get close to a vampire to stick a stake on it?)
Marina:
«Bueno, podrías...»
(Well, you could...)
NOA
Perla:
«Y lo del ajo es una mito. Además, los vampiros son inteligentes y cultos.»
(And the one about garlic is a myth. Besides, vampires are intelligent and cultured.)
Marina:
«-»
NOA
Perla:
«Son monstruos con clase, Marina.»
(They're monsters with class, Marina.)
Marina:
«-»
NOA
Perla:
«Los licántropos no son más que perros babosos sin autocontrol.»
(Werewolves are nothing more than drooling dogs without self-control.)
Marina:
«Creo que ya entendemos tu postura, Perla.»
(I think we get your stance, Pearl.)
NOA
Perla:
«¿Cuál monstro les gusta más? ¡Vayan a la terminal de voto y elijan un equipo!»
(Which monster do you like better? Go to the vote terminal and choose a team!)
Marina:
«-»
NOA



Results
Perla's Dialogue
Marina's Dialogue
Region
Perla:
«¡VICTORIA ETERNA PARA LOS VAMPIROS!»
(ETERNAL VICTORY FOR VAMPIRES!)
Marina:
«Ay, no...»
(Oh, no...)
NOA
Perla:
«...»
Marina:
«Este...»
(Um...)
NOA
Perla:
«-»
Marina:
«¿No vas a soltar alguna rima sobre el resultado del festi...»
(Aren't you gonna drop some rhyme about the Splatfest res-)
NOA
Perla:
«¡SOMOS VAMPIROS, terrores colmilludos! ¡Los licántropos son torpes y velludos!»
(WE'RE VAMPIRES, horrors with fangs! Werewolves are dumb and hairy!)
Marina:
«-»
NOA
Perla:
«Guarda los espejos, aquí no hay reflejos ¡menos los que te entintan desde lejos!»
(Keep your mirrors, there are no reflections here, except for those that ink you up from afar!)
Marina:
«-»
NOA
Perla:
«¿Qué pasó con ese lobo que aullaba? ¡Solo veo charcos de mi tinta y su baba!»
(What happened to that howling wolf? All I see are puddles of my ink and its drool!)
Marina:
«AUUUuuu...ch.»
(AROOOooo...ch.)
NOA
Perla:
«¡Si participaron en el festival, recojan sus premios en el centro!»
(If you participated in the Splatfest, collect your prizes at the Square!)
Marina:
«-»
NOA



Top 100
Team Vampire
Team Werewolf
Names in other languages
| Language | Name | Meaning |
| --- | --- | --- |
|  Spanish (NOA) | Vampiros vs licántropos | Vampires vs lycanthropes |
Translation needed




The section or page is missing non-English translations or material from other localizations edit
Private Battle

| Language | Name | Meaning |
| --- | --- | --- |
|  Dutch | Vampier vs. Weerwolf | Vampire vs. Werewolf |
See also
External links
References
↑ Pearl: ¡Los licántropos no pueden con los vampiros!
(Werewolves can't keep up with vampires!)