Sweater vs. Sock
Jump to navigation
Jump to search
Sweater vs. Sock​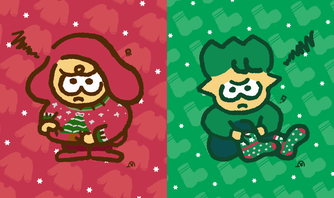 Team

 

Sweater

 

Sock
Region
North America and Oceania
Start

16 December 2017

, 05:00 UTC
End

17 December 2017

, 05:00 UTC
Score method
category tally
Result type
combined
Popularity
54.27%
45.73%
Wins
%
Expression error: Unrecognized punctuation character "{".%
Solo wins
50.94%
49.06%
Team wins
52.22%
47.78%
Normal clout
%
Expression error: Unrecognized punctuation character "{".%
Pro clout
%
Expression error: Unrecognized punctuation character "{".%
Score
3
0
Winner
Sweater
Region
Start

8 January 2021

, 21:19 UTC
End

9 January 2021

, 21:19 UTC
Popularity
%
Expression error: Unrecognized punctuation character "{".%
Wins
%
Expression error: Unrecognized punctuation character "{".%
Solo wins
%
Expression error: Unrecognized punctuation character "{".%
Team wins
%
Expression error: Unrecognized punctuation character "{".%
Normal clout
%
Expression error: Unrecognized punctuation character "{".%
Pro clout
%
Expression error: Unrecognized punctuation character "{".%
Score
Expression error: Unexpected < operator.
Expression error: Unexpected < operator.
Winner
Region
Start

8 January 2021

, 21:19 UTC
End

9 January 2021

, 21:19 UTC
Popularity
%
Expression error: Unrecognized punctuation character "{".%
Wins
%
Expression error: Unrecognized punctuation character "{".%
Solo wins
%
Expression error: Unrecognized punctuation character "{".%
Team wins
%
Expression error: Unrecognized punctuation character "{".%
Normal clout
%
Expression error: Unrecognized punctuation character "{".%
Pro clout
%
Expression error: Unrecognized punctuation character "{".%
Score
Expression error: Unexpected < operator.
Expression error: Unexpected < operator.
Winner
Sweater vs. Sock was a Splatfest event in Splatoon 2. It was held in North America and Oceania only. It was announced on 11 December 2017. The results were given on 17 December 2017.
Details
Sweater vs. Sock featured the 5th Shifty Station layout, Fancy Spew.
Detailed results were released through SplatNet.
Detailed results for Sweater vs. Sock
Region
Participants
Solo wins
Team wins
Alpha
Bravo
Alpha
Bravo
Alpha
Bravo
NA/OC
118,157
99,550
155,993
150,261
7,107
6,504
Gallery
Dialogue
English
Announcement
Pearl's Dialogue
Marina's Dialogue
Region
Pearl:
"Which lousy gift would you rather get? Dumb socks or an ugly sweater?"
Marina:
"Uh... How about neither? No one wants to open that up on Octivus morning!"
NOA
Pearl:
"-"
Marina:
"OH! Or Squidmas morning! Whichever holiday you...um...happen to celebrate."
NOA
Pearl:
"I feel you. But if I HAAAAAD to choose, I'd go with the sweater."
Marina:
"-"
NOA
Pearl:
"A sweater shows that they at least put a LITTLE effort into finding a gift."
Marina:
"-"
NOA
Pearl:
"Plus you can return a sweater for more money than socks..."
Marina:
"Yeah, I guess. But returning gifts is always such a hassle."
NOA
Pearl:
"-"
Marina:
"Let's be real—it'll still be in a box in your closet two years from now."
NOA
Pearl:
""
Marina:
"At least you can hide socks under pants and shoes."
NOA
Pearl:
""
Marina:
"No one has to know. It can be your ugly little foot secret."
NOA
Pearl:
"Yeah, but what if they're...toe socks?"
Marina:
"*HLLLRP* I just threw up a little. Inside my mouth."
NOA
Pearl:
"-"
Marina:
"Yeah, but what if the sweater is of Judd and Li'l Judd howling at the moon?"
NOA
Pearl:
"OH MY COD."
Marina:
"-"
NOA
Pearl:
"...That sounds amazing."
Marina:
"-"
NOA
Pearl:
"-"
Marina:
"What about you at home? Head over to the Splatfest terminal and pick a side!"
NOA



Results
Pearl's Dialogue
Marina's Dialogue
Region
Pearl:
"TEAM SWEATER BE BETTERRRRRRR!"
Marina:
"Ugh..."
NOA
Pearl:
"Team socks tried to make a bet, but sweaters didn't break a sweat!"
Marina:
"-"
NOA
Pearl:
"So pay ya debt and take a jet, for makin' all ya vancant threats!"
Marina:
"-"
NOA
Pearl:
"BOOYAH!"
Marina:
"..."
NOA
Pearl:
"-"
Marina:
"OK, I deserve a raise."
NOA
Pearl:
"If you participated in the Splatfest, your prizes are waiting in the Square!"
Marina:
"-"
NOA



French (Canada)
Announcement
Perle's Dialogue
Coralie's Dialogue
Region
Perle:
«Quel mauvais cadeau tu préfères? Des bas moches ou un chandail de laine laid?»
(What bad gift do you prefer? Ugly stockings or an ugly wool sweater?)
Coralie:
«Euh... Aucun! Y'a personne qui veut ouvrir ça le matin d'Octivus!»
(Uh... Neither! No one wants to open that on Octivus morning!)
NOA
Perle:
«-»
Coralie:
«OH! Ou le matin de Calmoël! Tu sais, peu importe ce que tu, hmm... célèbres.»
(OH! Or on Squidmas morning! You know, no matter what you, um... celebrate.)
NOA
Perle:
«Je suis d'accord. Mais si je DEVAIS choisir, j'irais avec le chandail de laine.»
(I agree. But if I HAD to choose, I'd go with the woolen sweater.)
Coralie:
«-»
NOA
Perle:
«Un chandail de laine, ça montre AU MOINS l'effort qu'on y a mis pour le choisir.»
(A woolen sweater shows they AT LEAST put effort into choosing it.)
Coralie:
«-»
NOA
Perle:
«Pis tu peux le retourner pour plus d'argent que des bas...»
(And you can return it for more money than stockings...)
Coralie:
«Ouais, c'est vrai. Mais retourner un cadeau, c'est toujours du trouble.»
(Yeah, that's right. But returning a gift is always trouble.)
NOA
Perle:
«-»
Coralie:
«Y'a de bonnes chances qu'il reste dans une boîte au fond de ton garde-robe.»
(There's a good chance it'll stay in a box in the back of your wardrobe.)
NOA
Perle:
«-»
Coralie:
«Au moins avec les bas laids, tu peux les cacher avec les souliers et un pantalon.»
(At least with ugly stockings, you can hide them with shoes and pants.)
NOA
Perle:
«-»
Coralie:
«Personne est au courant. Ça reste ton petit secret que tes pieds sont moches.»
(Nobody knows. It's still your little secret that your feet are ugly.)
NOA
Perle:
«Ouais, mais si c'est... des bas à orteils?»
(Yeah, but if it's... toe stockings?)
Coralie:
«BWEURRG! J'ai vomi dans ma bouche.»
(BWEURRG! I threw up in my mouth.)
NOA
Perle:
«-»
Coralie:
«Et si ton chandail avait Charbitre et Mini Charbitre hurlant à la lune?»
(What if your sweater had Judd and Li'l Judd howling at the moon?)
NOA
Perle:
«OH MA CARPE!»
(OH MY CARP!)
Coralie:
«-»
NOA
Perle:
«... Ça serait trop cool!»
(...That would be so cool!)
Coralie:
«-»
NOA
Perle:
«-»
Coralie:
«Et toi, tu en penses quoi? Va à la borne festive et choisis une équipe!»
(And you, what do you think? Go to the Splatfest terminal and choose a team!)
NOA



Results
Pearl's Dialogue
Marina's Dialogue
Region
Pearl:
"LES CHANDAILS ONT LA MÉDAILLE!"
(SWEATERS HAVE THE MEDAL!)
Marina:
"Meh..."
NOA
Pearl:
"L'équipe des bas a essayé de gagner, mais les chandails n'ont même pas sué!"
(Team stockings tried to win, but the sweaters didn't even sweat!)
Marina:
"-"
NOA
Pearl:
"Alors, vaut mieux t'excuser ou partir, sinon tu vas ravaler tes dires!"
(So, it's better to apologize or leave, otherwise you'll swallow your words!)
Marina:
"-"
NOA
Pearl:
"BOUM!"
Marina:
"..."
NOA
Pearl:
"-"
Marina:
"J'ai besoin d'une augmentation..."
(I need a raise...)
NOA
Pearl:
"Si tu as participé au festival, n'oublie pas de récupérer tes prix au carré!"
(If you participated in the Splatfest, don't forget to collect your prizes in the square!)
Marina:
"-"
NOA



Spanish (Latin America)
Announcement
Perla's Dialogue
Marina's Dialogue
Region
Perla:
"¿Cuál regalo malo les gustaría recibir? ¿Unos calcetines o un suéter feo?"
(What bad gift do you prefer? Some socks or an ugly sweater?)
Marina:
"¡Ninguno de los dos! ¡Nadie quiere que le regalan esas cosas!"
(Neither of them! No one wants to be gifted those things!)
NOA
Perla:
"-"
Marina:
"Este... Menos los que me regalaron el año pasado. ¡Me gustan un montón!"
(Uhhh... except the ones that I got last year. I liked them a lot!)
NOA
Perla:
"Lo que tú digas. Pero si tengo que elegir uno, me quedo con el suéter feo."
(Whatever you say. But if I had to pick one, I'd stick with an ugly sweater.)
Marina:
"-"
NOA
Perla:
"Si te dan un suéter, al menos sabes que hicieron un esfuerzo mínimo."
(If they give you a sweater, at least you know they made a minimal effort.)
Marina:
"-"
NOA
Perla:
"Además, si lo devuelves, te llevas más dinero que con calcetines."
(Also, if you return it, you get more money than with socks.)
Marina:
"Bueno, sí. ¡Pero devolver regalos es una lata!"
(Well, yeah. But returning gifts is a drag!)
NOA
Perla:
"-"
Marina:
"Lo más probable es que en dos años ese suéter siga en una caja en el armario."
(Chances are that in two years that sweater will still be in a box in the closet.)
NOA
Perla:
"-"
Marina:
"Los calcetines feos se pueden esconder debajo de los pantalones y los zapatos."
(Ugly socks can be hidden underneath your pants and shoes.)
NOA
Perla:
"-"
Marina:
"Nadie se entera de su existencia. Son el secreto sucio de tu atuendo."
(No one will know if their existence. They're the dirty secret of your wardrobe.)
NOA
Perla:
"Y si son calcetines... ¿con deditos?"
(And if they're socks... with toesies?)
Marina:
"*BLURF* Casi devuelvo el desayuno."
(*BLURF* My breakfast nearly went back up.)
NOA
Perla:
"-"
Marina:
"¿Pero qué pasa si es un suéter de Justino y Justito aullado a la luna?"
(But what would happen if it's a sweater of Judd and Li'l Judd howling at the moon?)
NOA
Perla:
"NO..."
Marina:
"-"
NOA
Perla:
"¡Sería increíble!"
(That would be awesome!)
Marina:
"-"
NOA
Perla:
"-"
Marina:
"¿Y qué prefieren ustedes? ¡Vayan a la terminal de voto y elijan un equipo!"
(And what do you think? Go to the vote terminal and choose a team!)
NOA



Results
Perla's Dialogue
Marina's Dialogue
Region
Perla:
"¡VICTORIA XXXL!"
(VICTORY, SIZE XXXL!)
Marina:
"Nooo..."
NOA
Perla:
"Próximamente en los cines: ¡derrota para los calcetines!"
(Coming soon to theaters: defeat for socks!)
Marina:
"-"
NOA
Perla:
"¡Si es de lana o sintético, un suéter no es patético!"
(If it's wool or synthetic, a sweater is not pathetic!)
Marina:
"-"
NOA
Perla:
"¡Equipo Perla CAMPEÓN!"
(Team Pearl RULES!)
Marina:
"..."
NOA
Perla:
"-"
Marina:
"Me merezco un aumento."
(I deserve a raise.)
NOA
Perla:
"¡Si participaron en el festival, recojan sus premios en el centro!"
(If you participated in the Splatfest, collect your prizes at the Square!)
Marina:
"-"
NOA



Top 100
Team Sweater
Team Sock
Names in other languages
| Language | Name | Meaning |
| --- | --- | --- |
|  French (NOA) | Chandail de laine vs Bas | Wool sweater vs Socks |
|  Spanish (NOA) | Suéteres vs Calcetines | Sweaters vs Socks |
See also
External links