My Melody vs. Pompompurin
From Inkipedia, the Splatoon wiki
My Melody vs. Pompompurin​
My Melody vs. Pompompurin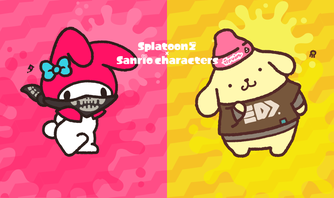 Team

 

My Melody

 

Pompompurin
Region
Japan
Start

26 May 2018

, 06:00 UTC
End

27 May 2018

, 06:00 UTC
Score method
category tally
Result type
combined
Popularity
47.66%
52.34%
Wins
%
Expression error: Unrecognized punctuation character "{".%
Solo wins
50.31%
49.69%
Team wins
51.09%
48.91%
Normal clout
%
Expression error: Unrecognized punctuation character "{".%
Pro clout
%
Expression error: Unrecognized punctuation character "{".%
Score
2
1
Winner
My Melody
Region
Start

5 June 2023

, 13:20 UTC
End

6 June 2023

, 13:20 UTC
Popularity
%
Expression error: Unrecognized punctuation character "{".%
Wins
%
Expression error: Unrecognized punctuation character "{".%
Solo wins
%
Expression error: Unrecognized punctuation character "{".%
Team wins
%
Expression error: Unrecognized punctuation character "{".%
Normal clout
%
Expression error: Unrecognized punctuation character "{".%
Pro clout
%
Expression error: Unrecognized punctuation character "{".%
Score
Expression error: Unexpected < operator.
Expression error: Unexpected < operator.
Winner
Region
Start

5 June 2023

, 13:20 UTC
End

6 June 2023

, 13:20 UTC
Popularity
%
Expression error: Unrecognized punctuation character "{".%
Wins
%
Expression error: Unrecognized punctuation character "{".%
Solo wins
%
Expression error: Unrecognized punctuation character "{".%
Team wins
%
Expression error: Unrecognized punctuation character "{".%
Normal clout
%
Expression error: Unrecognized punctuation character "{".%
Pro clout
%
Expression error: Unrecognized punctuation character "{".%
Score
Expression error: Unexpected < operator.
Expression error: Unexpected < operator.
Winner
My Melody vs. Pompompurin (マイメロディ vs. ポムポムプリン) was a Splatfest event in Splatoon 2. It was held in Japan only. The results were given on 27 May 2018.
Details
My Melody vs. Pompompurin was the second round in a three-round tournament. The theme of the tournament was four Sanrio characters: Hello Kitty, Cinnamoroll, My Melody, and Pompompurin. The winner of this round, My Melody, went on to face off against the first round's winner in the final round.
In promotional art, characters were equipped with gear from the Splatoon universe. My Melody has Hydra Splatling and Skull Bandana. Pompompurin has Gold Dynamo Roller, Knitted Hat, and Choco Layered LS.
My Melody vs. Pompompurin featured the 4th Shifty Station layout, Windmill House on the Pearlie.
Gallery
Dialogue
Japanese
My Melody (マイメロディ) vs. Pompompurin (ポムポムプリン)
Introduction
ヒメ's Dialogue
イイダ's Dialogue
Region

ヒメ


「いよいよ始まる サンリオトーナメント第2試合!かわいい対決フェス 始まったぞーーー!」
(The Sanrio Tournament is about to begin... Game 2! The Cute Showdown Fest has begun!)

イイダ


「ロビー前のタッチパネルから投票して、参加してくださ~い!」
(Vote through the touch screen in front of the lobby and get involved!)
NOJ



Top 100
My Melody
Pompompurin
Names in other languages
Private Battle
Language
Name
Meaning
 Japanese

マイメロディ/ポムポムプリン


maimerodi/pomupomupurin
My Melody/Pompompurin
 Dutch
My Melody / Pompompurin
-
 French
My Melody/Pompompurin
-
 German
My Melody/Pompompurin
-
 Italian
My Melody/Pompompurin
-
 Russian

My Melody / Pompompurin

-
 Spanish
My Melody/Pompompurin
-
See also
External links