Graffiti
From Inkipedia, the Splatoon wiki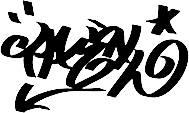 Graffiti are a common element in Inkopolis and Splatsville, being present in all main Hubs, Story Modes and all stages. They consist of official designs and player-made drawings made via the mailbox. If a player is not connected to the internet or disables posts in the Options menu (or in any case in Splatoon following Miiverse's closure), graffiti that would normally depict player-made drawings instead shows predetermined illustrations.
Official designs show up in all sorts of forms, some of them being stickers, posters or spray painted. They can appear on the ground, buildings, objects, loading screens and menus among others. Many of these designs reoccur throughout multiple games.
Splatoon
Players could create drawings in the form of Miiverse posts that then showed up in game. This feature was removed upon Miiverse's closure. They appeared on specific billboards, and during Splatfests they appeared on banners, neon signs, fireworks and the back of the Squid Sisters' trucks. Walking up to an Inkling in the Inkopolis Plaza displayed their drawing (if one was created) above their head in a speech bubble. A player is able to hold

to focus on a specific player-made drawing, which allows them to respond to it with "Yeah!".
Splatoon 2
Player-made drawings are now created fully in game, and can be shared online through a Twitter or Facebook account linked to their Nintendo account. A player has to post their drawing on at least one of those sites for it to show to other players. Similarly to Splatoon, player-made drawings show up on specific billboards and as speech bubbles above Inklings and Octolings. They additionally show up as small cards during Splatfests, and banners held by Inklings and Octolings. A player is able to hold to focus on a specific player-made drawing, which allows them to respond to it with "Fresh!". This can also be done directly through the speech bubbles.
Splatoon 3
Player-made drawings function almost identically to Splatoon 2. During Splatfests, they also additionally appear in the sky through drone shows.
Locations
Graffiti
Located in
Located in
Located in

Jr. Mark (mem cake)
Splashtags

Locker Customizations


"Slow Your Roll" Mole (mem cake)
Construction company
Mascot of Neo

Stages
Other

Urchin Underpass 2.0 update teaser

Stages
Locker Customizations


iShipIt (mem cake)
Shipping company
N/A
Locker Customizations

Familiar graffiti (mem cake)
Stages


Locker Customizations


Li'l Max (mem cake)
N/A
Locker Customizations

Climbing Skipjack tuna
(ノボリガツオくん / Noborigatsuo-kun)[1]
Fish with legs and a backpack
Indicates a slope nearby.
Octo Canyon's official mascot character.[2]
N/A
Stages


Locker Customizations


Squidluminati
N/A

ASARIDEAD
Character by graffiti artist Sally
Inspired by the insides of dead clams cooked in miso soup.[3]
May be a stylized face with a nose hanging over a smile.
N/A

Stages
Areas
Other

Stages

Locker Customizations

Other


Squid slopes
Locker Customizations

PTYSQD-B sticker
PTYSQD-R sticker


Squid eye stickers
Stages

Areas

Locker Customizations

ANG-IZ deco
DZY-IZ deco
I-IZ deco
UO-IZ deco
WNQ-IZ deco


Octopus Poster

Squid exit sign

Octopus exit sign

Vending machines in Splatoon
(じはんき)

Shark fins
Vending machines in Splatoon 2
(Fizzy)
N/A

Reel

Octopus oil company

Stages
Areas
Equipment
Other


"Hello my name is" Stickers
Stages

Areas


Octopus

Areas
Equipment
Other

Callie's Octarian outfit tattoo


BlobMob
N/A

Areas
Equipment
Locker Customizations
Gallery
A photo featuring different forms of graffiti from Splatoon 2.

A photo featuring in-game posters, many of which are available as locker decorations in Splatoon 3.
Trivia
References