Graffiti
Jump to navigation
Jump to search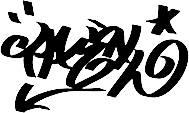 This article or section is a stub.


You can help the wiki by adding to it.
Graffiti is found all over Inkopolis, from every stage to the Plaza and Square. While there are many forms of pre-made graffiti for these cases, like stickers and scribbles on the ground, and on billboards and on walls, it is also shown in the form of player drawings. During Splatfests, these can be seen on the back of the two trucks Callie and Marie dance on top of in Splatoon, as well as on banners, neon signs, and in the sky as fireworks.
Locations
Graffiti
Located in
Located in

Jr. Mark (mem cake)

"Slow Your Roll" Mole (mem cake)
Construction company
Mascot of Neo

Stages
Other

Urchin Underpass 2.0 update teaser


iShipIt (mem cake)
Shipping company
N/A

Familiar graffiti (mem cake)

Li'l Max (mem cake)
N/A

Climbing Skipjack tuna
(ノボリガツオくん / Noborigatsuo-kun)[1]
Fish with legs and a backpack
Indicates a slope nearby.
N/A

Squidluminati
N/A

ASARIDEAD
Character by graffiti artist Sally
N/A

Stages
Areas
Other


Squid slopes

Squid eye stickers

Octopus Poster

Squid exit sign

Octopus exit sign

Vending machines in Splatoon
(じはんき)

Shark fins
Vending machines in Splatoon 2
(Fizzy)
N/A

Reel

Octopus oil company

Stages
Areas
Equipment
Other


Stickers

Octopus

Areas
Equipment
Other

Callie's Octarian outfit tattoo
Trivia
Miiverse graffiti still appears in the Battle Dojo stages and any Octo Valley levels that are based on multiplayer stages.
Some, if not all, graffiti in Inkopolis Plaza is implied to be made by jellyfish; as stated in a developers' interview, jellyfish are known to create a large amount of graffiti.[2]
Some of the stickers are Easter eggs which depict other Nintendo characters, such as Bloopers or Octoroks.
Miiverse or in-game posts can be hidden via the Options screen. They will then be replaced by Splatoon-related placeholder drawings, the source of which is unknown, but can be assumed to be made by the developers.
If a player holds down when in the Plaza or Square while aiming at drawing made by players, they can "yeah" or "fresh" it.
The background color of the player drawings in stages is the neutral color of the two ink colors in the current battle.
For the nametag graffiti stickers, there are different variants appearing in Octo Valley and Octo Canyon compared to those found in Inkopolis. In the Octo Expansion, round versions of the nametag graffiti stickers can be found.
Gallery
References