User:Slate
Jump to navigation
Jump to search
Welcome,

Guest

!
Slate​
Slate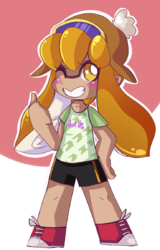 This is Slate, my Inkling OC. You'll see me using this name!
Art by
@littlerubyrue

Hi there! I'm Kris, one of the bureaucrats here on Inkipedia. I play a lot of roller. I'm an engineer by trade. I have a lot of kazoos. Talk to me in the
Inkipedia Discord for any Inkipedia & Splatoon questions!
My Userpages:
And you may see my bot making edits:
---
But enough about me. Look at you, Guest, and how wonderful you are!
You have ... a few edits already?
And you signed up on ... wait you haven't signed up yet?!
Inkipedia:Maintenance
This page is a list of helpful tasks that all editors can do to improve Inkipedia. Thanks for your help!

For longer term projects, see Inkipedia:Current projects. For general discussions, see Inkipedia:Ink Pump.
Tasks everyone can do
Improve content
New content
Category problems
Redirect problems
Other
Admin tasks
Recent Changes