Kou
From Inkipedia, the Splatoon wiki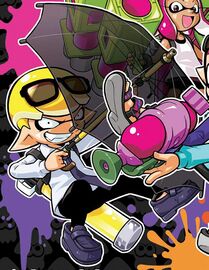 This page or section is under construction.




Please excuse its informal appearance while it is being worked on. We hope to have it completed as soon as possible!
Can you help us get it done?
Kou is a character from Splatoon: Squid Kids Comedy Show.
Description
Kou is a male Inkling with the "Mush-Cut" hairstyle. He wears the Tinted Shades, Shirt & Tie, and School Shoes. He uses a lot of weapons throughout the manga, but he mainly uses the Undercover Brella.
Trivia
Names in other languages
Language
Name
Meaning
 Japanese

コウ


Kou
Kou
 French
Top
-
References