User:Samurottlover/Opening Gambit vs Last-Ditch Effort
From Inkipedia, the Splatoon wiki
  Opening Gambit vs. Last-Ditch Effort  ​
 

Opening Gambit vs. Last-Ditch Effort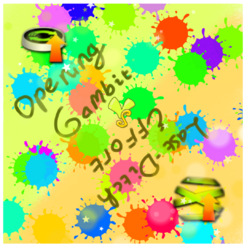 Second Minifest held by Me. It's a battle to decide which Timer-based Headgear ability is the most helpful? Opening Gambit with it's super speed at the start of the match or Last-Ditch Effort with it's ink saver near the end of a match? Let's see which one that will win by joining this minifest. Anyone is welcome to join! Just follow the steps below ( ^_^)/
How to join
1. Friend Request me by using my friend code to join! : SW-8544-7436-9790 (My In Game Name will be Cosmic Sky) (Don't Forget to Request it).
2. Then tell me what team you are on through my talk page.
3. Wait and get ready for the minifest!
4. If there is something you'd like to ask, tell me about it on my talk page.
5. We will use the minifest talk page to communicate in the Minifest.
Stages
All of the stages & 2× battles modes are randomized.
Rules
I will hold the minifest on the date & time specified above. I will be finished when i close the room.
You do not have to wear the Splatfest Tee Replica/Headgear with Opening Gambit/Headgear with Last-Ditch Effort. You can wear it but it is not required to play.
Please tell me if there is a friend of yours that want to join through my talk page.
Spectators may be needed.
The Results will be finished 2 / 3 days after the fest.
Tell your friends about this minifest, like they said, the more the merrier.
If there are disconnects, then the match will count if the disadvantaged team wins. If the other team wins, then the match will not count.
There will be 2× match here and there in a form of a ranked battles with a random mode and a random stage, so be ready!
Bubble Beam Dialogue
Announcement
Mc Crawn's Dialogue
Coralia's Dialogue
Region
Mc Crawn:
"Hello, Cephalopods of Inkopolis. It's time for....!"
Coralia:
"Inkopolis News, by yours truly, The Bubble Beam!"
Mc Crawn:
"Let's see everything we need to broadcast today."
Coralia:
"Alright."
Mc Crawn:
"We have a big news. Samurottlover will hold his Second Minifest LATER. THIS. YEAR."
Coralia:
"What's The Theme! WHAT'S THE THEME!!!"
Mc Crawn:
"I'll give ya a hint. The Theme is an Ability based ones."
Coralia:
"Oooooh. Lemme guess, Opening Gambit Vs. LDE."
Mc Crawn:
"Corrrect."
Coralia:
"Hmmmm. Which team should i join this time"
Mc Crawn:
"For me, it's gonna be the Last-Ditch Effort. My performance usually good with this ability and the Heavy Splatling"
Coralia:
"OK, I'll be on the Opening Gambit side. Rushing to the middle with my Slosher is my usual strats."
Mc Crawn:
"Are you sure about that. Last time were goin' Turf Wars, you're the one that ended up getting splatted the most."
Coralia:
"Atleast our team wins, right."
Mc Crawn:
"OUR TEAM WON ONLY BECAUSE I WAS PROTECTING OUR BASE FROM THE OPPOSING TEAM!!!!!"
Coralia:
"and... you don't even splatted a single opponent."
Mc Crawn:
"WELL, THAT'S BECAUSE YOU AND THE TWO OTHER INKLINGS ARE SPLATTING THEM LEFT AND RIGHT!!!!!"
Coralia:
"Hey, aren't we supposed to explain how to join and the rules or something ?"
Mc Crawn:
"Oh Yeah, i kinda forgot about it."
Coralia:
"Well, let's move on to "How to Join" and The Rules."
Mc Crawn:
"If you are interested to join this MiniFest..."
Coralia:
"You can follow up the steps in the MiniFest Page on Inkipedia."
Mc Crawn:
"Don't forget to check the "How to Join" on the MiniFest Page!"
Coralia:
"And also sent your Friend Request so you can joined the MiniFest."
Mc Crawn:
"For the rules....."
Coralia:
"You can read them on the MiniFest Page."
Mc Crawn:
"Are you exited for our first MiniFest?!?"
Coralia:
"I Sure Am. I'll gonna work at Grizzco. later today. I'm gonna make my ultimate set for this minifest"
Mc Crawn:
"Yeah, me too. Bye, Everyone!"
Coralia:
"See you all on the MiniFest!"



People who have choose their team!
Max for each team is 5 people. (1 people from each team will be spectators randomly)
Opening Gambit
Last-Ditch Effort