Competitive
:
Team Infinity
From Inkipedia, the Splatoon wiki
Unofficial!
This article discusses content that is not part of the official
Splatoon series
canon but is part of the community or competitive gaming space.
Splatoon 2​
Team Infinity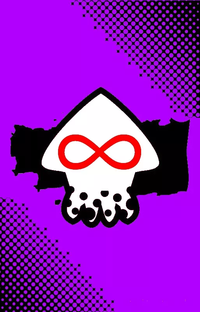 Location
North America
Europe
Captain
Xero
Created
December 3rd, 2015
Player Changes
Team Infinity (∞), formerly known as Celestial Squids, was a competitive Splatoon team.
History
On August 7th, 2016, Team Infinity disbanded.[1]
Members
∞Alex∞
∞Brittany∞
∞NaCl∞
∞Shayla☆∞
∞Sky​∞
∞Xero∞
SwiftÜ
Wil
Leagues Under the Ink
For the main article, see Leagues Under the Ink.
Season 1
They were in Division B3.
Season 2
They were in Division A (GROUP A).
Tournament Placements
Tournament
Date
Place
SCL 7
December 13th, 2015
17th [2]
SCL Holiday Special
December 30th, 2015
5th
Inkstorm 3
January 2nd-3rd, 2016
9th [3]
SCL 9
January 10th, 2016
17th [4]
Calamari Cup 3
January 23rd, 2016
25th [5]
SCL 10
January 24th, 2016
9th [6]
Messtival! 3
February 6th, 2016
9th
SCL 11
March 5th, 2016
17th [7]
Booyah Battle 5
March 12th, 2016
9th [8]

LUTI Inkline Playoffs

April 2nd, 2016
1st [9]
Supernova
April 10th, 2016

N/A

[10]
Messtival! 4
April 16th-17th, 2016
9th
SCL 15
April 30th, 2016
7th
Splat That!
May 7th-8th, 2016
7th [11]
SCL 16
May 14th, 2016
9th
Messtival! 5
May 15th, 2016
9th
Supernova II
May 21st, 2016
17th [12]
Cloudburst
May 22nd, 2016
25th [13]

LUTI SquidForce Playoffs

August 14th-21st, 2016

N/A

[14]
References