Competitive:Splatsgiving - Bleck Friday!
From Inkipedia, the Splatoon wiki
Unofficial!




This article discusses content that is not part of the official Splatoon series canon but is part of the community or competitive gaming space.
Splatoon​
Splatsgiving - Bleck Friday!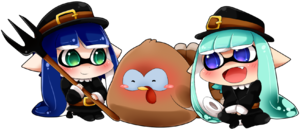 Splatsgiving: Bleck Friday!, also known as BnS Weekly #10, was a Splatoon online tournament held on November 25th, 2016.[1] The tournament was unique in that it featured a set of restrictions in Gear Ability and Special Weapons. The tournament also featured one of the largest pot ever in a Splatoon online tournament, with over $950 in prizes.
It was the tenth tournament in the BnS tournament series.
History
For its tenth entry, and by also coincidentally occurring during the Thanksgiving Weekend, the BnS staff decided to introduce prizes and giveaways for both participating teams and the viewer audience. To achieve such, they partnered with freelance artists in the western Splatoon community,[2][3][4][5][6] Etsy shop owners,[7] and by doing a donation incentive during the stream of the BnS Weekly #9 tournament, which resulted in over $800 in donations.[8]
Standings
The standings for the event are as follows:[9]
Rules
The tournament had a set of restrictions in team compositions by banning the Quick Respawn gear ability and by limiting the amount of invincibility Special Weapons a team can run to one Bubbler and one Kraken only.
The tournament was divided into two stages:
Group Stage
The first stage was a Round Robin group stage. All matches in this stage were played on a Best-of-5 games format. The top two teams from each group then moved on to the next and final stage.
Final Stage
The second stage was a single-elimination bracket. All matches in this stage were played on a Best-of-7 games format.
References