Wii U
From Inkipedia, the Splatoon wiki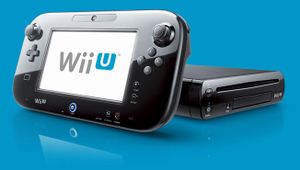 The real world!
This article or section discusses subjects found
in real life
.
The Wii U is the first eighth-generation Nintendo home console and the successor to the Wii. Officially revealed on 7 June 2011 and released on 18 November 2012, it is the console where the Splatoon series eventually made its debut starting with Splatoon. Despite being met with mixed-to-positive critical reception, the Wii U was a commercial disappointment for Nintendo, selling 13.56 million units as of 2019[1] and becoming Nintendo's lowest-selling home console to date. Production on the system officially ended in January 2017, just before it was followed by the Nintendo Switch on 3 March 2017.
Features
The Wii U system, like the handheld Nintendo DS and 3DS systems, comes with a second screen, known as the Wii U GamePad. It was exclusively marketed as a home console due to how the GamePad cannot be taken on the go. One of its main features is the GamePad's large 480p touch screen, which allows for a different display to what is on the TV (displayed at up to 1080p HD) and through which some games can be played on the GamePad alone. The Wii U Pro Controller is also compatible to provide more traditional controls. The Wii U offers backwards compatibility with all Wii games and controllers, including the Wii Remote and Wii Classic Controller, and has a service known as Nintendo eShop, where digital versions of games can be purchased. These, along with Splatoon, include some classic Nintendo titles which are played on the Virtual Console.
Related games
Also check this article for additional references.
Gallery
External links
References