User:ChessMaster/Beach vs Amusement Park
From Inkipedia, the Splatoon wiki
  Beach vs Amusement Park  ​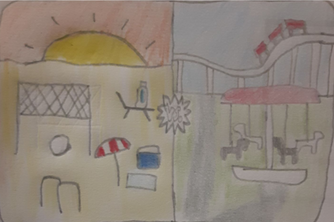 Start Time:

August 28, 2021 4:00 pm U.S Eastern Time

End Time:

August 28, 2021 8:00 pm U.S Eastern Time

Color Set:

Boke vs. Tsukkomi

Popularity:

71.43%

 

 

28.57%

Battles x3:

52.78%

 

 

47.22%

Clout:

48.54%

 

 

51.46%

Points:

278

 

 

222

Winner:

Beach

RESULTS ARE IN!

We've got a summer fest now! Where do you prefer to go during the Summer? The beach or an amusement park? Anyone can join in! Follow the steps below to join.
How to Join
1. Get my friend code to join! -> SW-8511-6854-7798 (My name should be BLZ->Jimmy!)
2. There are three ways to tell me what team you want to be on
Tell me through my talk page. (Tell me in a new section so I can find it quicker)
While you are waiting for me to friend you, put B in front of your name for Beach and A for Amusement Park (Once I friend you, you can remove the B or A).

If you already have me friended, then unfriend me then refriend me with the B or A.

Use the Discord! Go to Minifest Voting and put your vote there! (ChessMaster's Discord!) (You will be asked to accept an invite to "ChessMaster's Discord Room". Accept the invite then do the rest.
3. Wait and get ready for my Minifest!
Changes!
This Minifest is going through changes! Here they are listed!
Results Changes
There are changes in deciding the winner. Now instead of Turf War Inked Percent Average, there is now Clout! Clout is exactly the same as it is in actual Splatfests. Synergy Bonuses will be counted and they will multiply into that teams clout score!
Now that Clout and Popularity can be combined to overcome Battles, the Battle multiplier will be changed so that Battles will still be worth more. It will be changed from x2 to x3. A slight change so that other categories are still notable.
OTH Dialogue
Off the Hook will no longer commentate on these Minifests. Instead we will have two new people coming in to commentate. Who they are? We'll see when they commentate.
Splatfest Titles!
Players can get Splatfest titles during the fest! Here is table explaining how many points are needed to move on to the next rank.


| Splatfest Title | Points Needed |
| --- | --- |
| Fanboy/Fangirl | 10 |
| Fiend | 25 |
| Defender | 50 |
| Champion | MAX |
| Queen/King | Only Achievable by reaching Champion and winning |
Here is a table explaining how many points are given


| Requirment | Points given |
| --- | --- |
| Inked more than 500p | 3 |
| Inked more than 300p | 2 |
| Inked less than 300p | 1 |
| Won the match | 5 |
| Highest Splatter | 2 |
If a player's team wins, than they move up one rank immediately. Splatfest Titles will be announced when the results are out. This will have no impact on scoring however. This is just for enjoyment :D
Rules
I will hold the Minifest at 4pm U.S Eastern Time on June 5th. It will be finished when I leave the game
You DO NOT have to wear the Splatfest Tee Replica! You may wear it but it is not required to play
If random people join, then I will put them on a team that is low on players. This will not effect popularity
If I need to, I will move people from one team to the other but just for that match. It does not change the popularity. It is so that the teams will be even. Please still actually play for them.
Spectators may be needed. There will be a rotation in spectators to make sure everyone has a fair amount of play time. (I will try to spectate more than others).
The winner will be crowned the following Monday. The winners will be awarded Barnsquids as that is the best gift I can give to winners.
Spread the Word! Tell others about this Minifest! I would love for others to join!
I will roll a d20 for each match.

If it rolls in 15-18 the match will be a x10. The match will be a ranked mode and the winning team will have their clout earnings multiplied by 10!
If it rolls a 19 or 20, the match is a x5. The match will be normal but the winning team will be awarded 5 wins!

If there are disconnects, then the match will count ONLY if the disadvantaged team wins and if the disconnect was before the final 30 seconds. If the other team wins, then the match will not count. If this occurs during a x10 or x5 battle, than the next match will be the x2 or x3 if the team with the disconnect loses. If a disconnect happens 2 times in a row, then the match will count the third match.
If you want, you can switch teams even if you chose a team. Although, you CAN NOT switch teams during the Minifest. You can switch anytime before the Minifest!
If you want to, draw some art! I will decide which one I'll use.
I will post additional info if I need to later on.
Minifest Dialogue
Rick's Dialogue
Jack's Dialogue
Region
Rick:
"Welcome to Minifest!"
Jack:
"Nice!"
Rick:
"We're you're hosts Rick..."
Jack:
"and Jack!"
Rick:
"Anyway let's get straight to the big topic we're talking about today?"
Jack:
"Ooooooooooh what is it?"
Rick:
"We've got a new theme coming underway for the next Minifest!"
Jack:
"Based on the end of summer coming."
Rick:
"On one side the natural environment providing it's own fun..."
Jack:
""
Rick:
"The beach!"
Jack:
"Meanwhile the place built to provide fast fun..."
Rick:
""
Jack:
"The amusement park!"
Rick:
"The Amusement Park obviously!"
Jack:
"So Rick which side are you going for?"
Rick:
"Yeah but we're not like others. We're unique!"
Jack:
"What? But you're on the Alpha side!"
Rick:
"And besides don't you like the beach better?"
Jack:
"Yeah that is true"
Rick:
"Pffft. I'd prefer a day at Wahoo World than the beach anyday!"
Jack:
"The beach just has a more calming aesthetic to it that I love."
Rick:
"I love me some fast action instead!"
Jack:
""
Rick:
"I mean the giant rollercoaster? The Death Drop? Fast paced fun!"
Jack:
"Fast paced? More like motion sickness fun..."
Rick:
"Why not go on the Ferris Wheel? It isn't fast there."
Jack:
"Oh no no no. I'll stay happily on the beach"
Rick:
"Why not? You afraid of heights?"
Jack:
"No. I just like building sand castles there more."
Rick:
"Sure...."
Jack:
"Well we hope to you there! Bye!"



Results
Rick's Dialogue
Jack's Dialogue
Region
Rick:
"Nooooooooo!"
Jack:
"Pack that sunscreen! Team beach wins!"
Rick:
"Aw man..."
Jack:
"Well you know what that means Rick?"
Rick:
"Gosh do we have to?"
Jack:
"We're going to the beach!"
Rick:
"Maybe..."
Jack:
"Oh but Rick you're going to have fun!"
Rick:
"Great."
Jack:
"Don't worry I've got the entire day planned out. It's going to be great!"
Rick:
"Hope everyone had a fun time!"
Jack:
"If you're on the winning team your prizes will be given out shortly!"



Gallery
Barnsquid!
Winner's barnsquid!
Beach Winner Barnsquid

This Barnsquid is awarded to (User) for winning

in ChessMaster's seventh Minifest!
People who chose a team
Beach
Amusement Park