User:Dynamo/Salmonids vs. Octarians
Jump to navigation
Jump to search
Minifest is DONE! The scores are on my talk page as well as here.
Just stuff to know about the Splatfest
  Salmonids vs Octarians  ​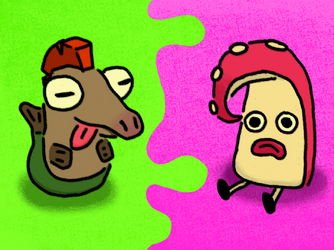 Start Time:

3:15-5:15

Color Set:

Squid vs. Octopus

Popularity:

4%

 

 

4%

Battles x2:

1%

 

 

1%

Turf Inked Percent Average:

396.7%

 

 

603.1%

Points:

496.7

 

 

703.1

Winner:

Octarians
Tell me the team you're going to be on in the talk page here, and you can add your name to the team.
My friend code is: 2333-4985-5991 for those of you who want it for the minifest.
the date will be Monday on the 26th of April at 3:15, and run for about two hours.
You can change your team anytime before the minifest.
Also, Thank User:BtByMyDog or the awesome art!
Stages
Probably these:
Grapplink Girl to represent the Grapplinks found in Octo Valley and Canyon, Cannon Fire Pearl to represent Cohock Charge, and Sweet Valley Tentacles because of the Octarian tentacle balloons.
Rules
Moderators make the rooms (You can tell me on this page's talk page if you want to host a room)
The Splatfest Tee is NOT required. However, if you have played the Octo Expansion, have any Octoling gear or have gotten gear from Grizzco, you can wear that to support you team! You don't have to, of course.
Specific weapons are not required
Squid parties and/or griefing is NOT acceptable. If anyone is trying to do so (But I trust you guys enough to know that that won't happen), The match will not be counted and the person who started it or tried to start it will be put into spectator (Possibly).
Every so often, there will be 2x, which will be ranked. I will randomize the times that I do this. Also, thanks to ChessMaster For the idea!
Friends of users on Inkipedia are allowed to join. The more the merrier!
If there is a disconnect, the match will not be counted unless the team with the disadvantage wins. (This will not count if there are an odd amount of players in the lobby.)
Participants
Mods:
Team Salmonids:
Fancy Squid

(talk)

12:54, 20 April 2021 (UTC)

Team Octarians:
Off the Hook dialogue
Announcement:
Pearl's Dialogue
Marina's Dialogue
Region

Pearl:
"We have another minifest comin'!"

Marina:
"Oh, Wow! What's the theme?"
NOA

Pearl:
"I'm getting to that! It looks like it's gonna be..."
Marina:
"-"
NOA

Pearl:
"Salmonids! These guys sure like their frying pans..."

Marina:
"Versus octarians! Home not-so-sweet home!"
NOA
Pearl:
"-"

Marina:
"It's also being organized by somebody named Dynamo! Cool name!"
NOA

Pearl:
"Okay then, 'Rina, Me and these fishies are gonna take you DOWN!"

Marina:
"Sure, Pearl. You belive what you want."
NOA

Pearl:
"When it comes to Salmonids, my favorite is probably the Steelhead."

Marina:
"That's sure because of your lack of height and how big it is, isn't it?"
NOA
Pearl:
"-"

Marina:
"So anyway, the creator of this Splatfest, Dynamo, gave us a note about gear."
NOA

Pearl:
"Let's see... it says, "Grizzco and Octoling gear is allowed to be worn!""

Marina:
"And we're using ink colors from one of our past Splatfests too!"
NOA

Pearl:
"Looks like me doing nonstop shifts at Grizzco made me luck out, huh?"

Marina:
"So THAT'S why I never see you at practice anymore..."
NOA

Pearl:
"Well, that's enough chitchat. Let's hit the splattlefield!"

Marina:
"Absolutely, Pearlie! Have fun everyone!"
NOA



Barnsquid
I don't know how to make barnsquids... If anyone knows how to do it, I would be open to their template ideas!