Competitive
:
Octobrush Nouveau
From Inkipedia, the Splatoon wiki





Unofficial!
This article discusses content that is not part of the official
Splatoon series
canon but is part of the community or competitive gaming space.
For information about Octobrush Nouveau, see Octobrush Nouveau.
Splatoon 3
Splatoon 3
Octobrush Nouveau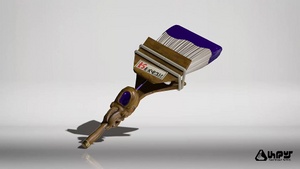 The Octobrush Nouveau is a weapon reintroduced in Drizzle Season 2023. In Splatoon 3, it comes with Squid Beakons and Ink Storm.
Use
The Octobrush itself is a frontline slayer.
It has 2 modes: Swinging and Sliding.

Swinging the brush will fling ink. Mainly used for painting, charging special, and fighting.
Sliding will hold the brush to the ground and run fast. Mainly used for mobility and dodging shots.
It also has a few weaknesses.
Its short range makes it weak against longer-ranged slayers.
A lack of bomb also makes it so it lacks a poking tool against long ranged anchors and worse in fights.
Its ink flings lose damage quickly, even making it from a three to four shot splat at longer ranges.
It also has a slow firing/swing speed compared to other slayers. Along with the aforementioned bad falloff rates, this is bad because most other slayers have a faster firing speed and range.
Squid Beakons are situational, but are sometimes good.
Squid Beakons can be used to quickly get back in the game after respawning.
Squid Beakons can also be used as a safe escape tool if the player is wearing enough Sub Power Up or Quick Super Jump.
Place Squid Beakons in safe spots where enemies have to expose themselves and be vulnerable to destroy, such as behind your cover.
Ink Storm can also come in handy.
Ink Storm can be used as passive painting for control. It can be used as a throwaway on the Splat Zone and then lets the player pursue enemies while it slowly takes zone.
Ink Storm can combo with the Octobrush Nouveau's damage. However, it does move slower than its roll speed, so the player will have to slow down for combos.
Ink Storm can also be used as a quick ink refill for when the player runs out of ink.