User talk
:
Eminence
From Inkipedia, the Splatoon wiki
Welcome to my talk page,

Guest

!
| | |
| --- | --- |
| | This is a talk page! |
Messages will be archived after page surpasses 35,000 bytes. The current page size is 10,145 bytes.
Renaming Files
I don't know how to rename the picture. Could you give me instructions?
And since I'm here, how can I change the size of the picture when I put it on my page? Mystic (talk) 19:54, 10 April 2021 (UTC)Reply[reply]
Answered on your talk page. EminenceTalk 20:20, 10 April 2021 (UTC)
My minifest
Since I'm holding a minifest I wanna put it on the Inkfest page. The date is on Sunday, May 2, 2021, and all I saw on the page were Saturdays. Would I need to postpone it for summer of 2021? While I'm at it do you need permission to make a minifest? 𝕋𝕙𝕖𝔹𝕖𝕒𝕤𝕥 (talk) 14:40, 27 April 2021 (UTC)Reply[reply]
Thanks but its alright I already put it in C: 𝕋𝕙𝕖𝔹𝕖𝕒𝕤𝕥 (talk) 15:49, 28 April 2021 (UTC)Reply[reply]
I want to say something.
As a former bureaucrat and sysop on another domain, would this help my chances?--Astor


06:12, 28 April 2021 (UTC)Reply[reply]
I don't understand what you mean, can you elaborate? EminenceTalk 12:07, 28 April 2021 (UTC)Reply[reply]
I was a former Patroller (and at one point bureaucrat) on an old wiki, but they moved domain and eventually I lost my login. I am asking if this info would indeed be useful.--Astor 15:53, 28 April 2021 (UTC)
For getting patroller status --Astor 18:59, 29 April 2021 (UTC)
Barnsquids
Alright so I have no idea how to make barnsquids but I know that most of the time you will get barnsquids from minifests, level, etc. Since I have no experience in making barnsquids (or anything) I was wondering if I'd actually have to learn how to make a barnsquid for my minifest. 𝕋𝕙𝕖𝔹𝕖𝕒𝕤𝕥 (talk) 19:41, 28 April 2021 (UTC)Reply[reply]
Sorry for my inactivity
Hiya eminence. I lost my account. But I found it. Hope that's ok! :) Astor


11:34, 11 August 2021 (UTC)Reply[reply]
Good faith
Hey Eminence, I noticed you were paying close attention to the recent changes which is great, keep in mind that assuming good faith is a fundamental principle on wikis as it's free and editable by everyone. The translation to the game title in different localizations is rather clear so an undo wasn't necessary there. Consider having faith in the changes users edit in the articles so that there won't be a lot of back and forth edits. Thanks for patrolling and have a great day. Shahar (talk) 09:52, 29 August 2021 (UTC)Reply[reply]
Splatoon 3's "Slick"-esque Inkling hairstyle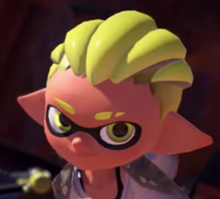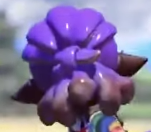 It seems that both are the one and the same as the top picture also shows the back knot. I corrected it on the Player customization page.
— Exaskliri (talk | contribs) 03:50, 17 October 2021 (UTC)Reply[reply]
An Enigmatic Barnsquid
So I sometimes check out other users' pages to see their contributions and to get to know people around here better. One thing I noticed was that a few users had this barnsquid:
Barnsquid


This Barnsquid was awarded to Eminence
on 00:05, 5 July 2015 (UTC) for making significant contributions to the manga section of Inkipedia.

It seems kinda vague how a user could've obtained a barnsquid like this. What exactly counts as a "significant contribution" to the manga section? I would like to know since this barnsquid looks so cool!
- Thanks in advance. Princewave


19:10, 31 January 2022 (UTC)Reply[reply]
This isn't an official Barnsquid. It was made by Redacted Squid aka Prinz so you'll have to ask them about it. To my knowledge it was given to users who worked on the Manga Reformation project a year ago. Hope it helps! EminenceTalk 19:18, 31 January 2022 (UTC)
Ah, I see. Prinz appears to make edits quite sporadically, so I'm nervous about talking to them. Thanks for the info though! Princewave 19:27, 31 January 2022 (UTC)
Signatures
I was wondering how to make your user name different and add an image and stuff like that. How do you do it? — Preceding unsigned comment added by Megarxr (talk • contribs) 16:31, 1 May 2022 (UTC)Reply[reply]
Refer to the Signature policy for help making a signature. You can also look at other users signatures for ideas. By the way, make sure that you sign talk page comments using ~~~~. Hope it helps! EminenceTalk 10:37, 2 May 2022 (UTC)
Hiatus
Am I ok for taking such a long break. I'm back now and going to edit as much and as well as ever! Thanks Redacted Squid (talk) 20:49, 1 August 2022 (UTC)Reply[reply]
Files
I'm new to the wiki and can't figure put how to add files. I noticed you do stuff like that. Could you help me?{{SUBST:User:Octohachi/Sig}} (talk) 23:19, 21 August 2022 (UTC)Reply[reply]
@Octohachi If you scroll down the sidebar to the Tools section, you'll find a link called Upload file. Click on that link and follow the instructions on the page. Hope it helps! EminenceTalk 13:39, 22 August 2022 (UTC)
wow dude
Could you maybe give me a step-by-step on how to make a user page like yours? I am amazed and would want to do something like that. the octoling girl 00:10, 21 October 2022 (UTC)
Twitter Archive
thanks for reminding me to replace the reference links. i have a question: what do i do with quote retweets? *shootingstar* (talk) 17:02, 4 July 2023 (UTC)Reply[reply]
You should ask Trig Jegman about that, he is the project organizer and will have an answer for you. If you would like to communicate better about the archive project, we have a thread dedicated to it on the Inkipedia Discord. EminenceTalk 17:17, 4 July 2023 (UTC)

Use the replyname= parameter and the username of the person they are quote retweeting—we do not need to archive the tweet being quoted. Trig - 18:15, 4 July 2023 (UTC)

thank you *shootingstar* (talk) 18:28, 4 July 2023 (UTC)
Z+F Charger Comp page deleted
Says that it got deleted due to a discussion on Discord and got moved to Trig Jegman's page. May I recreate the page and start working on it? -
splat.dualies

( talk ) 02:51, 13 September 2023 (UTC)Reply[reply]
The draft can be found at User:Trig Jegman/Draft/Z+F Splat Charger. You can work on it there and move it back to the Competitive space once the article is complete. Thanks! EminenceTalk 13:45, 13 September 2023 (UTC)

Anytime!

-
splat.dualies

( talk ) 01:12, 14 September 2023 (UTC)Reply[reply]
Brinestone Jacket translations
Hey, I noticed you reverted the translations provided by SaltySquib on this clothing's page. Does the user have a history of adding machine translations? Asides from Chinese which I cannot verify and a small inconsistency between Japanese and Korean (choosing to put "charismatic" in parentheses), all of the translations seemed correct. Just a bit confused Anemoia[Talk!] 20:25, 3 October 2023 (UTC)Reply[reply]
Help
Sorry to bother @Eminence, but I have a question. I'm having issues with a certain translation and I just wanted clearance, does Klecks in German mean inking when Splatoon is in question? I believe it's the word they use to refer to ink other then Tinte, but I needed someone else to clear it up for me. If anyone else speaks German and can clear this up as well, please do. Ma-Ran-rie
18:23, 20 October 2023 (UTC)Reply[reply]
"Klecks," in the context of Splatoon, is generally translated to "Splat," not "Ink." For example, "Klecks-Konzentrator" translates to "Splat Concentrator." Also, Perfectionist is much more experienced with German translation than I am, so feel free to ask them any of your questions. Hope it helps! EminenceTalk 18:36, 20 October 2023 (UTC)