User talk
:
SuperHamster
From Inkipedia, the Splatoon wiki
Re:Advertisements.png
It worked for me, but I reuploaded it just in case something went wrong. Thanks for letting me know! - ShrimpPin 12:27, 7 June 2015 (UTC)Reply[reply]
Advertisement Policy
Hey, SuperHamster. I kinda forgot to talk about this sooner, but I was wonder if edits like these fall under the scope of the Advertisement Policy. I know that the edits were made before the policy was in place, but there seems to be pieces left here and there in a few of the missions. --SgvSth (talk) 03:39, 9 June 2015 (UTC)Reply[reply]
Splatoonwiki? Inkipedia?
I was just wondering, why is the domain splatoonwiki.org if the wiki is Inkipedia? marikdff 03:30, 10 June 2015 (UTC)
Then how about redirecting splatoonwiki.org to inkipedia.org? --marikdff 03:37, 10 June 2015 (UTC)
Category question
I was wondering if there was any way for me to edit Category: articles that need images. Because the file link dosent have the right name, but when i try to edit it, it will only let me edit the first two to three lines, and i wanted to know if only admins could edit categorys. SmallZapFish 17:28, 12 June 2015 (UTC)
ADMIN BARNSQUID
You may put this Barnsquid on your user page, talk page, or awards subpage.
Admin Barnsquid


This Barnsquid was awarded to SuperHamster
on 00:05, 5 July 2015 (UTC) for being an Inkipedia administrator.
Possible Inappropriate Content Policy Violation?
Hi, I just recently came across this edit on Marie's page. The part about Moray Towers was quickly removed by another user, and no trace of it is left currently, but the part about her recent comment during the NA Splatfest announcement has been up until I hid it just now. Did these statements violate Inkipedia's Inappropriate Content Policy to some degree? SilverStarlight (talk) 19:40, 9 August 2015 (UTC)Reply[reply]
Fair Use
I noticed you were adding categories to my user images, which of course I appreciate. (-: That said, you put them all as fair use, which is not correct, as I am the copyright holder for these images. I'll make an effort to ensure any future images wind up under Category:User Images, but I do want to remind you of the scope of where fair use applies. Otherwise, every image on the wiki will wind up under Category:Fairuse. (-: --GuyPerfect (talk) 16:44, 17 November 2015 (UTC)Reply[reply]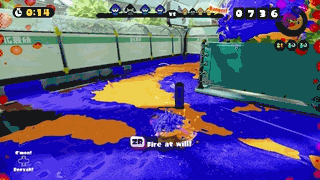 Deletions
Hey thanks for taking care of all those redirects I've been marking. There, uh, sure has been a lot of them. :y --Bzeep! talk 01:37, 31 December 2015 (UTC)Reply[reply]
Could Use Some Help
Hello Superhamster, I was wondering if you could possible help me with a table that I was creating for Octobomber appearances?--Snowwarrior92 (talk) 07:57, 11 February 2016 (UTC)Reply[reply]
Thanks, I can't get the table to collapse.--Snowwarrior92 (talk) 08:05, 11 February 2016 (UTC)Reply[reply]
Hey no worries, I learn better when I try to do things on my own. Thanks for listening. --Snowwarrior92 21:35, 15 February 2016 (UTC)Reply[reply]
A Quick Question
I hate asking this, but is there a way to block someone from making edits on your talk page?--Snowwarrior92 06:07, 6 March 2016 (UTC)Reply[reply]
Alright, thanks and no it's nothing harassing or anything...just annoying.--Snowwarrior92 06:18, 6 March 2016 (UTC)Reply[reply]
IotM
I nominated Raynbowz into Inkling of the Month but people think I am just ridiculous so how bout I can vote you?

(

|Contribs) 13:17, 4 July 2016 (UTC)Reply[reply]
Source
Hello, SuperHamster! I just noticed that you forgot to add the source to the fairuse template in File:Splatoon manga promo.jpg. The matter is on the talk page, but I put the thing in for you.
Inkipedia Newsline
I think you would want to e part of this so: User:Mr Squid/template/Newspaper sign up
17:45, 20 August 2016 (UTC)
Splatoon 2 weapons
Pictures of some early Splatoon 2 main/sub/special weapons have been released. I provided information and translations of these here. So feel free to create pages on them if you'd like (or, if you want to wait until we have more information or official localized names, that's fine too – I would do it but I'm about to be busy with travel & school starting again in a few days) – just thought I'd let you know as I saw you editing the Splatoon 2 page on here. :) –Eli (talk) 07:17, 13 January 2017 (UTC)Reply[reply]
RE:Moving pages
Ah, okay. I will definitely use that in the future-- thanks for the tip! Sigma talk 02:54, 24 July 2017 (UTC)Reply[reply]
Accidentally Uploaded The Wrong File
Hi, I just recently started editing, and I was trying to upload a file. It seems as though I clicked the wrong image and I can't figure out how to delete the file. (CheetoCheeto (talk) 03:11, 17 January 2018 (UTC))Reply[reply]
Removing stuff from categories
Hi, I was wondering how to delete stuff from categories. I noticed a lot of the pictures in the "Need Pictures" categorie have pictures and I wanted to know if there is a way. SmallZapFish (talk) 19:37, 18 January 2018 (UTC)Reply[reply]
Vandal on the loose
A user by the name UsaNeko123 has been numerous vandalizing pages lately with images from a video game from another company. It might be necessary to ban him/her post haste.
DaDoc540 (talk) 02:17, 11 June 2018 (UTC)Reply[reply]
User:Agent 4 The King
This guy is vandalizing the wiki. Please encourage him to end his shenanigans. Am I supposed to say anything else? £|_@|\/|€1232

(Talk) 16:25, 8 March 2020 (UTC)Reply[reply]
Mint
Please delete Mint. Thanks! Eminence

(Chatter) 11:58, 7 September 2020 (UTC)Reply[reply]
Inkipedia Novel
Hello SuperHamster-sama. I am an neophyte author and would like to know if you could make a page for me to write a splatoon novel featuring admins from this page as the main characters. Please give me permision. PLEASE.しょめい さ れた かれぶ (talk) 16:10, 15 July 2022 (UTC) かれぶReply[reply]