Equipment
Jump to navigation
Jump to search
Equipment is the combined form of weaponry and gear the player has on them. To equip an item is to hold it.
Info Screen
The Info Screen, known in Splatoon as the Gear(NA)[a] or Equipment(EU/OC)[b] screen, is a menu that displays the player's current information. It is located on the Wii U GamePad in Splatoon and on the menu's Status tab in Splatoon 2.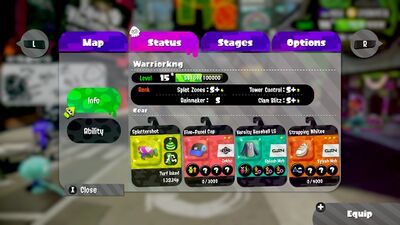 It includes the player's:
Splatoon's Gear Screen also provides a link to the Ability Guide.
Pressing
on
or any Nintendo Switch controller opens the equip screen.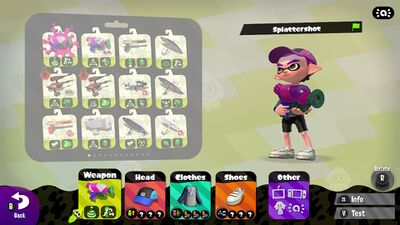 Equip Screen
From the equip screen, the player can change their weapon or gear. Information about each item can be read by pressing
. When a weapon is highlighted,
can be pressed to access the Shooting Range with that weapon. The player's Inkling can be rotated with
.
Splatoon 2 introduced the ability for players to sort their gear based on a variety of factors by pressing
. Gear can be sorted by recent use, brand, or ability, while weapons can be sorted by recent use, main weapon class, sub weapon, or special weapon.
Gallery
Names in other languages
Language
Name
Meaning
 Japanese
そうび
Soubi
Equipment
 Dutch
Uitrusting
Equipment
Notes