Equipment
From Inkipedia, the Splatoon wiki
Equipment is a collective term referring to both weapons and gear that a player has equipped (placed on their character).
Info Screen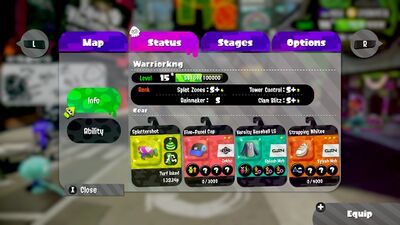 The Info Screen, known in Splatoon as the Gear(NA)[a] or Equipment(EU/OC)[b] screen, is a menu that displays the player's current information. It is located on the Wii U GamePad in Splatoon and on the menu's Status tab in Splatoon 2.
It includes the player's:
Mii name (Splatoon) or Nintendo Switch username (Splatoon 2)
Current Level
Current Ranks
Current main weapon
Current Gear

Current headgear
Current clothing
Current shoes
Splatoon's Gear Screen also provides a link to the Ability Guide.
Pressing

on

or any Nintendo Switch controller opens the equip screen.
Equip Screen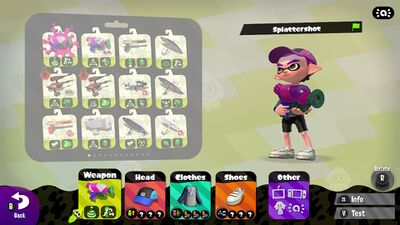 From the equip screen, the player can change their weapon or gear. Information about each item can be read by pressing

. When a weapon is highlighted,

can be pressed to access the Shooting Range with that weapon. The player's Inkling can be rotated with

.
Splatoon 2 introduced the ability for players to sort their gear based on a variety of factors by pressing

. Gear can be sorted by recent use, brand, or ability, while weapons can be sorted by recent use, main weapon class, sub weapon, or special weapon.
Quotes
"
SRL User Interface dept. here. You're looking at the Equip menu, where you can edit your loadout to suit your next battle. We've discovered that the Sort feature has been enhanced so it's easier than ever to find the weapon or gear you're looking for.
"

— @SplatoonNA on Twitter

[1]
Gallery
Names in other languages
Language
Name
Meaning
 Japanese

そうび


Soubi
Equipment
 Dutch
Uitrusting
Equipment
Notes