User:Chrome Wolf
From Inkipedia, the Splatoon wiki
Judd's Advice


Meow! ( YourUsername, don't give up! You can win this!)
NOTE: This is a User page. Please do not edit this page unless you have this user's permission, or if something is absolutely wrong with the page and needs fixing. And if something severely needs fixing, please contact an admin, staff, or me first. Thanks. Sincerely,


Chrome Wolf

(
🎙
)
"
Either you know what you're doing, or you're lost. I prefer the first one.
"

— ChromeWolf
Chrome Wolf​
Chrome Wolf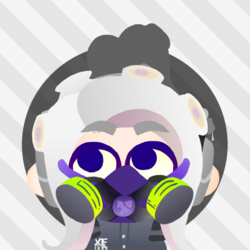 | | |
| --- | --- |
| Species | Octoling |
| Weapon | Sloshing Mashine |
| Alterna | Working on After Alterna |
| Salmon Run | Professional +3 |
| Gender | Male |
| Favorite game mode | Splat zones |
(To know how I might help, scroll to "How I might help")
Hey, YourUsername, this is Chrome Wolf and I am a Splatoon lore geek. I might have some answers to ur questions
I am not part of the staff, but I still like to help out. I do wish I was though.
I tend to keep a good eye for Easter eggs and other stuff Splatoon related. I also am a moderate translator.
My little buddy's name is Spike, with the Spike haircut. Before, I thought about having him have the Karen hairstyle.
My favorite color is Chrome.
My in game name is CHRΘMΞWΘLF
My anarchy rank is S+2001
I have high hopes for becoming a patroller.
Advice
Stuff I found and added to my gallery
My screen recording of Spike singing
Dedf1sh is my favorite artist in Splatoon series
| | |
| --- | --- |
| 🎂 | This user has his birthday in 143 days. |

I have finally gotten the dab in Splatoon 3.
Barnsquids
250 Edits Barnsquid


This Barnsquid was awarded to Chrome Wolf
on 1 December 2022 for making 250 mainspace edits on Inkipedia.
500 Edits Barnsquid


This Barnsquid was awarded to Chrome Wolf
on 4 December 2022 for making 500 mainspace edits on Inkipedia.
Splatfest teams I chose (just wanted to add this)
Likes
EDM Trap (electronic dance music trap)
Two or more booyah bombs on my teams
Bones by Imagine Dragons
Cradles by Sub Urban
Using the inkling language as secret code to friends.
Family
Russia (I say this because the music is awesome)
Ukraine (I say this because the music is awesome)
Dislikes
DC's
Time added up to multiple communication errors that occur in matches😤
Links (in and out of wiki)
How I might help
I can help by adding files to the wiki, doing research to answer questions, fix minor issues, translations (errors may occur), warning vandals, welcoming new users (because I'm just trying to be nice, and make them feel like we are not rude), and add needed information to missing articles.
Let me know what you need help with in my talk page.
Current edits: Getting stuff ready for Splatana v Stringers inkfest. (Started by Octoling E s3 and Jacobearth)
I try to help out as much as possible, and try to not break the policy rules. Hopes of becoming at least admin, if not, patroller. I help edit the wiki from 3:30 PM to 9:00 PM, but takes breaks in between, to be with family, so I'm not online all the time.
Thanks for reading, and ink safe.

Chrome Wolf

(🎙, 🗂)