User
:
Lapsem
From Inkipedia, the Splatoon wiki
Lapsem
Movie-Lovin' Inkbrush User





​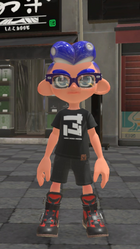 Hello, there.
I was an

N-ZAP '89 main back in Splatoon 2, but I've switched to the

Inkbrush in Splatoon 3.
A few of the noteworthy things that I've done on here:
If you look for me elsewhere on the Internet, chances are you won't find me. When it comes to social media, I'm a ghost.
Splatfest performances
Name
My Pick
My Rationale
Ultimate Rank
Did I Win?
Rock vs. Paper vs. Scissors
Rock
The Earth is a gigantic rock. Say what you will about paper and scissors, but everything rests on rock.
Ruler +

???

Yes
Gear vs. Grub vs. Fun
Grub
The human body can't survive for long without food.
Ruler +1
No
Grass vs. Fire vs. Water
Water
I don't play Pokemon anymore, but no known organism can survive without water.
Ruler +1
Yes
Spicy vs. Sweet vs. Sour
Spicy
A younger me would break for Sweet, but I've been making a point of leaving my comfort zone lately.
Ruler +3
No
Dark vs. Milk vs. White
Milk
Dark chocolate is unbearably bitter, and white chocolate I seldom ever have. Sure, milk's what most folks I know would pick, but it's what I like.
Ruler +3
No
Nessie vs. Aliens vs. Bigfoot
Aliens
Choosing Nessie or Bigfoot would confine those creatures to only one planet, while with Aliens, it could be a whole cosmos full of life!
Ruler +2
No
Power vs. Wisdom vs. Courage
Power
All of the knowledge and bravery in the world doesn't mean anything if you can't put it to any meaningful use.
Ruler +2
Yes
Voice actor headcanons
Brenda Song
Tom Kenny
Ke Huy Quan
David Harbour
Keith David
Stephanie Hsu
Janelle Monáe
John DiMaggio
Lewis Hamilton
Michael Shannon
Tom Kenny
Mark Hamill
| | |
| --- | --- |
| | This user doesn't hate Clam Blitz, and never understood why so many people seem to. |
| | |
| --- | --- |
| | This user thinks that Flyfish are a huge pain in the butt. |
| | |
| --- | --- |
| | This user is a fan of ω-3. |