Salsa vs. Guac
Jump to navigation
Jump to search
Salsa vs. Guac​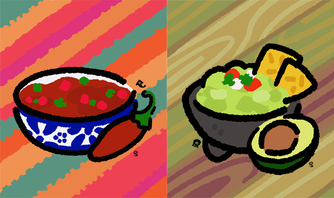 Team

 

Salsa

 

Guac
Region
North America, Oceania
Start

17 November 2018

, 04:00 UTC
End

18 November 2018

, 04:00 UTC
Score method
category tally
Shared results?
Yes
Popularity
57.12%
42.88%
Wins
{{{region 1 alpha wins}}}%
Expression error: Unrecognized punctuation character "{".%
Solo wins
{{{region 1 alpha solo wins}}}%
Expression error: Unrecognized punctuation character "{".%
Team wins
{{{region 1 alpha team wins}}}%
Expression error: Unrecognized punctuation character "{".%
Normal clout
52.47%
47.53%
Pro clout
54.00%
46%
Score
3
0
Winner
Salsa
Region
Start

1 September 2019

, 03:16 UTC
End

2 September 2019

, 03:16 UTC
Popularity
{{{region 2 alpha popularity}}}%
Expression error: Unrecognized punctuation character "{".%
Wins
{{{region 2 alpha wins}}}%
Expression error: Unrecognized punctuation character "{".%
Solo wins
{{{region 2 alpha solo wins}}}%
Expression error: Unrecognized punctuation character "{".%
Team wins
{{{region 2 alpha team wins}}}%
Expression error: Unrecognized punctuation character "{".%
Normal clout
{{{region 2 alpha normal clout}}}%
Expression error: Unrecognized punctuation character "{".%
Pro clout
{{{region 2 alpha pro clout}}}%
Expression error: Unrecognized punctuation character "{".%
Score
Expression error: Unexpected < operator.
Expression error: Unexpected < operator.
Winner
Region
Start

1 September 2019

, 03:16 UTC
End

2 September 2019

, 03:16 UTC
Popularity
{{{region 3 alpha popularity}}}%
Expression error: Unrecognized punctuation character "{".%
Wins
{{{region 3 alpha wins}}}%
Expression error: Unrecognized punctuation character "{".%
Solo wins
{{{region 3 alpha solo wins}}}%
Expression error: Unrecognized punctuation character "{".%
Team wins
{{{region 3 alpha team wins}}}%
Expression error: Unrecognized punctuation character "{".%
Normal clout
{{{region 3 alpha normal clout}}}%
Expression error: Unrecognized punctuation character "{".%
Pro clout
{{{region 3 alpha pro clout}}}%
Expression error: Unrecognized punctuation character "{".%
Score
Expression error: Unexpected < operator.
Expression error: Unexpected < operator.
Winner
Salsa vs. Guac was Splatfest event in Splatoon 2. It was held for North America and Oceania on 17 November 2018. It was announced on 9 November 2018 at 08:00 UTC in-game. The results were given on 18 November 2018.
Details
The Splatfest theme was two chip dips, salsa and guacamole.
Team Guacamole's name was shortened to "Guac" in progress meters and on SplatNet.
Salsa vs. Guac featured the 16th Shifty Station layout, Gusher Towns.
Gallery
Dialogue
English
Announcement
Pearl's Dialogue
Marina's Dialogue
Region

Pearl:
"What's your favorite chip dip? Salsa or guacamole?"
Marina:
"-"
NOA
Pearl:
"-"

Marina:
"Mmmmm... Guacamole."
NOA
Pearl:
"-"

Marina:
"Complex flavor, brilliant color, heavenly mouthfeel..."
NOA
Pearl:
"-"

Marina:
"Plus it's high in fiber!"
NOA

Pearl:
"..."
Marina:
"-"
NOA

Pearl:
"Good argument, Marina. You almost had me."
Marina:
"-"
NOA

Pearl:
"But then I remembered that guac is for boring people with bad taste."
Marina:
"-"
NOA

Pearl:
"Think about it. Salsa absolutely DESTROYS guacamole."
Marina:
"-"
NOA

Pearl:
"It's spicier. It's cheaper. It's...not green."
Marina:
"-"
NOA

Pearl:
"Why do you think they give you salsa and chips at restaurants?"
Marina:
"-"
NOA

Pearl:
"Because restaurant owners know that guacamole is the worst."

Marina:
"No, they give salsa away because it's cheap. They couldn't sell it if they tried."
NOA
Pearl:
"-"

Marina:
"Guac is more expensive because it's good. It's the Gold Dynamo Roller of dips."
NOA

Pearl:
"Your face is the Gold Dynamo Roller of dips."
Marina:
"-"
NOA
Pearl:
"-"

Marina:
"..."
NOA
Pearl:
"-"

Marina:
"OK."
NOA

Pearl:
"What about you at home? Head over to the Splatfest terminal and pick a side!"
Marina:
"-"
NOA



Results
Pearl's Dialogue
Marina's Dialogue
Region

Pearl:
"SALSA TOO HOT TO HANDLE!"

Marina:
"Nooooo!"
NOA

Pearl:
"Don't step to the spice, if you can't pay the price!"
Marina:
"-"
NOA

Pearl:
"Team Guac got rocked, Hot salsa paradise!"
Marina:
"-"
NOA
Pearl:
"-"

Marina:
"Splat me now..."
NOA

Pearl:
"YAYUH! We did it, Team Salsa!"

Marina:
"If you participated in the Splatfest, your prizes are waiting in the Square!"
NOA



Results if Guac were to win
Pearl's Dialogue
Marina's Dialogue
Region
Pearl:
"-"

Marina:
"YEEEEEEAH! GUAC ROCKS!"
NOA

Pearl:
"OH COME ON!"
Marina:
"-"
NOA

Pearl:
"This Clout system is busted! I DEMAND A RECOUNT!"

Marina:
"That's three wins in a row for me. I CAN'T BE CONTAINED!"
NOA
Pearl:
"-"

Marina:
"And you know what, Pearlie?"
NOA

Pearl:
"Ugh. What?"
Marina:
"-"
NOA
Pearl:
"-"

Marina:
"I'm gonna win the next one too! BOOYAHAHAHAHA!"
NOA
Pearl:
"-"

Marina:
"If you participated in the Splatfest, your prizes are waiting in the square!"
NOA

Pearl:
"..."
Marina:
"-"
NOA



French (Canada)
Salsa vs. Guac (Guacamole)
Announcement
Perle's Dialogue
Coralie's Dialogue
Region

Perle:
«Dans quoi préfères-tu tremper tes chips? De la salsa ou du guacamole?»
Coralie:
«-»
NOA
Perle:
«-»

Coralie:
«Hmmm... Du guacamole.»
NOA
Perle:
«-»

Coralie:
«La saveur exquise, la couleur éclatante, l'excellente texture en bouche!»
NOA
Perle:
«-»

Coralie:
«Et en plus, c'est plein de fibres!»
NOA

Perle:
«...»
Coralie:
«-»
NOA

Perle:
«Bon argument, Coralie. Tu m'as presque convaincue.»
Coralie:
«-»
NOA

Perle:
«Mais je me suis rappelé que le guac, c'est pour ceux qui y ont pas de goût.»
Coralie:
«-»
NOA

Perle:
«Penses-y un peu. La salsa est bien PLUS supérieure à ton guacamole.»
Coralie:
«-»
NOA

Perle:
«Elle est plus épicée. Elle est moins chère. Elle est... pas vert pâle.»
Coralie:
«-»
NOA

Perle:
«Pourquoi tu penses qu'on te DONNE de la salsa avec des chips au restaurant?»
Coralie:
«-»
NOA

Perle:
«Parce que les proprios de restos savent que le guacamole, c'est pas vendeur.»

Coralie:
«Non, ils donnent de la salsa parce que ça vaut rien. Ils pourraient pas la vendre.»
NOA
Perle:
«-»

Coralie:
«Le guac c'est plus cher, car c'est bon. Comme un dynamo-rouleau pro, quoi!»
NOA

Perle:
«T'as reçu un peu trop de coups de dynamo-rouleau pro je crois...»
Coralie:
«-»
NOA
Perle:
«-»

Coralie:
«...»
NOA
Perle:
«-»

Coralie:
«Euh, quoi?»
NOA

Perle:
«Quelle trempette préfères-tu? Va à la borne festive pour choisir une équipe!»
Coralie:
«-»
NOA



Results
Perle's Dialogue
Coralie's Dialogue
Region

Perle:
«LA SALSA EST TROP ÉPICÉE! C'EST POUR ÇA QU'ON A GAGNÉ!»

Coralie:
«Noooon!»
NOA

Perle:
«Parle pas en mal des piments, si tu peux pas perdre calmement!»
Coralie:
«-»
NOA

Perle:
«On dirait que l'équipe du guacamole, de gagner, ils en avaient ras-le-bol!»
Coralie:
«-»
NOA
Perle:
«-»

Coralie:
«Éclatez-moi quelqu'un.»
NOA

Perle:
«HAHAHA! On a réussi, l'équipe salsa!»

Coralie:
«Si tu as participé au festival, n'oublie pas de récupérer tes prix au carré!»
NOA



Results if Guac were to win
Perle's Dialogue
Coralie's Dialogue
Region
Perle:
«-»

Coralie:
«Gua-ca-mole! Gua-ca-mole! Mes coéquipiers sont mes IDOLES!»
NOA

Perle:
«OH, NON!»
Coralie:
«-»
NOA

Perle:
«Le système de contribution est brisé! JE VEUX UN RECOMPTAGE!»

Coralie:
«Ça fait trois victoires de suite pour moi! JE SUIS IMBATTABLE!»
NOA
Perle:
«-»

Coralie:
«Et tu sais quoi, ma petite Perle?»
NOA

Perle:
«Euh, non, mais tu vas le dire pareil, alors vas-y que ça finisse...»
Coralie:
«-»
NOA
Perle:
«-»

Coralie:
«JE VAIS GAGNER LE PROCHAIN AUSSI! HAHAHAHA!»
NOA
Perle:
«-»

Coralie:
«Si tu as participé au festival, n'oublie pas de récupérer tes prix au carré!»
NOA

Perle:
«...»
Coralie:
«-»
NOA



Spanish (Latin America)
Salsa vs. Guac (Guacamole)
Announcement
Perla's Dialogue
Marina's Dialogue
Region

Perla:
"¿Qué aderezo prefieren para la comida? ¿La salsa o el guacamole?"
(What dressing do you prefer for your meal? Salsa or guacamole?)
Marina:
"-"
NOA
Perla:
"-"

Marina:
"Mmmmm... Guacamole."
NOA
Perla:
"-"

Marina:
"Un sabor complejo, un color intenso, una textura divina..."
(A complex flavor, an intense color, a wonderful texture...)
NOA
Perla:
"-"

Marina:
"¡Y además tiene fibra!"
(And it also has fiber!)
NOA

Perla:
"..."
Marina:
"-"
NOA

Perla:
"Buen argumento, Marina. Casi me convences."
(Good argument, Marina. You almost convinced me.)
Marina:
"-"
NOA

Perla:
"Pero luego me di cuenta de que el guacamole es de perdedores."
(But then I realized that guacamole is for losers.)
Marina:
"-"
NOA

Perla:
"Piénsalo: ¡la salsa es mil veces mejor que el guacamole!"
(Think about it: salsa is a thousand times better than guacamole!)
Marina:
"-"
NOA

Perla:
"La salsa pica más. Cuesta menos. Y es menos... este... verde. A veces."
(Salsa is more spicy. It costs less. And it's less... uhh... green. Sometimes.)
Marina:
"-"
NOA
Notes: Unlike in English-speaking regions, where salsa is commonly associated with what is known as salsa roja (red sauce) in Latin America, salsa simply means "sauce" in Spanish. There is a large variety of sauces in Latin American cuisine, including salsa verde (green sauce), which is what Pearl is referencing here.

Perla:
"¿Por qué crees que siempre te regalan salsa en los restaurantes?"
(Why do you think they always give you salsa in restaurants?)
Marina:
"-"
NOA

Perla:
"Porque el olor del guacamole te quita las ganas de comer."
(Because the smell of guacamole makes you lose your appetite.)

Marina:
"No, te regalan salsa porque es barata y no hay forma de venderla."
(No, they give you salsa because it's cheap and there's no way to sell it.)
NOA
Perla:
"-"

Marina:
"El guacamole, en cambio, es el rodillo Pro dorado de los aderezos."
(Guacamole, on the other hand, is the Gold Dynamo Roller of dressings.)
NOA

Perla:
"¡Is il ridilli Pri diridi di lis idirizis!"
(Neh neh neh nehnehneh nehneh neh nehneh!)
Marina:
"-"
NOA
Perla:
"-"

Marina:
"..."
NOA
Perla:
"-"

Marina:
"Muy bien, Perla."
(Okay, Pearl.)
NOA

Perla:
"¿Qué opinan ustedes? ¡Vayan a la terminal de voto y elijan un equipo!"
(What do you think? Go to the vote terminal and choose a team!)
Marina:
"-"
NOA



Results
Perla's Dialogue
Marina's Dialogue
Region

Perla:
"¡DAME UNA VICTORIA CON SALSA ROJA, POR FAVOR!"
(GIVE ME A VICTORY WITH RED SALSA, PLEASE!)

Marina:
"¡Nooooo!"
(Nooooo!)
NOA

Perla:
"¡Me llaman chile güero, soy chiquita pero picosa!"
(They call me yellow chili pepper, I'm small but spicy!)
Marina:
"-"
NOA
Notes: Güero is also Mexican slang for a person with light skin and/or blond hair, regardless of ethnicity.

Perla:
"¿Guacamole? ¡Guácala! ¡Salsa victoriosa!"
(Guacamole? Gross! Victorious salsa!)
Marina:
"-"
NOA
Perla:
"-"

Marina:
"Reviéntenme."
(Splat me.)
NOA

Perla:
"¡YUJU! ¡Lo logramos, Equipo Salsa!"
(Yoohoo! We did it, Team Salsa!)

Marina:
"¡Si participaron en el festival, recojan sus premios en el centro!"
(If you participated in the Splatfest, collect your prizes at the Square!)
NOA



Results if Guac were to win
Perla's Dialogue
Marina's Dialogue
Region
Perla:
"-"

Marina:
"¡SÍÍÍÍÍ! ¡GUACAMOLE PARA TODOOOS!"
(YEAAAAAH! GUACAMOLE FOR EVERYOOONE!)
NOA

Perla:
"¡¿CÓMO ES POSIBLE?!"
(HOW IS THIS POSSIBLE?)
Marina:
"-"
NOA

Perla:
"Este sistema de "aportaciones" está totalmente roto. ¡Exijo un recuento!"
(This "Clout" system is totally broken! I demand a recount!)

Marina:
"¡Ya van tres victorias seguidas! ¡SOY IMPARABLE!"
(It's now been three victories in a row! I'M UNSTOPPABLE!)
NOA
Perla:
"-"

Marina:
"¿Y sabes qué, Perlita?"
(And you know what, Pearlie?)
NOA

Perla:
"Pfff. ¿Qué?"
(Pfff. What?)
Marina:
"-"
NOA
Perla:
"-"

Marina:
"¡LA PRÓXIMA SERÁ MÍA TAMBIÉN! ¡BUAJAJAJAJA!"
(THE NEXT ONE WILL BE MINE TOO! BWAHAHAHAHA!)
NOA
Perla:
"-"

Marina:
"¡Si participaron en el festival, recojan sus premios en el centro!"
(If you participated in the Splatfest, your prizes are at the Square!)
NOA

Perla:
"..."
Marina:
"-"
NOA



Top 100
North America and Oceania
Salsa
Guac
See also