Pinwheel
From Inkipedia, the Splatoon wiki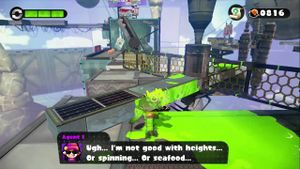 "
Those spinny things make me nauseous... *urp*
"
Pinwheels are a mechanic in Octo Valley, found only in the level Pinwheel Power Plant.
Description
Pinwheels are typically long, narrow platforms attached to a central cylindrical axis that constantly rotate in a set direction. Pinwheels can contain any number of platforms, and usually feature net barriers that rotate on the axis as well. In order to bypass these net barriers, Agent 3 must assume squid form.
Pinwheels act like Spreaders but do not place any ink.
Appearances
Pinwheels only appear in the Octo Valley mission Pinwheel Power Plant, where they play a prominent role as obstacles and as platforms to ride. Agent 3 encounters multiple varieties of Pinwheels here, many of which include net barriers, one platform, and Octarian enemies which the player needs to splat.
Gallery
Names in other languages
| Language | Name | Meaning |
| --- | --- | --- |
|  French (NOE) | Méramoulin | |
|  German | Zaun | Fence |
|  Spanish | Molinillo | Pinwheel |