Fam vs. Friend
From Inkipedia, the Splatoon wiki
Fam vs. Friend​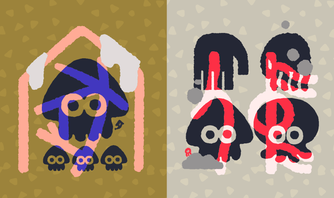 Team

 

Fam

 

Friend
Region
North America, Oceania
Start

4 January 2019

, 22:00 UTC
End

6 January 2019

, 22:00 UTC
Score method
category tally
Result type
combined
Popularity
62.27%
37.73%
Wins
%
Expression error: Unrecognized punctuation character "{".%
Solo wins
%
Expression error: Unrecognized punctuation character "{".%
Team wins
%
Expression error: Unrecognized punctuation character "{".%
Normal clout
48.01%
51.99%
Pro clout
47.17%
52.83%
Score
1
2
Winner
Friend
Region
Europe
Start

4 January 2019

, 14:00 UTC
End

6 January 2019

, 14:00 UTC
Popularity
%
Expression error: Unrecognized punctuation character "{".%
Wins
%
Expression error: Unrecognized punctuation character "{".%
Solo wins
%
Expression error: Unrecognized punctuation character "{".%
Team wins
%
Expression error: Unrecognized punctuation character "{".%
Normal clout
%
Expression error: Unrecognized punctuation character "{".%
Pro clout
%
Expression error: Unrecognized punctuation character "{".%
Score
Expression error: Unexpected < operator.
Expression error: Unexpected < operator.
Winner
Region
Japan
Start

4 January 2019

, 08:00 UTC
End

6 January 2019

, 08:00 UTC
Popularity
%
Expression error: Unrecognized punctuation character "{".%
Wins
%
Expression error: Unrecognized punctuation character "{".%
Solo wins
%
Expression error: Unrecognized punctuation character "{".%
Team wins
%
Expression error: Unrecognized punctuation character "{".%
Normal clout
%
Expression error: Unrecognized punctuation character "{".%
Pro clout
%
Expression error: Unrecognized punctuation character "{".%
Score
Expression error: Unexpected < operator.
Expression error: Unexpected < operator.
Winner
Fam vs. Friend, also known as Frosty Fest, was a Splatfest event in Splatoon 2 that was held for all regions from 4 January 2019 to 6 January 2019. It was announced on 30 November 2018 on social networks before the release of version 4.3.0. The results were given on 6 January 2019.
Details
The Splatfest took place over the course of 48 hours instead of the normal 24 hours. It was the second 48-hour Splatfest in Splatoon 2.
In addition to the normal changes at Splatfest time (central stage appearing in Inkopolis Square, all stages shown at night time), there were several changes unique to this Splatfest as part of the Christmas and New Year theme, similar to the changes for Splatoween:
The in-game logo showed Frosty Fest instead of Splatoon 2.
There was a new Match Start theme which was exclusive to this Splatfest.
Inkopolis Square had additional white and gold decorations in the shapes of icicles, snowflakes and stars.
The various stages had decorative stickers, graffiti, and other unique decorations.

Existing graffiti was modified, mainly by depicting characters as decorated with ribbons, bows, and snowflakes.

The sky appeared to be overcast and outdoor areas such as the Square saw snow falling.
Players' ink appeared especially shiny, with glittering particles inside, similar to the player's ink in Octo Canyon.
Gold and silver confetti fell down at the start of matches.
Snow started to fall on select stages on the last minute of matches.
A special news article in the Nintendo Switch news rewarded players with four unique pieces of headgear in the holiday spirit:
Pearl and Marina had different color schemes, with Pearl's outfit being mainly gold and Marina's being mainly silver.
The full name of each choice was "FAMILY" and "FRIENDS". The team name portion of Splatfest titles was "Fam" and "Friend".
Music
Main article: Opening#Opening (Off the Hook FrostyFest)
This Splatfest had a unique, remixed Match Start theme, not heard anywhere else, which includes more Christmas-themed instruments such as bells.
Shifty Station
Fam vs. Friend featured the eighteenth Shifty Station layout, Flooders in the Attic, which features Bounce Pads and Flooders.[1] The Flooders had a unique design, with candles and stacks of presents on top of them.[2] The flames on the candles could be put out if shot at.
Gallery
Graffiti
Dialogue
Translation needed




Complete French (France) translations. edit
English
Announcement
Pearl's Dialogue
Marina's Dialogue
Region

Pearl:
"Get ready for a special 48-hour holiday FROSTYFEST!"
Marina:
"-"
NOE, NOA
Pearl:
"-"

Marina:
"Who do you get most excited to spend the holidays with?"
NOE, NOA

Pearl:
"Your family or your friends?"
Marina:
"-"
NOE, NOA
Pearl:
"-"

Marina:
"Family is nice, I guess, but there's nothing better than a close friend."
NOE, NOA
Pearl:
"-"

Marina:
"A friend who knows how to make you laugh, cheer you up..."
NOE, NOA
Pearl:
"-"

Marina:
"Who knows your darkest secrets and has your back no matter what..."
NOE, NOA
Pearl:
"-"

Marina:
"Wouldn't you agree, Pearlie?"
NOE, NOA

Pearl:
"..."
Marina:
"-"
NOE, NOA
Pearl:
"-"

Marina:
"Pearl?"
NOE, NOA

Pearl:
"Huh?"
Marina:
"-"
NOE, NOA

Pearl:
"Sorry. I was daydreaming about Squidmas morning."
Marina:
"-"
NOE, NOA

Pearl:
"I gave my uncle a live Splat Bomb as a present."
Marina:
"-"
NOE, NOA

Pearl:
"It exploded the moment he took the wrapping paper off! HAHAHA!"
Marina:
"-"
NOE, NOA

Pearl:
"TEAM FAMILY, BAYBEE!"
Marina:
"-"
NOE, NOA
Pearl:
"-"

Marina:
"..."
NOE, NOA

Pearl:
"The holiday season is basically made for families!"
Marina:
"-"
NOE, NOA

Pearl:
"It's the one time of year you get to see your wacky distant relatives."
Marina:
"-"
NOE, NOA

Pearl:
"Plus, you don't have to front around your family. You can just be yourself."
Marina:
"-"
NOE, NOA
Pearl:
"-"

Marina:
"..."
NOE, NOA

Pearl:
"Oh... Well, uh..."
Marina:
"-"
NOE, NOA
Pearl:
"-"

Marina:
"That's great, Pearl. I'm glad your family makes you happy."
NOE, NOA

Pearl:
"And you know what, Marina? You and me?"
Marina:
"-"
NOE, NOA

Pearl:
"We're Off the Hook! We're totally family!"
Marina:
"-"
NOE, NOA
Pearl:
"-"

Marina:
"Awwwww. In that case, I'm going Team Family too!"
NOE, NOA
Pearl:
"-"

Marina:
"Sorry, everyone. Pearl and I have both chosen Team Family, so..."
NOE, NOA
Pearl:
"-"

Marina:
"THE SPLATFEST IS CANCELED!"
NOE, NOA

Pearl:
"WHAT?!"
Marina:
"-"
NOE, NOA
Pearl:
"-"

Marina:
"Just messin'. TEAM FAMILY IS GOING DOWN!"
NOE, NOA
Pearl:
"-"

Marina:
"It's time to decide. Who do you like to spend the holidays with?"
NOE, NOA

Pearl:
"Head over to the Splatfest terminal and pick a side!"
Marina:
"-"
NOE, NOA



Introduction
Pearl's Dialogue
Marina's Dialogue
Region
Pearl:
"Who do you get most excited to spend the holidays with? Family or friends."
Marina:
"Head over to the Splatfest terminal and pick a side!"
NOE, NOA



Results
Pearl's Dialogue
Marina's Dialogue
Region
Pearl:
"-"

Marina:
"BOOYAH!"
NOE, NOA

Pearl:
"NOOOOOOOOOOO!"
Marina:
"-"
NOE, NOA
Pearl:
"-"

Marina:
"I guess the power of friendship was just too much for Team Fam."
NOE, NOA
Pearl:
"-"

Marina:
"Good work out there, friends! We did it!"
NOE, NOA

Pearl:
"We hope you enjoyed FrostyFest!"

Marina:
"If you participated in the Splatfest, your prizes are waiting in the Square!"
NOE, NOA



Results if Fam were to win
Pearl's Dialogue
Marina's Dialogue
Region

Pearl:
"BUH-BUH-BUH-BOOYAH!"

Marina:
"..."
NOE, NOA

Pearl:
"Winning runs in the fam, Got it locked like a clam,"
Marina:
"-"
NOE, NOA

Pearl:
"Blood's thicker than ink, We don't blink, just BLAM!"
Marina:
"-"
NOE, NOA

Pearl:
"AYYYYYYYYYYYY!"

Marina:
"Haha. You're such a nerd."
NOE, NOA

Pearl:
"Big ups to Team Fam!"
Marina:
"-"
NOE, NOA
Pearl:
"-"

Marina:
"We hope you enjoyed FrostyFest!"
NOE, NOA

Pearl:
"If you participated in the Splatfest, your prizes are waiting in the Square!"
Marina:
"-"
NOE, NOA



Dutch
Announcement
Lorelei's Dialogue
Mariana's Dialogue
Region

Lorelei:
"Maak je klaar voor een 48 uur durende vakantiespecial... FROSTYFEST!"
(Get ready for a 48-hour lasting holiday special... FROSTYFEST!)
Mariana:
"-"
NOE
Lorelei:
"-"

Mariana:
"Met wie breng je het allerliefst de feestdagen door?"
(With who do you prefer to spend the holidays with the most?)
NOE

Lorelei:
"Je familie of je vrienden?"
(Your family or your friends?)
Mariana:
"-"
NOE
Lorelei:
"-"

Mariana:
"Familie is leuk en zo, maar er gaat niets boven je allerbeste vriend of vriendin."
(Family is nice and all, but nothing beats your very best friend.)
NOE
Notes: "vriend" means "friend" or "male friend", "vriendin" means "female friend"
Lorelei:
"-"

Mariana:
"Iemand die je aan het lachen kan maken, met wie je lol kunt trappen..."
(Someone who you can make laugh, with who you can have fun with...)
NOE
Lorelei:
"-"

Mariana:
"Die je duisterste geheimen kent en altijd voor je klaarstaat..."
(Who knows your darkest secrets and is always there for you...)
NOE
Lorelei:
"-"

Mariana:
"Vind je ook niet, Lore?"
(Don't you think too, Pearl?)
NOE

Lorelei:
"..."
(...)
Mariana:
"-"
NOE
Lorelei:
"-"

Mariana:
"Lorelei?"
(Pearl?)
NOE

Lorelei:
"Hè?"
(Huh?)
Mariana:
"-"
NOE

Lorelei:
"Sorry. Ik zat aan Eerste Kreeftdag te denken."
(Sorry. I was thinking about the first day of Squidmas.)
Mariana:
"-"
NOE
Notes: "Eerste Kreeftdag" comes from "Eerste Kerstdag", "first day of Christmas"/"first Christmas day", and "kreeft", "lobster". Lit: "first day of lobster"/"first lobster day"

Lorelei:
"Ik gaf mijn oom een Klodderbom cadeau die op scherp stond."
(I gave my uncle a live Splat Bomb as a present.)
Mariana:
"-"
NOE

Lorelei:
"De bom explodeerde zodra hij de verpakking opende! HAHAHA!"
(The bomb exploded once he opened the packaging! HAHAHA!)
Mariana:
"-"
NOE

Lorelei:
"TEAM FAMILIE, YEAH!"
(TEAM FAMILY, YEAH!)
Mariana:
"-"
NOE
Lorelei:
"-"

Mariana:
"..."
(...)
NOE

Lorelei:
"De feestdagen zijn speciaal voor families bedoeld!"
(The holidays are especially meant for families!)
Mariana:
"-"
NOE

Lorelei:
"De enige tijd van het jaar waarin je je mafste familieleden ziet."
(The only time of the year in which you see your wackiest family members.)
Mariana:
"-"
NOE

Lorelei:
"Bovendien hoef je je voor je familie niet anders voor te doen. Je kunt jezelf zijn."
(In addition, you don't have to act differently around your family. You can be yourself.)
Mariana:
"-"
NOE
Lorelei:
"-"

Mariana:
"..."
(...)
NOE

Lorelei:
"O... Nou, dat is..."
(Oh... Well, that is...)
Mariana:
"-"
NOE
Lorelei:
"-"

Mariana:
"Fantastisch, Lorelei. Ik ben blij dat je familie je gelukkig maakt."
(Fantastic, Pearl. I am glad your family makes you happy.)
NOE

Lorelei:
"En weet je wat, Mariana? Jij en ik?"
(And you know what, Marina? You and I?)
Mariana:
"-"
NOE

Lorelei:
"Wij zijn Tentacool! We zijn ook zowat familie!"
(We are Off the Hook! We are just about family too!)
Mariana:
"-"
NOE
Lorelei:
"-"

Mariana:
"Ooooo. In dat geval ben ik ook voor team Familie!"
(Oooooh. In that case, I am for team Family too.)
NOE
Lorelei:
"-"

Mariana:
"Sorry, iedereen. Lorelei en ik hebben allebei voor team Familie gekozen, dus..."
(Sorry, everyone. Pearl and I have both chosen for team Family, so...)
NOE
Lorelei:
"-"

Mariana:
"HET SPLATFEST IS AFGELAST!"
(THE SPLATFEST IS CANCELLED)
NOE

Lorelei:
"WAT?"
(WHAT?)
Mariana:
"-"
NOE
Lorelei:
"-"

Mariana:
"Geintje! TEAM FAMILIE GAAT NAAR DE HAAIEN!"
(Just kidding! TEAM FAMILY IS GOING DOWN!)
NOE
Notes: "Naar de haaien gaan" is a Dutch phrase meaning "to go down, to sink, to receive major problems, to stop existing". Lit: "To go to the sharks"
Lorelei:
"-"

Mariana:
"Het is tijd om te kiezen. Met wie brengen jullie het liefst de feestdagen door?"
(It is time to choose. With who do you prefer to spend the holidays with the most?)
NOE

Lorelei:
"Maak je keuze bij de Splatfest-stemmachine!"
(Make your choice at the Splatfest voting machine!)
Mariana:
"-"
NOE



Introduction
Lorelei's Dialogue
Mariana's Dialogue
Region
Lorelei:
"Met wie brengen jullie het liefst de feestdagen door? Familie of vrienden?"
(Who do you prefer to spend the holidays with? Family or friends?)
Mariana:
"Maak je keuze bij de Splatfest-stemmachine!"
(Make your choice at the Splatfest voting machine!)
NOE



Results
Lorelei's Dialogue
Mariana's Dialogue
Region
Lorelei:
"-"

Mariana:
"JIPPIE!"
(YIPPEE!)
NOE

Lorelei:
"NEEEEEEEEEEEEEE!"
(NOOOOOOOOOOOOOO!)
Mariana:
"-"
NOE
Lorelei:
"-"

Mariana:
"Team Familie kon dus niet tegen de kracht van vriendschap op."
(Team family could not compete against the power of friendship.)
NOE
Lorelei:
"-"

Mariana:
"Mooi gedaan, vrienden! We hebben gewonnen!"
(Nicely done, friends! We have won!)
NOE

Lorelei:
"Hopelijk hebben jullie van FrostyFest genoten!"
(Hopefully you have enjoyed FrostyFest!)

Mariana:
"Deelnemers aan het Splatfest kunnen hun prijzen ophalen op het plein!"
(Participants in the Splatfest can pick up their prizes on the square!)
NOE



Results if Fam were to win
Lorelei's Dialogue
Mariana's Dialogue
Region

Lorelei:
"JIPPIE-A-JEE!"
(YIPPEE-AH-YAY!)

Mariana:
"..."
(...)
NOE

Lorelei:
"Winnen zit mijn familie in het bloed, de overwinning is altijd weer zoet!"
(My family has winning in their blood, the victory is always sweet!)
Mariana:
"-"
NOE

Lorelei:
"Familie blijft door dik en dun gaan, vrienden zijn makkelijk te verslaan!"
(Family stays together through bad and good times, friends are easy to defeat!)
Mariana:
"-"
NOE

Lorelei:
"JAAAAAAAAAAAAA!"
(YEEEEEEAAAAAAH!)

Mariana:
"Haha. Wat een nerd ben je ook."
(Haha. What a nerd you are.)
NOE

Lorelei:
"Proficiat, team Familie!"
(Congrats, team Family!)
Mariana:
"-"
NOE
Lorelei:
"-"

Mariana:
"Hopelijk hebben jullie van FrostyFest genoten!"
(Hopefully you have enjoyed FrostyFest!)
NOE

Lorelei:
"Deelnemers aan het Splatfest kunnen hun prijzen ophalen op het plein!"
(Participants in the Splatfest can pick up their prizes on the square!)
Mariana:
"-"
NOE



French (France)
Announcement
Perle's Dialogue
Coralie's Dialogue
Region

Perle:
« Tout le monde est prêt pour un marathon FrostyFest de 48 heures ? »
Coralie:
« - »
NOE
Perle:
« - »

Coralie:
« Quand les fêtes approchent, qui est-ce que vous voulez voir en priorité ? »
NOE

Perle:
« Votre famille ou vos potes ? »
Coralie:
« - »
NOE
Perle:
« - »

Coralie:
« La famille, c'est bien joli, mais une bonne copine, c'est quand même autre chose. »
NOE
Perle:
« - »

Coralie:
« La pote à la vie à la mort, toujours là pour rigoler ou te remonter le moral ! »
NOE
Perle:
« - »

Coralie:
« Celle qui connaît tes pires secrets et qui te défend en toutes circonstances... »
NOE
Perle:
« - »

Coralie:
« Franchement, Perle, j'ai pas raison ? »
NOE

Perle:
« ... »
Coralie:
« - »
NOE
Perle:
« - »

Coralie:
« Euh, Perle ? »
NOE

Perle:
« Hein ? »
Coralie:
« - »
NOE

Perle:
« Excuse, je repensais au dernier calamarché de Noël... »
Coralie:
« - »
NOE

Perle:
« Mon tonton m'avait acheté une jolie petite bombe splash... »
Coralie:
« - »
NOE

Perle:
« Elle nous a sauté à la figure au moment où je l'ai attrapée ! HA HA HA ! »
Coralie:
« - »
NOE

Perle:
« LA FAMILLE, C'EST LA VIE ! »
Coralie:
« - »
NOE
Perle:
« - »

Coralie:
« ... »
NOE

Perle:
« La période des fêtes, c'est fait pour la famille, point à la ligne. »
Coralie:
« - »
NOE

Perle:
« C'est l'occasion de revoir tous les cousins un peu barjos mais rigolos ! »
Coralie:
« - »
NOE

Perle:
« Et puis, pas besoin de la jouer cool. En famille, on peut être soi-même. »
Coralie:
« - »
NOE
Perle:
« - »

Coralie:
« ... »
NOE

Perle:
« Oh... Euh... »
Coralie:
« - »
NOE
Perle:
« - »

Coralie:
« Pas de souci, Perle. Ça me fait plaisir que tu t'entendes bien avec ta famille. »
NOE

Perle:
« Tu sais, Coralie... Toi et moi... »
Coralie:
« - »
NOE

Perle:
« On est les Tenta-cool ! Si c'est pas une famille, je sais pas ce que c'est ! »
Coralie:
« - »
NOE
Perle:
« - »

Coralie:
« Ouais ! Vu comme ça, je fais aussi partie de l'équipe Famille ! »
NOE
Perle:
« - »

Coralie:
« Perle et moi ayant toutes les deux décidé de rejoindre l'équipe Famille... »
NOE
Perle:
« - »

Coralie:
« Désolée, mais le festival est annulé ! »
NOE

Perle:
« QUOI ? »
Coralie:
« - »
NOE
Perle:
« - »

Coralie:
« Oh, ça va, si on peut plus rigoler... L'équipe Famille va se faire la-mi-ner ! »
NOE
Perle:
« - »

Coralie:
« Alors, c'est parti pour le vote ! Avec qui vous préférez passer les fêtes ? »
NOE

Perle:
« Rendez-vous vite à la borne festive pour choisir votre camp ! »
Coralie:
« - »
NOE



Introduction
Perle's Dialogue
Coralie's Dialogue
Region
Perle:
« Avec qui vous préférez passer les fêtes ? La famille ou les amis ? »
(Who do you prefer to spend the holidays with? Family or friends?)
Coralie:
« Rendez-vous vite à la borne festive pour choisir votre camp ! »
(Go quickly to the Splatfest terminal to choose your side!)
NOE



Results
Perle's Dialogue
Coralie's Dialogue
Region
Perle:
« - »

Coralie:
« JOLIIII ! »
NOE

Perle:
« NAAAAAAN ! »
Coralie:
« - »
NOE
Perle:
« - »

Coralie:
« Faut croire que le pouvoir de l'amitié a mis l'équipe Famille au tapis. »
NOE
Perle:
« - »

Coralie:
« Bien joué, les copains ! L'équipe des Poteaux a eu le dernier mot ! »
NOE

Perle:
« En espérant que le FrostyFest vous a plu ! »

Coralie:
« Si vous avez participé au festival, les prix vous attendent sur le square ! »
NOE



Results if Fam were to win
Perle's Dialogue
Coralie's Dialogue
Region

Perle:
« YOU-OUH ! Joli, la famille ! »

Coralie:
« ... »
NOE

Perle:
« En famille on fait mal, rien nous stoppe ! On déboule et c'est la crise, ça balise ! »
Coralie:
« - »
NOE

Perle:
« Les amis à l'amende, dans la mouise ! Du côté des poteaux, c'est pas top ! »
Coralie:
« - »
NOE

Perle:
« PO-PO-PO-POP ! »

Coralie:
« Ha ha ! Vaut mieux entendre ça que d'être sourde. »
NOE

Perle:
« Vive l'équipe Famille ! »
Coralie:
« - »
NOE
Perle:
« - »

Coralie:
« En espérant que le FrostyFest vous a plu ! »
NOE

Perle:
« Si vous avez participé au festival, les prix vous attendent sur le square ! »
Coralie:
« - »
NOE



French (Canada)
Announcement
Perle's Dialogue
Coralie's Dialogue
Region

Perle:
« Tout le monde est prêt pour un marathon FrostyFest de 48 heures? »
(Everyone ready for a 48 hour FrostyFest marathon?)
Coralie:
« - »
NOA
Perle:
« - »

Coralie:
« Quand les Fêtes approchent, qui est-ce que tu veux voir en priorité? »
(When the Holidays approach, who would you want to see first?)
NOA

Perle:
« Ta famille ou tes amis? »
(Your family or your friends?)
Coralie:
« - »
NOA
Perle:
« - »

Coralie:
« La famille, c'est bien joli, mais une bonne amie, c'est quand même autre chose. »
(Family is nice and all, but a good friend is something else.)
NOA
Perle:
« - »

Coralie:
« L'amie à la vie à la mort, toujours là pour rigoler ou te remonter le moral! »
(A friend in life and death, always there to laugh and lift your spirits!)
NOA
Perle:
« - »

Coralie:
« Celle qui connaît tes pires secrets et qui te défend en toutes circonstances... »
(The one that knows your darkest secrets and will defend you in any circumstance...)
NOA
Perle:
« - »

Coralie:
« Franchement, Perle, j'ai pas raison? »
(Frankly Pearl, am I not right?)
NOA

Perle:
« ... »
Coralie:
« - »
NOA
Perle:
« - »

Coralie:
« Euh, Perle? »
(Uhh, Pearl?)
NOA

Perle:
« Hein? »
(Huh?)
Coralie:
« - »
NOA

Perle:
« Excuse, je repensais au dernier calamarché de Noël... »
(Sorry, I was thinking of last Christmas calamarket)
Coralie:
« - »
NOA
Notes: "calamarché" is a wordplay on "calamar" (squid or calamari) and "marché" (market)

Perle:
« Mon mononcle m'avait acheté une jolie petite bombe splash... »
(My uncle bought me a pretty little splat bomb...)
Coralie:
« - »
NOA

Perle:
« Elle nous a sauté à la figure au moment où je l'ai attrapée! HA HA HA! »
(It blew up in our faces the moment that I caught it! HA HA HA!)
Coralie:
« - »
NOA

Perle:
« LA FAMILLE, C'EST LA VIE! »
(FAMILY IS LIFE!)
Coralie:
« - »
NOA
Perle:
« - »

Coralie:
« ... »
NOA

Perle:
« La période des fêtes, c'est fait pour la famille, point à la ligne. »
(The holidays are made for family, period.)
Coralie:
« - »
NOA

Perle:
« C'est l'occasion de revoir tous les cousins un peu bizarres, mais comiques! »
(It's the time to see all our weird but comedic cousins!)
Coralie:
« - »
NOA

Perle:
« Et puis, pas besoin de se la jouer cool. En famille, on peut être soi-même. »
(Also, there's no need to play it cool. We can be ourselves with our family.)
Coralie:
« - »
NOA
Perle:
« - »

Coralie:
« ... »
NOA

Perle:
« Oh... Euh... »
(Oh... Uhh...)
Coralie:
« - »
NOA
Perle:
« - »

Coralie:
« Pas de souci, Perle. Ça me fait plaisir que tu t'entendes bien avec ta famille. »
(No worries Pearl. It makes me happy to hear that you get along with your family.)
NOA

Perle:
« Tu sais, Coralie... Toi et moi... »
(You know Marina... Me and You...)
Coralie:
« - »
NOA

Perle:
« On est Tentacool! Si c'est pas une famille, je sais pas ce que c'est! »
(We're Off The Hook! If that isn't family, I don't know what is!)
Coralie:
« - »
NOA
Perle:
« - »

Coralie:
« Ouais! Vu comme ça, je fais aussi partie de l'équipe Famille! »
(Yeah! Seen like that, I'm also on team Family!)
NOA
Perle:
« - »

Coralie:
« Perle et moi ayant toutes les deux décidé de rejoindre l'équipe Famille... »
(Me and Pearl both decided to join team Family...)
NOA
Perle:
« - »

Coralie:
« Désolée, mais le festival est ANNULÉ! »
(Sorry, but the Splatfest is CANCELED!)
NOA

Perle:
« QUOI?! »
(WHAT?!)
Coralie:
« - »
NOA
Perle:
« - »

Coralie:
« Du calme, c'était juste une joke... L'équipe Famille va se faire laver! »
(Calm down, it was just a joke... Team Family is gonna get cleaned up!)
NOA
Perle:
« - »

Coralie:
« Alors, c'est parti pour le vote! Avec qui préfères-tu passer les Fêtes? »
(So, it's time to vote! Who do you prefer spending the Holidays with?)
NOA

Perle:
« Qu'est-ce que tu en penses? Va à la borne festive pour choisir une équipe! »
(What do you think? Go to the Splatfest terminal to choose a team!)
Coralie:
« - »
NOA



Introduction
Perle's Dialogue
Coralie's Dialogue
Region
Perle:
« Avec qui préfères-tu passer les Fêtes? La famille ou les amis? »
(Who do you prefer to spend the holidays with? Family or friends?)
Coralie:
« Qu'est-ce que tu en penses? Va à la borne festive pour choisir une équipe! »
(What do you think? Go to the Splatfest terminal to choose a team!)
NOA



Results
Perle's Dialogue
Coralie's Dialogue
Region
Perle:
« - »

Coralie:
« JOLIIII! »
(NICEEEE!)
NOA

Perle:
« NAAAAAAN! »
(NOOOOO!)
Coralie:
« - »
NOA
Perle:
« - »

Coralie:
« Faut croire que le pouvoir de l'amitié a mis l'équipe Famille au tapis. »
(We need to believe that the power of friendship knocked team Family down.)
NOA
Perle:
« - »

Coralie:
« Bien joué, les copains! L'équipe des Amis a eu le dernier mot! »
(Well played friends! Team Friend had the last word!)
NOA

Perle:
« En espérant que le FrostyFest t'a plu! »
(We hope you enjoyed the FrostyFest!)

Coralie:
« Si tu as participé au festival, n'oublie pas de récupérer tes prix au carré! »
(If you participated in the Splatfest, don't forget to collect your prizes at the square!)
NOA



Results if Fam were to win
Perle's Dialogue
Coralie's Dialogue
Region

Perle:
« YOU-OUH! Joli, la famille! »
(YIPPEE! Family is nice!)

Coralie:
« ... »
NOA

Perle:
« En famille, on fait mal, c'est la formule phénoménale! »
(As a family, we hurt, it's a phenomenal formula!)
Coralie:
« - »
NOA

Perle:
« Te fâche pas trop, ma copine, mais les amis, c'est trop la ruine! »
(Don't get too mad my buddy, but friends, they're too much ruin!)
Coralie:
« - »
NOA

Perle:
« PO-PO-PO-POP! »

Coralie:
« Ha ha! Vaut mieux entendre ça que d'être sourde. »
(Ha Ha! Better hearing this than being deaf.)
NOA

Perle:
« Vive l'équipe Famille! »
(Long live team Family!)
Coralie:
« - »
NOA
Perle:
« - »

Coralie:
« En espérant que le FrostyFest t'a plu! »
(We hope you enjoyed the FrostyFest!)
NOA

Perle:
« Si tu as participé au festival, n'oublie pas de récupérer tes prix au carré! »
(If you participted in the splatfest, don't forget to collect you prizes at the square!)
Coralie:
« - »
NOA



German
Announcement
Perla's Dialogue
Marina's Dialogue
Region

Perla:
"Macht euch bereit für 48 Stunden FrostyFest!"
(Get ready for 48 hours FrostyFest!)
Marina:
"-"
NOE
Perla:
"-"

Marina:
"Mit wem verbringt ihr am liebsten die Feiertage?"
(With whom do you prefer to spend the holidays the most?)
NOE

Perla:
"Mit Familie oder Freunden?"
(With family or friends?)
Marina:
"-"
NOE
Perla:
"-"

Marina:
"Familie ist schon nett, aber es geht nix über einen guten Freund!"
(Family is nice, but there's nothing like a good friend!)
NOE
Perla:
"-"

Marina:
"Ein Freund, der einen zum Lachen bringt, der weiß, wie er einen aufmuntert..."
(A friend who makes you laugh, who knows how to cheer you up...)
NOE
Perla:
"-"

Marina:
"Der deine dunkelsten Geheimnisse kennt und auf den immer Verlass ist..."
(Who knows your darkest secrets and can always be counted on...)
NOE
Perla:
"-"

Marina:
"Findest du nicht auch, Perla?"
(Don't you agree, Pearl?)
NOE

Perla:
"..."
Marina:
"-"
NOE
Perla:
"-"

Marina:
"Perla?"
(Pearl?)
NOE

Perla:
"Was'n?"
(What?)
Marina:
"-"
NOE

Perla:
"Tut mir leid. Ich war nur etwas unentschlossen."
(Sorry. I was just a little undecided.)
Marina:
"-"
NOE

Perla:
"Du weißt, dass wir beste Freundinnen sind, Marina."
(You know that we're best friends, Marina.)
Marina:
"-"
NOE

Perla:
"Aber die Feiertage sind für die Familie."
(But the holidays are for family.)
Marina:
"-"
NOE

Perla:
"Also Team Familie für mich!"
(So Team Family for me!)
Marina:
"-"
NOE
Perla:
"-"

Marina:
"..."
NOE

Perla:
"Außerdem kriegt man von der Familie die besten Geschenke!"
(Besides, family gives you the best gifts!)
Marina:
"-"
NOE

Perla:
"Und man sieht zumindest einmal im Jahr auch die verschrobene Verwandtschaft!"
(And you also see the cranky relatives at least once a year!)
Marina:
"-"
NOE

Perla:
"Da muss man sich dann auch nicht verstellen, so im Vergleich..."
(Then you do not have to pretend, so comparing...)
Marina:
"-"
NOE
Perla:
"-"

Marina:
"..."
NOE

Perla:
"Oh, also dann... Äh..."
(Oh, well then... Uh...)
Marina:
"-"
NOE
Perla:
"-"

Marina:
"Das ist schön, Perla. Es freut mich, dass deine Familie dich glücklich macht."
(That's nice, Pearl. I'm glad that your family makes you happy.)
NOE

Perla:
"Und weißt du was, Marina? Du und ich?"
(And you know what, Marina? You and me?)
Marina:
"-"
NOE

Perla:
"Wir sind TentaCool! Wir sind auch eine Familie!"
(We are Off the Hook! We are also a family!)
Marina:
"-"
NOE
Perla:
"-"

Marina:
"Ooooch... Wenn das so ist, bin ich auch für Team Familie!"
(Awwwww... If that's the case, I'm also for Team Family!)
NOE
Perla:
"-"

Marina:
"Tja, tut uns leid, aber wir haben uns beide für Team Familie entschieden..."
(Well, sorry, but we both chose Team Family...)
NOE
Perla:
"-"

Marina:
"DAS SPLATFEST FÄLLT AUS!"
(THE SPLATFEST IS CANCELLED!)
NOE

Perla:
"WAS?!"
(WHAT?!)
Marina:
"-"
NOE
Perla:
"-"

Marina:
"Kleiner Spaß. Team Familie hat keine Chance!"
(Kidding. Team Family has no chance!)
NOE
Perla:
"-"

Marina:
"Also dann! Verbringt ihr die Feiertage lieber mit Freunden oder der Familie?"
(Well then! Do you prefer to spend the holidays with friends or family?)
NOE

Perla:
"Trefft eure Wahl am Splatfest- Wahlstand!"
(Make your choice at the Splatfest terminal!)
Marina:
"-"
NOE



Introduction
Perla's Dialogue
Marina's Dialogue
Region
Perla:
"Verbringt ihr die Feiertage lieber mit Freunden oder der Familie?"
(Do you prefer to spend the holidays with friends or family?)
Marina:
"Trefft eure Wahl am Splatfest- Wahlstand!"
(Make your choice at the Splatfest terminal!)
NOE



Results
Perla's Dialogue
Marina's Dialogue
Region
Perla:
"-"

Marina:
"Cool!"
NOE

Perla:
"Ach nö..."
(Oh no...)
Marina:
"-"
NOE
Perla:
"-"

Marina:
"Die Macht der Freundschaft war zu viel für Team Familie!"
(The power of friendship was too much for Team Family!)
NOE
Perla:
"-"

Marina:
"Gut gemacht, Freunde! Wir haben gewonnen!"
(Well done, friends! We have won!)
NOE

Perla:
"Wir hoffen, das FrostyFest hat euch gefallen!"
(We hope you enjoyed the FrostyFest!)

Marina:
"Wer beim Splatfest dabei war, bekommt seinen Preis auf dem Inkopolis-Platz!"
(Those who participated in the Splatfest will get their prize at Inkopolis Square!)
NOE



Results if Fam were to win
Perla's Dialogue
Marina's Dialogue
Region

Perla:
"Cooooooooooooooooooooooooool!"

Marina:
"..."
NOE

Perla:
"Siegen liegt der Familie im Blut, beugt euch unsrer Tintenflut!"
(Winning is in the family's blood, bow to our ink flood!)
Marina:
"-"
NOE

Perla:
"Unsere Familienstreite machen hart, deine Freunde waren schlicht zu zart!"
(Our family quarrels make tough, your friends were simply too soft!)
Marina:
"-"
NOE

Perla:
"YEAH!"

Marina:
"Deiner Familie liegt definitiv was im Blut..."
(There's definitely something in your family's blood...)
NOE

Perla:
"Team Familie, ihr wart toll! Wie eine große... Familie halt!"
(Team Family, you were great! Like a big... well... family!)
Marina:
"-"
NOE
Perla:
"-"

Marina:
"Wir hoffen, das FrostyFest hat euch gefallen!"
(We hope you enjoyed the FrostyFest!)
NOE

Perla:
"Wer beim Splatfest dabei war, bekommt seinen Preis auf dem Inkopolis-Platz!"
(Those who participated in the Splatfest will get their prize at Inkopolis Square!)
Marina:
"-"
NOE



Italian
Announcement
Alga's Dialogue
Nori's Dialogue
Region

Alga:
«Preparatevi a un FrostyFest da brividi... della durata di ben 48 ore!»
(Get ready for a chilling FrostyFest ... lasting 48 hours!)
Nori:
«-»
NOE
Alga:
«-»

Nori:
«Con chi preferite trascorrere le vacanze?»
(Who do you prefer to spend your holidays with?)
NOE

Alga:
«La famiglia o gli amici?»
(Family or friends?)
Nori:
«-»
NOE
Alga:
«-»

Nori:
«È bello stare coi parenti, ma vuoi mettere la compagnia di un caro amico?»
(It's nice to be with relatives, but do you want to put in the company of a dear friend?)
NOE
Alga:
«-»

Nori:
«Un vero amico sa cosa ti fa felice, ti fa ridere e ti tira su quando sei triste!»
(A true friend knows what makes you happy, makes you laugh, and cheers you up when you're sad!)
NOE
Alga:
«-»

Nori:
«Puoi raccontargli tutti i tuoi segreti, perché sai che non ti tradirà mai.»
(You can tell him all your secrets, because you know he will never betray you.)
NOE
Alga:
«-»

Nori:
«Non sei d'accordo, Alga?»
(Don't you agree, Pearl?)
NOE

Alga:
«...»
Nori:
«-»
NOE
Alga:
«-»

Nori:
«Alga...?»
(Pearl...?)
NOE

Alga:
«Eh?!»
Nori:
«-»
NOE

Alga:
«Scusa, stavo ripensando all'anno scorso, quando ci siamo scambiati i regali.»
(Sorry, I was looking back on last year, when we exchanged gifts.)
Nori:
«-»
NOE

Alga:
«Avevo regalato a mio zio una bella bomba splash.»
(I gave my uncle a nice splash bomb.)
Nori:
«-»
NOE

Alga:
«Non appena ha aperto il pacchetto... SPLAAASH! Ah ah ah!»
(As soon as he opened the package ... SPLAAASH! Ha ha ha!)
Nori:
«-»
NOE

Alga:
«FAMIGLIA TUTTA LA VITAAA!»
(FAMILY ALL LIFE!)
Nori:
«-»
NOE
Alga:
«-»

Nori:
«...»
NOE

Alga:
«Le vacanze invernali sono fatte apposta per stare in famiglia!»
(Winter holidays are made for being with the family!)
Nori:
«-»
NOE

Alga:
«È l'unico periodo dell'anno in cui si possono incontrare i parenti lontani.»
(It is the only time of the year when you can meet distant relatives.)
Nori:
«-»
NOE

Alga:
«E poi, quando sei in famiglia, puoi essere semplicemente te stessa.»
(And then, when you are in the family, you can just be yourself.)
Nori:
«-»
NOE
Alga:
«-»

Nori:
«...»
NOE

Alga:
«Beh, sì... più o meno...»
(Well, yes... more or less...)
Nori:
«-»
NOE
Alga:
«-»

Nori:
«Fantastico, Alga! Sono contenta che ti piaccia stare in compagnia dei parenti.»
(Great, Pearl! I'm glad you like being in the company of relatives.)
NOE

Alga:
«E poi, sai Nori, io e te...»
(And then, you know Marina, you and me...)
Nori:
«-»
NOE

Alga:
«... praticamente siamo come due sorelle. Quindi anche tu sei la mia famiglia!»
(...we're basically like two sisters. So you too are my family!)
Nori:
«-»
NOE
Alga:
«-»

Nori:
«Awww... allora, se la metti così... mi unisco anch'io alla squadra Famiglia!»
(Awww... so, if you put it like this ... I'm joining the Family team too!)
NOE
Alga:
«-»

Nori:
«Mi spiace, aspolpatori, ma visto che sia io che Alga abbiamo scelto la famiglia...»
(I'm sorry, pulpers, but since both Pearl and I have chosen the family...)
NOE
Alga:
«-»

Nori:
«... IL FESTIVAL È ANNULLATO!»
(...THE FESTIVAL IS CANCELED!)
NOE

Alga:
«C-Cooosa?!»
(W-Whaaat?!)
Nori:
«-»
NOE
Alga:
«-»

Nori:
«Scherzone! Quello che intendevo è... ANNULLEREMO LA SQUADRA FAMIGLIA!»
(Joke! What I meant is... WE WILL CANCEL THE FAMILY TEAM!)
NOE
Alga:
«-»

Nori:
«È tempo di decidere: con chi preferite trascorrere le vacanze invernali?»
(It's time to decide: who do you prefer to spend your winter holidays with?)
NOE

Alga:
«Correte al terminal di voto e scegliete da che parte stare!»
(Run to the voting terminal and choose your side!)
Nori:
«-»
NOE



Introduction
Alga's Dialogue
Nori's Dialogue
Region
Alga:
«Con chi preferite trascorrere le vacanze invernali? Con gli amici o la famiglia?»
(Who do you prefer to spend your winter holidays with? With friends or family?)
Nori:
«Correte al terminal di voto e scegliete da che parte stare!»
(Run to the voting terminal and choose your side!)
NOE



Results
Alga's Dialogue
Nori's Dialogue
Region
Alga:
«-»

Nori:
«IL TRIONFO DELL'AMICIZIAAA!»
(THE TRIUMPH OF FRIENDSHIP!)
NOE

Alga:
«NOOOOOOOOO!»
Nori:
«-»
NOE
Alga:
«-»

Nori:
«Il potere dell'amicizia è più forte anche del legame d'inchiostro!»
(The power of friendship is even stronger than the bond of ink!)
NOE
Alga:
«-»

Nori:
«Ottimo lavoro, amiche e amici! Ce l'abbiamo fatta!»
(Great job, girlfriends and friends! We did it!)
NOE

Alga:
«Speriamo che il FrostyFest vi sia piaciuto un sacco!»
(We hope you enjoyed FrostyFest a lot!)

Nori:
«Se avete partecipato al festival, i vostri premi vi attendono in piazza!»
(If you have attended the festival, your prizes await you in the square!)
NOE



Results if Fam were to win
Alga's Dialogue
Nori's Dialogue
Region

Alga:
«VITTORIAAA!»
(VICTORY!)

Nori:
«...»
NOE

Alga:
«♪ La vittoria è di famiglia! Chi si oppone va in poltiglia! ♪»
(♪ Victory belongs to the family! Those who oppose go to mush! ♪)
Nori:
«-»
NOE

Alga:
«♪ Vince sempre il legame d'inchiostro! Cari amici, io vi impiastro! ♪»
(♪ The ink bond always wins! Dear friends, I am poulting you! ♪)
Nori:
«-»
NOE

Alga:
«Sììììììììì! Ah ah ah!»
(Yes! Ha ha ha!)

Nori:
«Un'esultanza compassata come sempre...»
(A staid celebration as always...)
NOE

Alga:
«Ottimo lavoro, aspolpatori! Siamo tutti un'unica, grande famiglia unita!»
(Great job, pulpers! We are all one big family together!)
Nori:
«-»
NOE
Alga:
«-»

Nori:
«Speriamo che il FrostyFest vi sia piaciuto un sacco!»
(We hope you enjoyed FrostyFest a lot!)
NOE

Alga:
«Se avete partecipato al festival, i vostri premi vi attendono in piazza!»
(If you have attended the festival, your prizes await you in the square!)
Nori:
«-»
NOE



Japanese
Announcement
ヒメ's Dialogue
イイダ's Dialogue
Region

ヒメ:
「寒さなんてフェスで塗り飛ばせ! 年末年始は だれと過ごす? 家族 vs 仲間!!」
(Paint the cold away at this Splatfest! Who will you spend New Year's with? Family vs. Friends!)

イイダ:
「きゃ~! ワールドワイドに アガっていきましょ~!!」
(Yeah! Let's go worldwide!)
NOJ

ヒメ:
「対決するのは、 やっぱ のんびりしたいっしょ?! なんだかんだココロ落ち着く 「家族」と!」
(For this showdown, we wanna take it easy of course, yeah?! We're like Family after all!)

イイダ:
「気の合うみんなで ワイワイしましょ?! いつだって テンションMAX! 「仲間」になります!」
(Let's all just get along with each other, okay? The tension is always to the MAX! Become a Friend!)
NOJ
ヒメ:
「-」

イイダ:
「ヒメセンパイ、 フェスのお題で思い出したんですが 今度 3日間ぶっ続けのDJイベントやるんです~♪」
(I know the theme of the Splatfest, Pearl-senpai, but I'm doing a DJ event for the next 3 days~♪)
NOJ

ヒメ:
「お、 マジかよ! やるじゃんイイダ! んで イイダのほかに誰がプレイすんの?」
(For real? Right on, Marina! Who else is playing besides you?)
イイダ:
「-」
NOJ
ヒメ:
「-」

イイダ:
「え~っとですね 合食禁の WARABIさんとか SashiMori で DJやってるコとかたくさん出ますよ~」
(Well, a lot of people, like Warabi from Diss-Pair and the DJ from SashiMori.)
NOJ

ヒメ:
「へー 最近チャートを にぎわせてるヤツらじゃん! かなり デカいイベントになりそーだな!」
(Hey, those guys have been at the top of the charts recently! It's going to be a pretty big event!)
イイダ:
「-」
NOJ
ヒメ:
「-」

イイダ:
「年末年始あたりに気の合う仲間同士で イベントやりましょって 約束してたんですよ!」
(I promised to do an event with like-minded friends around New Year's!)
NOJ
ヒメ:
「-」

イイダ:
「というわけでですね… シークレットゲストとして ヒメセン…」
(That's why…with you as a secret guest…)
NOJ

ヒメ:
「最近 いそがしそーに何かやってると思ったら DJ仲間とイベントの準備か! がんばれよイイダ!!」
(If you're gonna do this thing, you should go prepare for the event with your DJ friends! Good luck, Marina!)
イイダ:
「-」
NOJ

ヒメ:
「でも 今回のお題だとやっぱアタシは「家族」と 過ごすのが いっかなー」
(But with this theme, I think it's best to spend time with Family.)
イイダ:
「-」
NOJ
ヒメ:
「-」

イイダ:
「あっ… … …」
(Ah…)
NOJ

ヒメ:
「今年も かなりのハイスピードで 駆け抜けた感あるし まぁちょっと一休みかな!」
(I feel like this year has gone by pretty fast, so maybe I'll take a break too!)
イイダ:
「-」
NOJ
ヒメ:
「-」

イイダ:
「えっ… … …」
(Huh…)
NOJ

ヒメ:
「ん? どーした イイダ?」
(What is it? What's up, Marina?)
イイダ:
「-」
NOJ
ヒメ:
「-」

イイダ:
「… … … センパイは仲間と過ごす派じゃないんですか?」
(Aren't you someone who would rather spend time with her friends?)
NOJ

ヒメ:
「まー ワイワイやるほうが好きだけどよ 年末年始くらい 家族でのんびりしてーじゃん!」
(I prefer it, but I like to relax with my family around New Year's!)
イイダ:
「-」
NOJ
ヒメ:
「-」

イイダ:
「ソ、 ソ~デスヨネ! ワタシたち ずっといそがしかったですもんね」
(You're so right! We've been busy all the time, right?)
NOJ

ヒメ:
「だからさ、イイダもアタシんちで一緒に過ごそーぜって 誘おうかと思ったんだけど 先約ありかー」
(That's why I was gonna invite you to spend time with me at my place, but I've got a prior engagement.)
イイダ:
「-」
NOJ
ヒメ:
「-」

イイダ:
「エッ???!」
(Huh?!?)
NOJ

ヒメ:
「最近できた DJ仲間だろ? 仲間との約束って チョー大事だもんな! しゃーねー」
(You've been hanging with your DJ friends lately, right? It's important for friends to keep their promises! That's how it is.)
イイダ:
「-」
NOJ
ヒメ:
「-」

イイダ:
「あ、 いやでも さっきセンパイ家族と過ごすって 言ったじゃないですか…」
(Oh, no, but you said you were spending time with your family, Pearlie…)
NOJ
ヒメ:
「-」

イイダ:
「ワタシ ほら… 違いますし…」
(You see, I'm…I'm not…)
NOJ

ヒメ:
「んだよ! ウチらテンタクルズだぜ? イイダは もう家族みてーなもんだろ?!」
(Hey! We're Off the Hook, right? You're like a part of my family, aren't you?)
イイダ:
「-」
NOJ
ヒメ:
「-」

イイダ:
「?!★#ッ!!♪!!!」
(?!★#!!♪!!!)
NOJ

ヒメ:
「さっきから 固まってばっかだな イイダ どーしたんだよ?」
(You've been frozen for a long time, Marina. What is it?)
イイダ:
「-」
NOJ
ヒメ:
「-」

イイダ:
「え~ みなさん、 今回のフェス テンタクルズは 2名とも「家族」派です! なのでフェス終了!!」
(Huh…ladies and gentlemen, both Off the Hook members are on Team Family for this Splatfest! So the Splatfest is over!)
NOJ

ヒメ:
「ちょ、ちょ、ちょっと待てよ! 勝手にフェス終わらせんなって!」
(Hey, hey, wait a minute! The Splatfest will not end without permission!)
イイダ:
「-」
NOJ

ヒメ:
「そもそも イベントもうすぐやるんだろ? 約束もしてんだし、 仲間は大事にしろって!」
(You're going to have an event soon, right? You made a promise, and I want you to take care of your friends!)
イイダ:
「-」
NOJ
ヒメ:
「-」

イイダ:
「うぅ、 スミマセン… せっかく出来た DJ仲間ですから大事にしなくっちゃですよね…」
(Uh, I'm sorry…I'm a DJ friend, and I have to take care of them.)
NOJ

ヒメ:
「今回も フェスにピッタリのギアがもらえるらしーから 48時間ガンガンに アゲてこーぜ!」
(This time, I've got the perfect gear for the Splatfest, so I'll go crazy for 48 hours!)

イイダ:
「はい! ってアレ? 48時間ですか?! 準備始めなくっちゃ!」
(Yes! Wait, what? It's 48 hours?! I have to start getting ready!)
NOJ

ヒメ:
「…てなワケでみんな、 どちらかに投票ヨロシク!」
(…So everyone, please vote for either of the teams!)

イイダ:
「投票したらフェスT借りれているか カスタマイズでチェックしてくださいね!」
(When you vote you can borrow a Splatfest Tee, so check it out in your equipment!)
NOJ



Introduction
ヒメ's Dialogue
イイダ's Dialogue
Region
ヒメ:
「いくぞオリャーーー!! 2019年の塗り初めだ! 全世界合同フェス 始まったぞーーー!」
(Let's go!! It's the beginning of painting in 2019! The worldwide joint festival has begun!)
イイダ:
「ロビー前のタッチパネルから投票して、 参加してくださ~い!」
(Please vote from the touch panel in front of the lobby and participate!)
NOJ



Results
ヒメ's Dialogue
イイダ's Dialogue
Region
ヒメ:
「-」

イイダ:
「きゃ~! 「仲間」~~~!!」
(Yes!! Team Friend!!)
NOJ

ヒメ:
「ゲッ?! まじかよーーー!」
(Wh?! Really!)
イイダ:
「-」
NOJ
ヒメ:
「-」

イイダ:
「「仲間」派のみなさん、やりましたね! 息ぴったりの立ち回り ワタシ、カンゲキしました~」
(Everyone on team Friend, we did it! We battled in perfect harmony, I was impressed~)
NOJ

ヒメ:
「「家族」派もがんばったの、見てたからな! もーちょいだったかー!」
( We gave it our all team Family, I saw it! That was close!)
イイダ:
「-」
NOJ

ヒメ:
「「仲間」の大切さを実感するバトルだったな! 今度のイイダたちのイベントも楽しみだー」
(That was a battle that made me realize how important Friends are! I'm looking forward to the next Marina and friends event!)
イイダ:
「-」
NOJ
ヒメ:
「-」

イイダ:
「いい流れができました~♪ そうだ! センパイも シークレットゲストとして 参加してください! ね!」
(We had a good flow going ~♪ Oh yeah! Join us as our secret guest, Pearlie!)
NOJ

ヒメ:
「イキナリだな?! まー年末年始は家でまったり し過ぎたから ちょーど暴れたくてウズウズしてたんだ!」
( That's so sudden!? I've been sitting at home for the New Year's holiday season, and I'm just itching to get out there and do something crazy!)
イイダ:
「-」
NOJ
ヒメ:
「-」

イイダ:
「やった~~~!!! それじゃ センパイ用の 機材セッティングも追加しときますね♪」
(YAY!!! Alright Pearlie, I'll add some settings to my equipment just for you ♪)
NOJ

ヒメ:
「ところで そんなでっかいイベントって どこでやるんだ?」
(By the way, where are we gonna hold an event that's this big?)
イイダ:
「-」
NOJ
ヒメ:
「-」

イイダ:
「モンガラキャンプ場のヨコに すっごい大きい 野外ステージあるじゃないですか~ あそこです♪」
(You know that huge outdoor stage on the side of Camp Triggerfish? That's where!)
NOJ

ヒメ:
「モンガラのヨコ… そんなのあったか? あそこはアタシのチャリンコ練習場しかねーぞ?」
(The side of Camp Triggerfish...really, there? That's the only place I can practice my cycling skills, you know?)
イイダ:
「-」
NOJ
ヒメ:
「-」

イイダ:
「… … … そういえば会場のすみっこに よくわからない乗り物がありましたね」
(Come to think of it, There was a vehicle around the corner of the convention hall that I didn't know who it belonged to.)
NOJ

ヒメ:
「ま、いっか! それよりも新年最初のイベントだ! 気合いいれてくぞー!」
(  Oh, right! But more importantly, it's the first event of the new year! Get fired up!)
イイダ:
「-」
NOJ

ヒメ:
「テンタクルズとしても 今年もフルスロットルで ガンガンやってくかんな!」
(Off The Hook is gonna be at full throttle again this year!)
イイダ:
「-」
NOJ

ヒメ:
「ウチらの新年最初のライブは 「マクハリ」だ! 準備はいいか?! イイダ!!」
(Our first live show of the year is "Makuhari"! Are you ready?! Marina!!)
イイダ:
「-」
NOJ
Notes: Makuhari is in reference to the real-life Makuhari Event Hall, where Off The Hook held a real-life concert in early 2019.
ヒメ:
「-」

イイダ:
「?!!! バンドメンバーのみなさんに連絡しなくっちゃ!」
(?!! I've gotta call my bandmates!)
NOJ



Results if Fam were to win
ヒメ's Dialogue
イイダ's Dialogue
Region

ヒメ:
「「家族」!!」
("Family"!!)

イイダ:
「う~ん… あと少しだったのに~…」
(Aw.. We were so close...)
NOJ

ヒメ:
「「家族」派のみんな、ありがと! ココロ落ち着くバトル ほっこりしたぜ!」
(Thanks team Fam! Those really were some battles to soothe the soul!)

イイダ:
「「仲間」派のみなさんも とてもがんばってましたよ~」
( Team Friend, you also did your best~)
NOJ
ヒメ:
「-」

イイダ:
「家族のキズナを感じさせるバトルでしたね~ この後はヒメセンパイのお家で 祝勝会ですね♪」
( It was a battle that reminded me of the bonds of family... After this, we'll have a victory celebration at your house, Pearlie.)
NOJ
ヒメ:
「待てよイイダ! オマエ年末からずっとウチで ゴロゴロしてて DJイベントの準備やってねーだろ?!」
(Wait but Marina! All you've been doing since the end of the year is lazing around the house, and you haven't even been preparing for the DJ event!?)
イイダ:
「-」
NOJ
ヒメ:
「-」

イイダ:
「うっ?! バレてましたか…」
(Huh!? How did you know that...)
NOJ

ヒメ:
「バレバレだっつーの! でっかいイベントなんだろ? セットリストのチェックとか手伝ってやっから!」
(C'mon, its so obvious! It's a huge event, right? I'll help you check the setlist!)
イイダ:
「-」
NOJ
ヒメ:
「-」

イイダ:
「うぅ… 気付いたら もうこんな時期になってて アセってたんです! ありがとうございます~!」
(I was getting so nervous when I realized it was already that time of year for the event! Thank you so much!)
NOJ

ヒメ:
「そのかわり、 イベントには アタシも 飛び入りで参加させてくれよな!」
(In exchange, I wanna join in on the event!)
イイダ:
「-」
NOJ
ヒメ:
「-」

イイダ:
「エエッ?!! もちろんですよ~♪」
(Huh?!! Of course!)
NOJ

ヒメ:
「ヨッシャ! 家でまったりし過ぎたせいで 暴れたくてウズウズしてたんだよ!!!!!」
(Yes! I've been sitting around at home for too long, I've been itching to get out there and go all out!)
イイダ:
「-」
NOJ

ヒメ:
「テンタクルズとしても 今年もフルスロットルで ガンガンやってくかんな!」
(As for Off the Hook, we're gonna go full throttle this year too!)
イイダ:
「-」
NOJ

ヒメ:
「ウチらの新年最初のライブは 「マクハリ」だ! 準備はいいか?! イイダ!!」
(Our first live show of the year is "Makuhari"! Are you ready?! Marina!!)
イイダ:
「-」
NOJ
ヒメ:
「-」

イイダ:
「?!!! バンドメンバーのみなさんに連絡しなくっちゃ!」
(?!! I've gotta call my bandmates!)
NOJ

ヒメ:
「あ、 フェスに参加した人は 広場で スーパーサザエ もらえるってよ!」
(There'll be Super Sea Snails for those who participated in the Splatfest!)

イイダ:
「次のフェスもお楽しみに!」
(Let's enjoy the next Splatfest!)
NOJ



Russian
Announcement
Жемчик's Dialogue
Мариша's Dialogue
Region

Жемчик:
«Приготовьтесь к 48-часовому ФростиФесту!»
(Prepare to 48 hours long FrostyFest!)
Мариша:
«-»
NOE
Жемчик:
«-»

Мариша:
«С кем вы любите проводить праздники?»
(Who do you like to spend holidays with?)
NOE

Жемчик:
«С семьей или с друзьями?»
(With family or with friends?)
Мариша:
«-»
NOE
Жемчик:
«-»

Мариша:
«С семьей тоже неплохо, но нет ничего лучше хорошего друга.»
(With family is also good, but there's nothing better than a good friend.)
NOE
Жемчик:
«-»

Мариша:
«Друга, который может тебя и развеселить, и подбодрить...»
(A friend who can both cheer you up and encourage you...)
NOE
Жемчик:
«-»

Мариша:
«Который знает все твои секреты и на которого можно всегда положиться...»
(Who knows all your secrets and who you can always rely on...)
NOE
Жемчик:
«-»

Мариша:
«Ты согласна, Жемчик?»
(Are you agree Pearl?)
NOE

Жемчик:
«...»
Мариша:
«-»
NOE
Жемчик:
«-»

Мариша:
«Жемчик?»
(Pearl?)
NOE

Жемчик:
«Что?»
(What?)
Мариша:
«-»
NOE

Жемчик:
«Извини, я что-то задумалась.»
(Sorry, I've been thinking about something.)
Мариша:
«-»
NOE

Жемчик:
«Я подарила своему дяде брызгающую бомбу.»
(I gave my uncle a Splat Bomb.)
Мариша:
«-»
NOE

Жемчик:
«Она взорвалась, как только он ее распаковал! Ха-ха-ха!»
(It exploded as soon as he unpacked it! Ha-ha-ha!)
Мариша:
«-»
NOE

Жемчик:
«Я за семью!»
(I'm for family!)
Мариша:
«-»
NOE
Жемчик:
«-»

Мариша:
«...»
NOE

Жемчик:
«Когда еще всей семье встретиться, если не на Новый год?»
(When else will the whole family meet if not on New Year's Eve?)
Мариша:
«-»
NOE

Жемчик:
«Раз в году можно даже посмотреть на своих дальних родственничков.»
(You can even take a look at your distant relatives once a year.)
Мариша:
«-»
NOE

Жемчик:
«Ну и перед семьей не нужно из себя никого строить. Они тебя и так знают.»
(And, well, you don't have to act like someone else in front of a family.)
Мариша:
«-»
NOE
Жемчик:
«-»

Мариша:
«...»
NOE

Жемчик:
«Ну... В общем...»
(Well... In general...)
Мариша:
«-»
NOE
Жемчик:
«-»

Мариша:
«Здорово, Жемчик. Я рада, что ты себя так хорошо чувствуешь в кругу семьи.»
(Great, Pearl. I'm glad you feel so good with your family.)
NOE

Жемчик:
«Знаешь что, Мариша? Ведь мы с тобой...»
(You know what, Marina? After all, you and me...)
Мариша:
«-»
NOE

Жемчик:
«Off the Hook — это тоже семья, потому что мы с тобой родственные души!»
(Off the Hook is a family too because we're soul mates!)
Мариша:
«-»
NOE
Жемчик:
«-»

Мариша:
«О-о-о... Тогда я тоже за команду «Семья»!»
(O-o-oh... Then I'm for team «Family» too!)
NOE
Жемчик:
«-»

Мариша:
«Сорри, но мы с Жемчиком обе выбрали команду «Семья», так что...»
(Sorry but both me and Pearl chose team «Family», so...)
NOE
Жемчик:
«-»

Мариша:
«СПЛАТФЕСТ ОТМЕНЯЕТСЯ!»
(THE SPLATFEST IS CANCELLED!)
NOE

Жемчик:
«ЧТО?!»
(WHAT?!)
Мариша:
«-»
NOE
Жемчик:
«-»

Мариша:
«Шучу. Команда «Семья» продует!»
(Just kidding. Team «Family» will lose big time!)
NOE
Жемчик:
«-»

Мариша:
«Пора решать! С кем вы любите проводить праздники?»
(It's time to decide! Who do you like to spend holidays with?)
NOE

Жемчик:
«Вперед к терминалу и выберите сторону!»
(Go ahead to the terminal and choose your side!)
Мариша:
«-»
NOE



Introduction
Жемчик's Dialogue
Мариша's Dialogue
Region
Жемчик:
«С кем вы любите проводить праздники? С семьей или друзьями?»
(Who do you like to spend holidays with? With family or with friends?)
Мариша:
«Вперед к терминалу и выберите сторону!»
(Go ahead to the terminal and choose your side!)
NOE



Results
Жемчик's Dialogue
Мариша's Dialogue
Region
Жемчик:
«-»

Мариша:
«ЙО-ХО!!!»
(BOOYAH!!!)
NOE

Жемчик:
«Н-Е-Е-ЕТ!»
(NO-O-O!)
Мариша:
«-»
NOE
Жемчик:
«-»

Мариша:
«Команда «Семья» не справилась с крепкими узами дружбы.»
(Team «Family» hasn't coped with strong bonds of friendship.)
NOE
Жемчик:
«-»

Мариша:
«Молодцы, друзья! Мы победили!»
(Good job, friends! We won!)
NOE

Жемчик:
«Надеемся, что вам понравился ФростиФест!»
(We hope you enjoyed FrostyFest!)

Мариша:
«А участников Сплатфеста на площади ждут призы, йо!»
(And prizes await Splatfest participants on the square, yo!)
NOE



Results if Fam were to win
Жемчик's Dialogue
Мариша's Dialogue
Region

Жемчик:
«ЙО-ХО!!!»
(BOOYAH!!!)

Мариша:
«...»
NOE

Жемчик:
«Побеждать у нас в крови. Это знает моя визави.»
(Winning is in our blood. My vis-a-vis knows this.)
Мариша:
«-»
NOE

Жемчик:
«Плюхаем без опаски, ведь кровь гуще краски!»
(Splatting without fear because blood is thicker than ink!)
Мариша:
«-»
NOE

Жемчик:
«Йо!»
(Yo!)

Мариша:
«Ха-ха. У вас в крови действительно что-то есть...»
(Ha-ha. We definitely have something in our blood...)
NOE

Жемчик:
«Команда «Семья» держалась как... большая семья! Вы молодцы!»
(Team «Family» acted like... a big family! Great job everyone!)
Мариша:
«-»
NOE
Жемчик:
«-»

Мариша:
«Надеемся, что вам понравился ФростиФест!»
(We hope you enjoyed FrostyFest!)
NOE

Жемчик:
«А участников Сплатфеста на площади ждут призы, йо!»
(And prizes await Splatfest participants on the square, yo!)
Мариша:
«-»
NOE



Spanish (Spain)
Announcement
Perla's Dialogue
Marina's Dialogue
Region

Perla:
«Se avecina un festival de 48 horas rebosantes de emoción: ¡el FrostyFest!»
(A Splatfest with 48 hours bursting with excitement is coming: FrostyFest!)
Marina:
«-»
NOE
Perla:
«-»

Marina:
«¿Cómo preferís pasar las fiestas?»
(How do you prefer to spend the holidays?)
NOE

Perla:
«¿En familia o con los amigos?»
(Among family, or with friends?)
Marina:
«-»
NOE
Perla:
«-»

Marina:
«La familia siempre está ahí, pero como una amistad verdadera no hay nada.»
(Family is always there, but there is nothing like a true friendship.)
NOE
Perla:
«-»

Marina:
«Por ejemplo, una amiga que sepa lo que te gusta y cómo hacerte feliz.»
(For example, a friend who knows what you like and how to make you happy.)
NOE
Perla:
«-»

Marina:
«Y que conozca tus secretos más inconfesables y te acepte como eres...»
(And who knows your most unspeakable secrets and accepts you as who you are...)
NOE
Perla:
«-»

Marina:
«¿Entiendes lo que quiero decir, Perla?»
(You get what I mean, Pearl?)
NOE

Perla:
«Je, je...»
(He he...)
Marina:
«-»
NOE
Perla:
«-»

Marina:
«¿Eh, Perla?»
(What, Pearl?)
NOE

Perla:
«¡¿Qué pasa?!»
(What's going on?!)
Marina:
«-»
NOE

Perla:
«Perdona, estaba absorta pensando en la broma que voy a gastarle a mi tío.»
(Excuse me, I was absorbed in thinking about the prank I'm about to pull on my uncle.)
Marina:
«-»
NOE

Perla:
«Le daré sutilmente una robobomba envuelta en papel de regalo y...»
(I'm going to subtly give him give him an Autobomb wrapped up in wrapping paper and...)
Marina:
«-»
NOE

Perla:
«¡Lo que nos vamos a reír cuando la abra y salga corriendo tras él!»
(How we're gonna laugh when he opens it and it comes out running after him!)
Marina:
«-»
NOE

Perla:
«¡Arriba la familia!»
(Go Family!)
Marina:
«-»
NOE
Perla:
«-»

Marina:
«Hum...»
(Hum...)
NOE

Perla:
«¡Estas fiestas son familiares por definición!»
(These holidays are familial by definition!)
Marina:
«-»
NOE

Perla:
«Es una época para reencontrarse con los parientes que viven más lejos.»
(It's a time to reunite with your relatives who life far away.)
Marina:
«-»
NOE

Perla:
«Además, entre familiares puedes ser tú misma sin que nadie te critique.»
(Besides, you can be yourself without anyone criticizing you when you're among family.)
Marina:
«-»
NOE
Perla:
«-»

Marina:
«Ya...»
(Alright...)
NOE

Perla:
«¿Eh? ¿Qué te pasa?»
(Huh? What's wrong?)
Marina:
«-»
NOE
Perla:
«-»

Marina:
«Nada, Perla. Simplemente me imagino que disfrutarás de lo lindo con tu familia...»
(Nothing, Pearl. I was simply thinking about how you'll have a great time with your family...)
NOE

Perla:
«Pero ¿sabes una cosa, Marina? ¡Fíjate también en nosotras!»
(But you know what, Marina? Take a look at us too!)
Marina:
«-»
NOE

Perla:
«¡Juntas formamos el dúo Cefalopop! ¡Es lo mismo que si fuéramos parientes!»
(We make the Off the Hook duo together! That's the same as if we were relatives!)
Marina:
«-»
NOE
Perla:
«-»

Marina:
«¿En serio? Entonces tal vez debería apuntarme a tu mismo bando...»
(Really? Then maybe I should sign up for your side...)
NOE
Perla:
«-»

Marina:
«Lo sentimos, amigos. Perla y yo nos hemos puesto de acuerdo esta vez.»
(We're sorry, guys. Pearl and I have reached an agreement this time.)
NOE
Perla:
«-»

Marina:
«¡Se suspende el festival!»
(Splatfest is suspended!)
NOE

Perla:
«¡¿QUÉ?!»
(WHAT?!)
Marina:
«-»
NOE
Perla:
«-»

Marina:
«¡Es broma! ¡Os mostraremos que entre amigos lo pasamos mejor que en familia!»
(I was just joking! We'll show y'all that it's better to spend time among friends than among family!)
NOE
Perla:
«-»

Marina:
«¿Qué opináis vosotros? ¿Con quiénes preferís pasar las fiestas?»
(What do y'all think? With whom would you rather spend the holidays?)
NOE

Perla:
«El terminal de voto espera vuestra visita para que os unáis a uno de los bandos.»
(The vote terminal awaits your visit so that y'all can join on of the sides.)
Marina:
«-»
NOE



Introduction
Perla's Dialogue
Marina's Dialogue
Region
Perla:
«¿Cómo os gusta pasar las fiestas? ¿En familia o con amigos?»
(How do you like to spend the holidays? In family or with friends?)
Marina:
«Elegid una opción pasándoos por el terminal de voto cuanto antes.»
(Choose an option by going through the voting terminal as soon as possible.)
NOE



Results
Perla's Dialogue
Marina's Dialogue
Region
Perla:
«-»

Marina:
«¡Quien tiene un amigo tiene un tesoro! ¡Hemos ganado!»
(Whoever has a friend has a treasure! We've won!)
NOE

Perla:
«¡NOOOOO...!»
(NOOOOO...!)
Marina:
«-»
NOE
Perla:
«-»

Marina:
«Está claro que los lazos familiares han sucumbido frente el poder de la amistad.»
(It's clear that familial ties have succumbed to the power of friendship.)
NOE
Perla:
«-»

Marina:
«¡Enhorabuena, equipo!»
(Congratulations, team!)
NOE

Perla:
«Esperamos que hayáis disfrutado a tope de este FrostyFest.»
(We hope that you've enjoyed FrostyFest to the max.)

Marina:
«Podéis pasaros por la plaza para recoger los premios por haber participado.»
(You may go through the Square to collect your prizes for having participated.)
NOE



Results if Fam were to win
Perla's Dialogue
Marina's Dialogue
Region

Perla:
«¡Victoria! Qué sensación tan «familiar»...»
(Victory! What a "familiar" feeling...)

Marina:
«No...»
NOE

Perla:
«¡Lo dice mi primo y lo dice mi abuela! ♪ ¡Hemos ganado por mucho que os duela!»
(What my cousin says and my grandma says! ♪ We've won by how much it hurts y'all!)
Marina:
«-»
NOE

Perla:
«La amistad en combate es la repera, ¡pero los lazos de sangre la superan! ♪»
(Friendship in battles is terrific, but blood ties overcome it! ♪)
Marina:
«-»
NOE

Perla:
«¡Tomaaa!»
(Take that!)

Marina:
«Bah... Te he visto componer rimas con más gracia que esas...»
(Bah... I've seen you write rhymes with more wit than those...)
NOE

Perla:
«¡Enhorabuena, equipo familiar! Aprovecho para saludar a mi parentela.»
(Congratulations, Team Family! I'd like to take this moment to say hi to my folks!)
Marina:
«-»
NOE
Perla:
«-»

Marina:
«Esperamos que hayáis disfrutado a tope del FrostyFest.»
(We hope that you've enjoyed FrostyFest to the max.)
NOE

Perla:
«Podéis pasaros por la plaza para recoger los premios por haber participado.»
(You may go through the Square to collect your prizes for having participated.)
Marina:
«-»
NOE



Spanish (Latin America)
Announcement
Perla's Dialogue
Marina's Dialogue
Region

Perla:
«¡Prepárense para un festival especial de 48 horas! ¡Llega el FrostyFest!»
(Get ready for a special 48-hour Splatfest! FrostyFest has arrived!)
Marina:
«-»
NOA
Perla:
«-»

Marina:
«¿Con quién te entusiasma más pasar tiempo durante las fiestas?»
(With whom would you be more excited to spend time with during the holidays?)
NOA

Perla:
«¿Tu familia o tus amigos?»
(Your family or your friends?)
Marina:
«-»
NOA
Perla:
«-»

Marina:
«Está bien pasar tiempo con la familia, pero no hay nada como una buena amiga.»
(It's great to spend time with family, but there's nothing like a good friend.)
NOA
Perla:
«-»

Marina:
«Alguien que sepa hacerte reír, que te anime...»
(Someone who knows how to make you laugh, who cheers you up...)
NOA
Perla:
«-»

Marina:
«Que conozca todos tus secretos y siempre te apoye, pase lo que pase...»
(Who knows all your secrets and always supports you, no matter what...)
NOA
Perla:
«-»

Marina:
«¿No crees, Perlita?»
(Don't you think, Pearlie?)
NOA

Perla:
«...»
(...)
Marina:
«-»
NOA
Perla:
«-»

Marina:
«¿Perla?»
(Pearl?)
NOA

Perla:
«¿Eh?»
(Huh?)
Marina:
«-»
NOA

Perla:
«Ah, perdón. Estaba recordando el intercambio de regalos de mi familia.»
(Ah, excuse me. I was remembering my family's gift exchange.)
Marina:
«-»
NOA

Perla:
«A mi tío le regalé una plasbomba.»
(I gave my uncle a Splat Bomb.)
Marina:
«-»
NOA

Perla:
«¡Y explotó en cuanto le quitó el papel! ¡JA, JA, JA, JA!»
(And it exploded as soon as he took off the paper! HA HA HA HA!)
Marina:
«-»
NOA

Perla:
«¡VIVA LA FAMILIA! ¡VAMOOOS!»
(LONG LIVE FAMILY! LET'S GOOO!)
Marina:
«-»
NOA
Perla:
«-»

Marina:
«...»
(...)
NOA

Perla:
«Las fiestas están hechas para las familias.»
(The holidays are made for families.)
Marina:
«-»
NOA

Perla:
«Es la única época en la que puedes ver a todos esos tíos y primos excéntricos.»
(It's the only time when you can see all your eccentric uncles, aunts, and cousins.)
Marina:
«-»
NOA

Perla:
«Y encima no hay que darse aires delante de la familia. ¡Te dejan ser como eres!»
(And on top of that, there's no need to act like you're all that in front of your family. They let you be as you are!)
Marina:
«-»
NOA
Perla:
«-»

Marina:
«...»
(...)
NOA

Perla:
«Este... Digo...»
(Er... I mean...)
Marina:
«-»
NOA
Perla:
«-»

Marina:
«Qué bueno, Perla. Me alegra que estés contenta con tu familia.»
(That's great, Pearl. I'm happy that you're content with your family.)
NOA

Perla:
«¿Y sabes qué, Marina? Tú y yo...»
(And you know what, Marina? You and I...)
Marina:
«-»
NOA

Perla:
«¡También somos familia! ¡Somos Cefalopop!»
(We're also family! We're Off the Hook!)
Marina:
«-»
NOA
Perla:
«-»

Marina:
«¿¡Sí!? Pues en ese caso, ¡yo también voy con el Equipo Familia!»
(Yeah!? Well, in that case, I'm also going on Team Family!)
NOA
Perla:
«-»

Marina:
«¡Atención todos! Perla y yo hemos elegido el mismo equipo, así que...»
(Attention everyone! Pearl and I have chosen the same team, so...)
NOA
Perla:
«-»

Marina:
«¡EL FESTIVAL QUEDA CANCELADO!»
(SPLATFEST HAS BEEN CANCELLED!)
NOA

Perla:
«¿¡EN SERIO!?»
(REALLY!?)
Marina:
«-»
NOA
Perla:
«-»

Marina:
«¡No! ¡ABAJO EL EQUIPO FAMILIA!»
(No! DOWN WITH TEAM FAMILY!)
NOA
Perla:
«-»

Marina:
«Llegó la hora de decidir: ¿con quién prefieren pasar las fiestas?»
(The time to decide has arrived: with whom would you prefer to spend the holidays?)
NOA

Perla:
«¡Vayan a la terminal de voto y elijan un equipo!»
(Go to the vote terminal and choose a side!)
Marina:
«-»
NOA



Introduction
Perla's Dialogue
Marina's Dialogue
Region
Perla:
«¿Prefieren pasar tiempo con la familia o con los amigos durante las fiestas?»
(Do you prefer to spend time with family or with friends during the holidays?)
Marina:
«¡Vayan a la terminal de voto y elijan un equipo!»
(Go to the voting terminal and choose a team!)
NOA



Results
Perla's Dialogue
Marina's Dialogue
Region
Perla:
«-»

Marina:
«¡GENIAAAL!»
(BOOYAAAH!)
NOA

Perla:
«¡NOOOOOOOOOOO!»
(NOOOOOOOOOOO!)
Marina:
«-»
NOA
Perla:
«-»

Marina:
«Parece que el Equipo Familia no fue capaz de superar el poder de la amistad.»
(Looks like Team Family was no capable of overcoming the power of friendship.)
NOA
Perla:
«-»

Marina:
«¡Buen trabajo, mis amigos! ¡Lo logramos!»
(Good work, my friends! We did it!)
NOA

Perla:
«¡Esperamos que todo el mundo la pasara bien en el FrostyFest!»
(We hope everybody had a good time in FrostyFest!)

Marina:
«¡Si participaron en el festival, recojan sus premios en el centro!»
(If you participated in the Splatfest, collect your prizes at the Square!)
NOA



Results if Fam were to win
Perla's Dialogue
Marina's Dialogue
Region

Perla:
«¡ASÍ ME GUSTAAA!»
(THAT'S HOW I LIKE IIIT!)

Marina:
«...»
(...)
NOA

Perla:
«¡Esto va para mis familiares! ¡Tengo reflejos ejemplares!»
(This one's for my relatives! I have flawless reflexes!)
Marina:
«-»
NOA

Perla:
«¡Me vienen de familia, disparo tinta a mares!»
(They come from my family, I let out seas of ink!)
Marina:
«-»
NOA

Perla:
«¡YUJUUUUU!»
(YOOHOOOOOO!)

Marina:
«¡Ja, ja! Qué ridícula eres.»
(Ha ha! You're so ridiculous.)
NOA

Perla:
«¡Felicidades a todo el Equipo Familia!»
(Congratulations to all of Team Family!)
Marina:
«-»
NOA
Perla:
«-»

Marina:
«¡Esperamos que todo el mundo la pasara bien en el FrostyFest!»
(We hope everybody had a good time in FrostyFest!)
NOA

Perla:
«¡Si participaron en el festival, recojan sus premios en el centro!»
(If you participated in the Splatfest, collect your prizes at the Square!)
Marina:
«-»
NOA



Top 100
North America and Oceania
Fam
Friend
Europe
Fam