Deluxe Octocopter
Jump to navigation
Jump to search
Deluxe Octocopter​
Deluxe Octocopter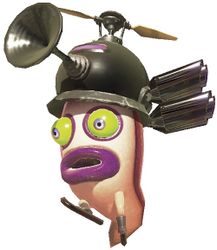 Deluxe Octocopters are Octarian enemies that appear in Octo Canyon. They act in the same manner as Octocopters, but they have two thrusters on each side of their helmets, allowing them to quickly dodge left or right, similar to a player performing a dualie dodge. Their tentacles are also darker than their standard counterparts. They are also the only Deluxe Octarians to appear alongside a boss in Octo Canyon, the Octo Shower.
Appearances
Gallery
This article or section needs more images!




You can help the wiki by adding some to keep it looking fresh!
Sanitized Deluxe Octocopters holding up the Octo Shower Supreme.
Trivia
When Marina mentions this enemy in Breakdance Station, she calls it a "Rocket Octotrooper" instead of a "Deluxe Octocopter".
Etymology
The Deluxe Octocopter is named in Breakdance Station.