Main Page
News
June 13, 2018
The Octo Expansion paid downloadable content is available now! It brings a new single-player mode consisting of 80+ levels, culminating in the introduction of playable Octolings.
June 12, 2018
More Updates! Continuing updates and support for Splatoon 2 has been extended from up to July 2018 to December 2018. New content updates including new Stages and Weapons are still on their way!
June 8, 2018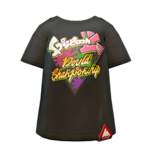 SWC Logo Tee, a new in-game gear item released to promote the Splatoon World Championships, is now available. For more information on how to get yours, click here.