Thang Jingle
Jump to navigation
Jump to search
Thang Jingle​
Thang Jingle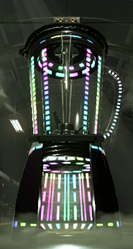 Thang Jingle is a jingle.
Description
Thang Jingle is a jingle heard after the thang has been obtained in B09 Grab & Go Station, E02 Bust & Run Station, C13 Smash & Dash Station and H06 Break & Bounce Station. It starts in the same way as TEST PASSED!. The jingle contains twenty notes altogether.
Samples and Interpolations
Fly Octo Fly
Main article: Fly Octo Fly
This jingle, along with TEST PASSED!, is redolent of Fly Octo Fly. The first seventeen synthesizer notes creates the tune similar to Fly Octo Fly.
Trivia
Names in Other Languages
| Language | Name | Meaning |
| --- | --- | --- |
|  Japanese | Are Get | You Got the Thang |