Splatoon (manga)
From Inkipedia, the Splatoon wiki

The real world!
This article or section discusses subjects found
in real life
.
Splatoon​
Splatoon
| | |
| --- | --- |
| Story and art | Sankichi Hinodeya |
| Genre(s) | Action, Comedy, Sci-Fi, Sports |
| Demographic | Shōnen |
Splatoon is a manga series created by Sankichi Hinodeya.[1]
Chapters are released through CoroCoro Comic monthly magazine and later collected in volumes by the same publisher.[2] Volumes usually contain four chapters, a bonus story (which is sometimes replaced by an additional chapter), an Inkling almanac showing the gear and personality of the teams and may also contain an illustration gallery.
The volumes got translated into English by Viz Media, to European Spanish by Norma Editorial, to French by Soleil Manga and to German by Carlsen Manga.
It originally ran for 16 volumes from 2016 to 2022, inspired by the events of Splatoon and Splatoon 2. In 2023, it was directly succeeded by Splatoon Bankara!, continuing the story with the events of Splatoon 3.
Plot summary
The manga stars Goggles and his three friends: Headphones, Specs, and Bobble Hat. This manga uses the Splatoon rules and world, with action focusing on Turf Wars.
CoroCoro Cup arc
Most plots in the CoroCoro Cup arc focus primarily on the Blue Team, a team of Inklings who compete in Turf Wars. It contains eight chapters. This arc introduces Rider and Team Yellow-Green in Chapter 1, Army and Team Orange in Chapter 2, Team Green in Chapter 3, Aloha and Team Pink in Chapter 4, Mask and Team Cyan in Chapter 5, Skull and Team Purple in Chapters 5 and 7, as well as Team Yellow and Team Dark Green or "The Blaster Brothers" in bonus manga Chapters 0 and 4.5.
Square King Cup arc
Similarly, to the first Splatoon era's Corocoro Cup arc, the Splatoon 2 era's Square King Cup arc focuses on the Blue Team on a tournament, specifically the Square King Cup. They take on many teams, with the biggest obstacle being Team Emperor, a team that is considered god-like. It contains thirteen chapters. They need to win because Goggles destroyed Crusty Sean's shop. One of the rewards is opening a new shop.
Octo arc
The Octo arc is based on the Octo Expansion DLC for Splatoon 2. Goggles finds himself lost in the Deepsea Metro after falling off the Grizzco boat, and has to find his way out alongside Eight, who is Agent 8, an Octoling with amnesia. Goggles meets up with his other teammates along the way. It contains five chapters, the first of which being released in the July 2018 issue.
Square King Ranked Cup arc
The Square King Ranked Cup arc focuses on another tournament on Inkopolis Square that functions similar to the original Square King Cup with some elements retained from said arc such as Crusty Sean's shop being destroyed again but with other twists, such as Emperor joining Team Blue to replace Specs (who is unable to participate due to stings from bees), making Team Blueperor, and past supporting teams returning. The newest obstacle to overcome is Team X-Blood, which consists of Rank X Inklings. Ranked Battles are to be expected instead of Turf Wars. The first chapter of this, Chapter 32, was released on 15 February 2019. It contains fourteen chapters.
Hero Mode arc
The Hero Mode arc takes place immediately after the end of the Square King Ranked Cup arc. It is based on Octo Canyon from Splatoon 2 and begins with Marie and Sheldon recruiting Goggles and Gloves as Agents 3 and 4 of the New Squidbeak Splatoon to find and collect the Zapfish. After collecting multiple Zapfish, Marie explains that Callie was kidnaped by the Octarians. Soon after, the group finds the Octarians' base, but they are also met by DJ Octavio and his Octobot King 2. The first chapter of this arc is chapter 44. It contains two chapters.
The Adventures of Sheldon arc
This arc begins when Sheldon finds a treasure map and note written by his grandfather, Ammoses Shellendorf (as seen in the bonus manga "Grandpappy's note" at the end of volume 12). He quickly recruits Goggles and heads to Mount Nantai where the treasure is hidden. There, they find three guardians that test them in order to get three parts of a key to unlock the treasure. The first chapter of this arc is chapter 47. It contains four chapters.
Final Fest arc
This arc begins near the end of The Adventures of Sheldon arc. It is about the Final Splatfest, Chaos vs. Order. The first chapter of this arc is chapter 51. It contains six chapters.
Shadows arc
This arc begins immediately after the Final Fest arc. It is about Team Blue engaging in their most complicated Turf War as they combat the Shadows. The result of the challenge determines the fate of Inkopolis Square. The first chapter of this arc is chapter 57. It contains five chapters
Stamp Rally arc
The December 2021 issue of Shogakukan's Monthly Coro Coro Comics magazine revealed that Sankichi Hinodeya's Splatoon manga has temporarily ended but will resume soon. The magazine teased that the manga would soon feature content related to Splatoon 3, which was eventually named as the manga's successor, Splatoon Bankara!.
Volumes
Volumes
Image
No.
Blurb

1

The Turf Wars have started in Inkopolis, and the team that inks the most ground will be crowned the winner! Goggles and Team Blue are ranked lower than their competitors. But with some teamwork and a touch of creativity, they might just leave their mark on this tournament!

2

Team Blue has garnered attention after impressive showings against some of the most elite Inkling teams. But it'll only get harder from here! With the S4 Inklings aiming to bring down Goggles and his friends, the team must continue to find ways to improve, even if it means asking for help from the unlikeliest of sources!

3

Ink still fresh from their victories against the S4, Team Blue's Inklings find themselves in even more trouble! Goggles and Rider must stop an evil subterranean plot, and a new Inkling joins the team. New weapons, new foes, and new friends enter the splatfield as Team Blue prepares for its toughest challenge yet: the Square King Cup!

4

The preliminary rounds have come to a close! As the Inklings gear up for the main round of the Square King Cup, they must prepare for all kinds of teams that are way stronger than they are - and maybe even have to battle the undisputed champion - the player known as Emperor!

5

It's the Square King Cup Semifinals! Rider's Team Yellow-Green takes on the team of the undisputed champion, Emperor. Then, Team Blue battles Team Gloves! Who will make it to the final match? Plus, a bonus story featuring the very first Team Blue meeting!

6

The match between Team Blue and Team Emperor heats up toward the big finale - with both sides exhausted and losing ground! Plus, in the aftermath of the final match, a new enemy awaits who will require the tournament rivals to work together!

7

Inside an underground facility connected to the Deepsea Metro subway system, Goggles and Team Blue must pass a series of tests to discover the four "thangs" that will open the door to a fabled Promised Land.

8

It's time for the Splatfest, a Turf War where teams must split up and battle against one another! Team Blue is divided into a "Funny Man" team versus a "Straight Man" team. Who will face who? Plus, a bonus story featuring Splattershot Jr.!

9

You won't believe who has joined Team Blue to fill in for a missing teammate so they can compete in the Square King Ranked Battle Cup! Get ready for a whole new arc featuring some mixed-up new teams! Plus, a bonus story featuring Emperor!

10

Team Blue's next opponents in a game of Splat Zones are the Iromaki Rangers. Meanwhile, Team Gloves goes up against the superstrong X-Blood team! And waiting in the wings... the S4 is back! Plus, Marina herself draws a bonus manga for you!

11

The final match of the Ranked Battle Cup begins!! Find out what happens when Team Blueperor steps into the arena with their greatest opponents, the fierce X-Blood!

12

The final chapter of the Hero Mode arc is here! Find out how it ends for Specs and the gang. And then, a brand new story brings you further into the world of Splatoon. It's time to get to know Sheldon! His adventure starts right now!

13

The search for the hidden treasure of Sheldon's grandfather continues. To complete their quest, Goggles will have to defeat the diabolical Eye of Justice, who is proving to be a wily and worthy foe! Can Goggles defeat the Eye of Justice, unlock the secret of Ammoses Shellendorf's treasure and advance to the Final Splatfest?!

14

It's the Final Splatfest, with Team Blue vs. Team Hivemind! Then, during a new Turf War, Goggles and his friends take on a mysterious group of Inklings who look strangely familiar... Can Team Blue defeat the Shadows?

15

Team Blue engages in their most complicated Turf War yet as they combat the Shadows, whose personalities are exact mirror reflections of Team Blue's own! The result of the challenge will determine the fate of Inkopolis Square!

16

The Battle Stamp Rally begins! It mixes in all the hardest pieces of the Turf War, the Ranked Battle, and the Salmon Run stages! How will Goggles and his friends do in this inkredible new challenge?!
Main characters
The main characters of the Splatoon manga are the four members of Team Blue.
Goggles, a C- ranked male Inkling. He is the mascot of the manga. Goggles is quite naïve, mixing toothpaste and wasabi. He frequently ignores people except for Bobble Hat, showing that either he has a hearing problem or that she and Goggles have a special bond. He often pulls other Inklings' pants down (mainly Rider), and often gets naked in public.
Specs, a C+ ranked male Inkling. Specs can be very anxious, but tries to hide it by flaunting his knowledge as much as he can, although he notices nobody is listening to him, which upsets him. He is the actual leader of Team Blue, not Goggles.
Headphones, a B- ranked female Inkling. While acting as a big sister to the team despite them being the same age, Headphones is level-headed, except when she finds Goggles annoying.
Bobble Hat, a C ranked female Inkling. Bobble Hat seems to enjoy Goggles' actions. Though she and her big smile show her innocence, Bobble Hat is pretty much always happy in the face of danger.
Animated adaptation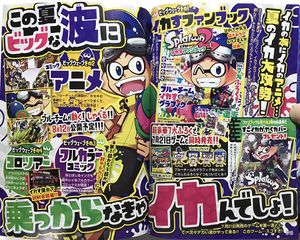 An animated adaptation of the manga was announced on 16 July 2017 by Sankichi Hinodeya, the creator of the manga, on her Twitter account.[3] It is a colored and voiced-over version of the manga, with the occasional addition of animation in some sections. The first episode was released on Corocoro's official YouTube channel on 11 August 2017 but is restricted to Japanese viewers. The second episode was released on DVD disc on 20 January 2018 as part of the release of the second volume.[4]
The episodes are based on chapters 1 and 2 of the Splatoon manga.
Army (Episode 2) on DVD disc
Gallery
Team Blue, The S4 and Rider.
Trivia
The fan-made issue of the Splatoon manga was published in June's CoroCoro Special issue in 2015.[5]

In this issue, the main protagonists made their first appearance as unnamed characters.
The same issue depicts the main protagonists in the outfits seen in promos of the video game.

The first official issue was published in December 2015's CoroCoro Special issue.
Some color combinations are depicted or mentioned that do not appear in Splatoon.

Seen color combinations:

 

Blue vs.

 

Green. This combination does not exist in the game, but there is a similarly colored Blue vs. Lime color match.

 

Blue vs.

 

Pink. This is supposed to be for the battle against Aloha, but there is a similarly colored Turquoise vs. Pink match.

 

Blue vs.

 

Cyan. This is supposed to be for the battle against Mask.

 

Blue vs.

 

Purple. This is supposed to be for the battle against Skull.

Mentioned color combinations:

 

Yellow-Green vs.

 

Orange. This was mentioned in Issue 2.

 

Yellow-Green vs.

 

Pink. This was mentioned in Issue 2.

 

Yellow-Green vs.

 

Cyan. This was mentioned in Issue 2. This color combination is not possible to be matched in the actual game, despite the blue vs. lime color match.

There was a Japanese Splatfest on

3 February 2018

with the theme "Champion vs. Challenger", which was represented by Emperor and Goggles respectively.
Most characters are named after a piece of their gear.

Some characters are not named after a piece of their gear, such as Emperor, Prinz, the School Cardigan Team's members, and Team Eight.

For the School Cardigan Team's case, they are named after their hairstyles, plus "School" at the beginning of their names. This is also the case for two of Team Eight's members, Afro and Ponytail, although without "School".
Eight is named by Goggles. In Japanese, he is named Hachi, the term for "eight". Eight's nickname as Agent 8-Kun is named in the same way from his in-game counterpart, about him being identified as subject number 10,008 in his neon yellow bracelet on his wrist since he forgot his real name after losing his memory. Similarly, Seven is also named by Goggles and in Japanese, she is named Nana, which is the Japanese term for the word "Seven". After The Octo Arc, all members of Team Eight have their memories but were fond of Goggles' names, and therefore kept them.

It was announced on

9 June 2018

that the Spy Gear will be coming to Splatoon 2 and is also connected to the Splatoon manga's Octo Expansion arc, implying that Goggles wears this gear set.[6]

Further announcement about the Spy Gear set had been revealed on

9 July 2018

, with Specs, Headphones and Bobble all wearing it. It appears that their headgear will mostly be black versions of their default headgear. Also, Goggles is the only one whose shoes are not in the game yet, as Specs has Inky Kid Clams, Headphones has Punk Blacks and Bobble has Truffle Canvas Hi-Tops.[7]
However, Goggles' shoes with the Spy Gear resemble the Roasted Brogues.

The July 2018 issue was released early on

16 June 2018

on the CoroCoro website.[8] It was later disabled for viewing.
An error can be found in the Inkling Almanac of Volume 4. Team Outcasts' Choco Facemask has "Outskirt" written on her forehead instead of "Outcast". This is likely a translation error.

In Chapter 15 of Volume 4, when Crusty Sean shows Team Blue the shops in the Galleria, Shella Fresh and the Crust Bucket are incorrectly switched, showing that Shella Fresh sells food and the Crust Bucket sells shoes.
Names in other languages
Language
Name
Meaning
 Japanese

スプラトゥーン


supuratūn
Splatoon
See also
External links
References