Shinsan Name Manta
From Inkipedia, the Splatoon wiki

This article or section involves non-English content
Things may have an official name in another language, but currently have no official English name.
English translations of these names are unofficial.
Note: The page title is the romanization of the Japanese track name in Splatune 3.
辛酸ナメマンタ​
辛酸ナメマンタ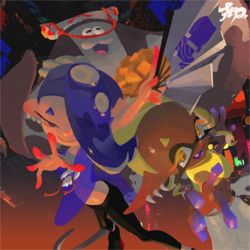 辛酸ナメマンタ (romanized: Shinsan Name Manta) is a song by Deep Cut.
Description
Shinsan Name Manta is a track used as the battle defeat song during Splatfest Battles in Splatoon 3, replacing Learning Curve which normally plays outside of Splatfests. The main section lasts for about 12 seconds, which consists of electronic music with Shiver and Frye singing short phrases during two pauses, and Big Man singing a phrase at the end. After that, the music is replaced by a solo drum track, similar to Rinse/Repeat, Learning Curve, and Ageshio Notte Mōteru. The solo drum track has similar drum beats to that of Learning Curve, but with some minor differences and using different drum samples.
Other versions
Defeat themes (Shiver vs. Frye vs. Big Man Splatfest)
During the Shiver vs. Frye vs. Big Man Splatfest, each team has its own battle defeat theme. These themes are variations of Shinsan Name Manta with only the vocals of the respective idol of the team.
Names in other languages
Language
Name
Meaning
 Japanese

辛酸ナメマンタ


Shinsan Name Manta
Manta in Dire Straits
Wordplay on "辛酸を嘗めました" (romanized: shinsan wo namemashita), meaning "experienced hardship" (literally "tasted the sweets and bitters").
マンタ is "manta", a reference to Big Man's species and Japanese name.