Competitive:Wave Breaker
From Inkipedia, the Splatoon wiki





Unofficial!




This article discusses content that is not part of the official Splatoon series canon but is part of the community or competitive gaming space.
This article or section is a stub.


You can help the wiki by adding to it.
This page or section is under construction.




Please excuse its informal appearance while it is being worked on. We hope to have it completed as soon as possible!
Can you help us get it done?
For information about Wave Breaker, see Wave Breaker.
Splatoon 3
Splatoon 3
Wave Breaker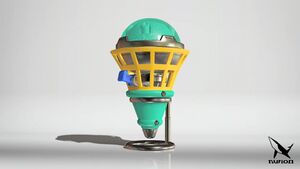 Abbreviations

Sub

Special

Base 

damage

45
Base duration
Wave: 6 sec Track: 7 sec
Ink consumption
Special points

Special depletion

Role
Strengths
Has a far reach, has a large durability, can go through the Big Bubbler's barrier, can track opponents of they are his by a shockwave, forces opponents to jump out of ink.
Weaknesses
Can was be avoided by jumping over the shockwaves, depending on how high or low the Wave Breaker is affects what land the shockwaves can reach
The Wave breaker is a supportive special that was introduced in Splatoon 3. It releases shockwaves that damage and locate opponents at the same time. The weapons that have this special in their kit are the Custom Splattershot Jr., the Dualie Squelchers, the E-liter 4K, the E-liter 4K Scope, the Heavy Splatling and the Range Blaster.