Competitive:Dynamo Roller
Jump to navigation
Jump to search
| | |
| --- | --- |
| | Unofficial! This article discusses content that is not part of the official Splatoon series canon but is part of the community or competitive gaming space. |
For information about the Dynamo Roller, see Dynamo Roller.
Splatoon 2
Splatoon 2
Dynamo Roller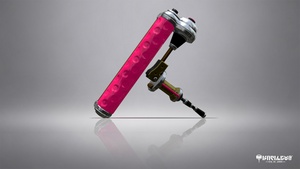 Dynamo Roller, Dynamo
Sub

Ink Mine

Special

Sting Ray
Base 

damage

40–180 (Ground)
40–180 (Midair)
125 (Roll)
Ink consumption
18% (Splash)
0.1% per frame (Roll)
Special points
180p

Special depletion

Role
Support/Anchor
Strengths
Turfing, Range, Splatting, Strong kit, Survivability
Weaknesses
Slow, High Ink Consumption, Inconsistent, Low Mobility
This article or section is a stub.


You can help the wiki by adding to it.
Use
Synergy
A charger can help splat players trying to sneak up on you.
Countermeasures
Use a weapon with good movement speed such as a N'ZAP '89 to sneak behind a Dynamo and splat it.
Gear abilities
Gear abilities provide different effects in battle that benefit the player with their equipped weapon. This is a guide to gear abilities in relation to the weapon. Strategy, synergy, viability, and purpose may be written here.
The Dynamo has high ink consumption, so Ink Saver (Main) will allow for more swings.
Main Power Up makes the Dynamo more consistent at splatting.
Special Charge Up allows to charge Sting Ray faster.
Allows for faster escape from enemies.
Undesirable abilities
Slows the player down even more while swimming, allowing enemies to catch up to escaping Dynamos.
References