Competitive:Kensa Luna Blaster
Jump to navigation
Jump to search
Unofficial!




This article discusses content that is not part of the official Splatoon series canon but is part of the community or competitive gaming space.
This page or section is under construction.




Please excuse its informal appearance while it is being worked on. We hope to have it completed as soon as possible!
Can you help us get it done?
For information about the Kensa Luna Blaster, see Kensa Luna Blaster.
Splatoon 2
Splatoon 2
Kensa Luna Blaster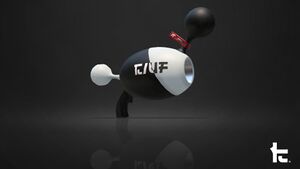 Luna, K-Luna
Use
The Kensa Luna Blaster, like its Vanilla and Neo variants, is a one-shot Blaster that has a fast fire rate and a large blast size.
Fizzy Bombs can provide great coverage and pressure with splash hits, even in stages and areas that are more open:

The Fizzy Bomb can create combos of splash damage with the hits from the main weapon.
The Fizzy Bomb can explode multiple times, making it easier to explode Bubbles or inflate them.
Defensively, it can provide great pressure on the objective or onto opponents trying to take control over areas. It can also provide distance between a rushing opponent when thrown towards the ground.[1]
Offensively, it can create paths with its ink trail that lead to up and tight close confrontations.

Ink Saver (Sub) or Last-Ditch Effort can reduce the ink consumption needed to throw a Fizzy Bomb to below half of a full ink tank, making it possible to throw two Fizzy Bombs one after the other. This provides great pressure through ink coverage and splash damage hits.

The Ink Storm is an area of effect (AoE) special weapon that can alter the battle if activated in the right location and direction:

Immediately upon activating the special, its user will be holding the Ink Storm device and be vulnerable to attack. Therefore, do not activate the special while being attacked, and make sure to throw it onto a surface before an opponent gets the opportunity to splat you.
Slower, less mobile opponents – especially Rainmaker carriers – are less capable of escaping Ink Storm's area of effect and, thus, are more adversely affected.
Its gradual damage makes it a good counter against Ink Armor, especially when paired with Object Shredder.
Ink Storm's damage on the opponent becomes more effective whenever the opponent has less space to maneuver around, such as in an alley or on the Tower.
Defensively, Ink Storm can slow or disrupt the opponents' push by either altering their intended attack routes or weakening any opponents within the storm.
Offensively, Ink Storm can soften opposing defenses by forcing opponents out of optimal positions and inflicting chip damage onto those caught in the ink rain.
Besides potentially damaging opponents, Ink Storm also gradually turfs any non-vertical surface it travels over:

The damaging and turfing effects of Ink Storm are slower and more gradual than those of a Bomb Launcher but are automatic and does not require its user to risk endangering themselves.

An Ink Storm above the Rainmaker can either weaken its shield to pop it or prevent the opponent from popping it.
Special weapons are also free ink tank refills, allowing a Kensa Luna Blaster user to launch Ink Storm and immediately attack opponents fleeing it.
Synergy
While a team might get away with having one or two users of short-ranged weapons, such as the Kensa Luna Blaster, having a team composition with too many short-ranged weapons and no longer-ranged weapons to provide support fire is often disadvantageous for a number of reasons:[2]
An opponent with a long-ranged weapon can more aggressively position themselves to zone out the entire shorter-ranged team.
The opposing slayers can play more aggressively, knowing that there is no long-ranged threat to pick them off from afar.
Ink Storm is intended for either contesting territory, such as Splat Zones, or stalling opponents' pushes but is not as reliable at splatting opponents who actively avoid the Storm. Therefore, it is advised to have other special weapons available to complement Ink Storm, as having too many users of any combination of Ink Storm and Bomb Launcher (no more than two) in a team composition will limit a team's arsenal of weapons:[2]
Ink Storm provides no direct means of protection, meaning that opponents can still fire or throw sub weapons into the Storm.
Other special weapons, such as Inkjet or Sting Ray, are intended for splatting opponents and more capable at this than is Ink Storm.
Combining Ink Storm with other specials can bolster a team's ability to either make a push or counter the opponents' push:
Ink Armor and other protective special weapons, such as Baller and Bubble Blower, can increase the survivability of a team as they push into contested territory.
After launching Ink Storm, a teammate who is using a special weapon designed for splat opponents, such as Sting Ray or Inkjet, can further limit the opponents' escape options or splat them as they scatter.
Countermeasures
Gear Abilities
Gear abilities provide different effects in battle that benefit the player with their equipped weapon. This is a guide to gear abilities in relation to the weapon. Strategy, synergy, viability, and purpose may be written here.
Just 21 AP, (1 main and 4 subs or 7 subs) of Ink Saver (Sub) can decrease the ink consumption of the Fizzy Bomb to 60% of the ink tank to less than 50%, making it easier to spam Fizzy Bombs. [3]
Last-Ditch Effort is a Headgear-exclusive ability that, under specific conditions, grants its user 1 to 24 ability points each of the following abilities:
These abilities only begin to take effect under either of the following conditions:
There are at most 30 seconds remaining on the game clock, or Overtime has begun in a Ranked Battle, at which the maximum 24 ability points will be granted for each of the above abilities.
In a Ranked Battle, the opposing team's countdown has at most 50 points remaining. The effects of Last-Ditch Effort increase as the opposing team's countdown decreases from 50 to 30 points remaining, starting with 1 ability point for each ability and maxing out to 24 ability points.
Due to both its relatively high ink consumption and Fizzy Bombs, the Kensa Luna Blaster can greatly benefit from the reduced ink consumption of both the main and sub weapon, reducing the chance that its user runs out of ink during either a crucial defensive stand or a late attempt to reclaim the lead.[4]
Ever since its introduction in Version 4.3.0, Bomb Defense Up DX will not only reduce the damage taken from opposing sub and special weapons that are not one-hit-splat but will also reduce the duration of the tracking effects of certain opponent's sub and special weapons, such as Point Sensors and Ink Mines, allowing the user of this ability to evade detection more easily. Because the Kensa Luna Blaster is a powerful short-ranged weapon, its user can greatly benefit from reducing the damage taken from their opponents' bombs. Just three ability points, or one sub, offer plenty of utility:[4][5]
The splash damage of most bombs is reduced from 30 HP to 28.6 HP. This reduction in damage provides two benefits:

It prevents its user from being exposed on their opponents' map by the splash damage of most single bombs.
Ink Armor will not break due to splash damage from a single bomb whose splash damage normally inflicts 30 HP of damage.

The splash damage of near-misses from either Tenta Missiles or Inkjet, the minimum splash damage of bubbles, and the collision damage from Baller are all reduced from 50 HP to 48.3 HP,[6] enabling one to survive two hits from any of these specific means of special weapon damage.
A Kensa Luna Blaster user is expected to come in contact with the opponent's ink on various surfaces, which can both be damaging and reduce mobility. Ink Resistance Up not only partially offsets the reduction in mobility but also delays the damage taken from contact with opposing ink.[4][5]
Just three ability points, or one sub,…

…delays the damage taken from opposing ink by 10 frames.
…reduces the damage taken from 0.3 HP/f (health points per frame) to 0.2 HP/f.
…lowers the limit on the amount of damage opposing ink on surfaces can inflict from 40 HP to 38 HP.
…increases the normal running speed in opposing ink from 0.24 DU/f to 0.33 DU/f.[7]
…increases the jumping height in opposing ink from 0.8 to 0.854.[6]

Six ability points, or two subs,…
References
↑ "PAX East Finals Pt. 3 | Splatoon 2 NA Inkling Open 2019" Game 6, Kyo (FTWin) throws Fizzy Bomb to space out Arashi (Lowkey) (begin video at 46:14)
↑ 2.0 2.1 "Splatoon 2 - What is a good team comp? (TOP 6 mistakes)" by Sendou, formerly of Team Olive
↑ 4.0 4.1 4.2 "Splatoon 2 - The Ultimate Gear Guide! (Tips and Tricks + all Abilities explained)" by Wadsm
↑ 5.0 5.1 "How To Make A PERFECT Gear Build for ALL WEAPONS?! (Gear Building Guide) | Splatoon 2" by ThatSrb2DUDE, formerly of Team Olive
↑ 6.0 6.1 6.2 loadout.ink - Stat Calculator & Gear Planner for Splatoon 2, applicable for Version 4.8.0
Grouped by weapon type, sub-grouped by weapon class. Main, sub, and special sorting.