Competitive:Kensa Luna Blaster
Jump to navigation
Jump to search
| | |
| --- | --- |
| | Unofficial! This article discusses content that is not part of the official Splatoon series canon but is part of the community or competitive gaming space. |
This page or section is under construction.




Please excuse its informal appearance while it is being worked on. We hope to have it completed as soon as possible!
Can you help us get it done?
For information about the Kensa Luna Blaster, see Kensa Luna Blaster.
Splatoon 2
Splatoon 2
Kensa Luna Blaster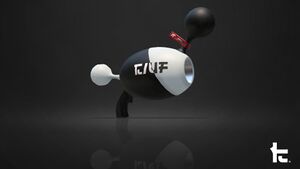 Luna, K-Luna
Use
The Kensa Luna Blaster, like its Vanilla and Neo variants, is a one-shot Blaster that has a fast fire rate and a large blast size.
Synergy
Countermeasures
Gear Abilities
Gear abilities provide different effects in battle that benefit the player with their equipped weapon. This is a guide to gear abilities in relation to the weapon. Strategy, synergy, viability, and purpose may be written here.
Just 21 AP, (1 main and 4 subs or 7 subs) of Ink Saver (Sub) can decrease the ink consumption of the Fizzy Bomb to 60% of the ink tank to less than 50%, making it easier to spam Fizzy Bombs. [1]
As a headgear-exclusive ability, Last-Ditch Effort gives up to 24 AP of the following:
This is enough to fire 20 shots, throw two Fizzy Bombs at a time, and fully recovery ink when your ink tank is empty in 2.33 seconds. <ref>Sendou.ink Build Analyzer However, Last-Ditch Effort only activates in the following situations:
When the timer is at 30 seconds or less, including Overtime.
When the opposing team has ticked their timer to 50 or less in Ranked Matches.
References