Competitive
:
Custom Blaster
From Inkipedia, the Splatoon wiki





Unofficial!
This article discusses content that is not part of the official
Splatoon series
canon but is part of the community or competitive gaming space.
For information about the Custom Blaster, see Custom Blaster.
Splatoon 2
Splatoon 2
Custom Blaster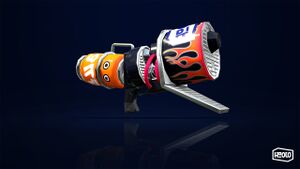 Use
Countermeasures
Any weapon that has a combination of longer range, better mobility, or higher rate of fire without sacrificing too much damage can counter a Custom Blaster. For example, both the Splattershot Pro and Dualie Squelchers and their respective variants meet all of these requirements.
The Splat Brella and Undercover Brella and their variants cannot sufficiently protect their users from the splash damage of the Custom Blaster.
Whenever possible, exploit the Custom Blaster's poor ink efficiency and turfing by surrounding it with ink. Sub weapons and teammates can help accomplish this.
It is preferable to engage an opposing Custom Blaster in a more open area – where there is more room to avoid its shots, outmaneuver it, and surround it with ink – than in a closed area. If this is not possible, remain farther back on a ledge or further around a corner to avoid splash damage.
A long-ranged weapon, such as a charger or most splatlings, can not only attack a Custom Blaster from long distance with impunity but also punish a predictable Inkjet. However, once the Custom Blaster gets close, it can outdraw its slower firing opponent.
A competent Custom Blaster user is likely capable at both flanking and sharking:

Keep track of all four members of the opposing team – which ones are present, which ones are splatted, and which ones are back at their spawn point.
Check the map periodically for opposing ink forming around flanks to anticipate a flanking attack.
To prevent sharking, check suspicious puddles of the opponents' ink, preferably with a thrown sub weapon.
Weapons that track opponents, such as Point Sensors, temporarily prevent an opponent from sharking and makes them an easier target for long-ranged teammates to pick off.

When pursued by a Custom Blaster, using almost any sub weapon (except for Squid Beakons) can either delay their pursuit or deter them from chasing.
When pursuing a Custom Blaster, be wary of any Autobombs they might plant while retreating, such as around a corner or after climbing a ledge.
Dogfights between opposing Inkjets are generally decided by each pilot's skill, positioning, and any teammates present.
To punish an opposing Inkjet after it lands, eliminate its pilot's teammates while avoiding both its shots and exhaust before punishing the landing, preferably with a well-placed, well-timed bomb followed by shots from the main weapon. Make sure the opposing pilot does not have Drop Roll however.
Gear abilities
Gear abilities provide different effects in battle that benefit the player with their equipped weapon. This is a guide to gear abilities in relation to the weapon. Strategy, synergy, viability, and purpose may be written here.
Quick Respawn shortens respawn time after getting splatted (under specific conditions). Like other slayer's weapons, the Custom Blaster benefits from abilities that promote aggressive play, such as Quick Respawn and Stealth Jump.
One main, or 10 ability points, reduces the respawn time by 1.21 seconds.
Two mains, or 20 ability points, saves 2.21 seconds for respawning.[3]
Swim Speed Up can help close the distance towards an opponent, more quickly respond to an opponents' push, or escape unfavorable situations.
Stealth Jump hides its user's Super Jump landing marker from opponents (and allies) who are not too close to it — about three tile lengths in the middle of Inkblot Art Academy.[4] This encourages its user to Super Jump back to the frontlines more often.
References