Competitive
:
Rapid Blaster Deco
From Inkipedia, the Splatoon wiki





Unofficial!
This article discusses content that is not part of the official
Splatoon series
canon but is part of the community or competitive gaming space.
For information about the Rapid Blaster Deco, see Rapid Blaster Deco.
Splatoon 3
Splatoon 3
Rapid Blaster Deco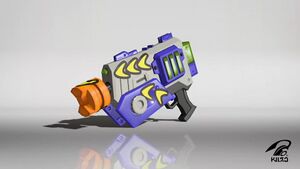 The Rapid Blaster Deco is a midrange slayer weapon with good range and damage. Its sub weapon, Torpedo, can be used for mobility, combos, and locating enemies. Its special weapon, Inkjet, is a good offensive option which can be used to get rid of opponents from a safe distance.